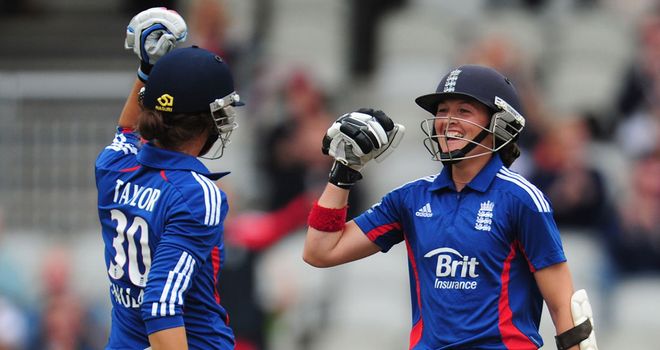 Sarah Taylor blogs on England's successful start to their World Twenty20 campaign.
Taylor blogs on life in Sri Lanka
We started our time here in Sri Lanka in Colombo in a hotel with great views of the sea. We were happy at arriving safely and with where we were staying; a sign of good things to come.
We were straight into training the next day, getting used to the climate and the wickets. Luckily it wasn't the hottest day so it was a gentle transition and nice to stretch our legs and have a run around.
We had a warm up match against South Africa, which went exactly to plan. We reached 180 batting first and in reply we bowled South Africa out for 59.
A few more days were spent training in Colombo and venturing out to some extremely nice restaurants, with some exciting tuk-tuk journeys. But before we knew it our time was up in Colombo and we were heading to Galle to start the group games.
The beaches in Galle were fantastic and we were in a prime location in our aptly named 'Long Beach Hotel'. Some of us were even lucky enough to have a balcony overlooking the sea with spectacular views.
Our first group game was against Pakistan and having played them recently in England we knew what to expect but had no idea of the conditions in Galle, so we were excited to get out and get started.
Great start
Laura Marsh and Charlotte Edwards got us off to a great start and although we thought we should have got a few more than 133 we were content with the runs on the board.
All our bowlers bowled very well and with some sharp fielding we restricted Pakistan and claimed a 43-run victory. Our group games were up and running and we couldn't wait to play India in the next one.
Nerves were about on the morning of the India game as we knew winning this game meant we were through to the semi-finals; we didn't want to leave it to the game against Australia.
Cruised
Once again Charlotte and Laura again got us off to a brilliant start and we cruised to the Indian total, one wicket down with three overs to spare. We were through to the semis and couldn't be happier.
Despite effectively being a dead rubber, as Australia had also already qualified from our group, any game against Australia is a big one and we were pumped up from the start.
We didn't have the best performance in the field but managed to keep them to 144 on a good wicket. Even though we started the chase a little slowly we turned things around when Danni Wyatt joined me at the crease and we reached the target with 11 balls to spare. It was a great game to be a part of and hopefully for all those watching.
Back in Colombo we're in a different hotel to when we arrived and much to the delight of Danni Hazell, who considers herself somewhat in the league of Roger Federer, there are a couple tennis courts.
A few of us have enjoyed a social hit and I'm impressed how things haven't got out of hand given we are all so competitive.