Off to a flying start
Sarah Taylor blogs on England's two wins against the West Indies and her new interest in parachuting.
By @Sarah_Taylor30
Last Updated: 13/09/12 1:24pm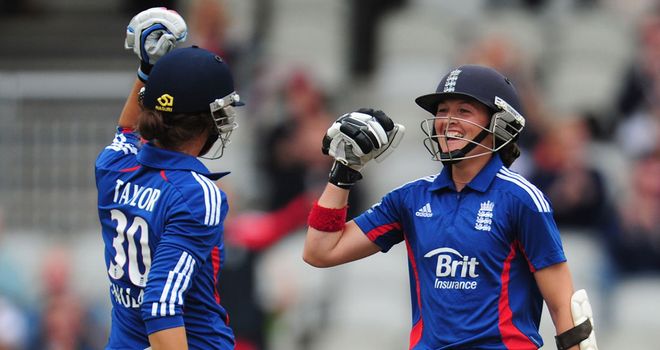 The plan was to put on a good performance for the TV cameras and spectators, and we certainly did that in our opening two Twenty20 internationals against the West Indies!
Our first game at Durham got off to a great start with Katherine Brunt picking up two wickets in her first over. We were really pleased with our bowling and performance in the field to restrict them to 71. Charlotte Edwards and Laura Marsh played some fantastic cricket shots before Laura got out stumped with us needing 13 runs. Laura had a great game and she thoroughly deserved player of the match.
We shot straight off to Manchester after the game, which meant we got a little longer there and were able to head out for dinner. I really enjoyed exploring the city as I've never been to Manchester before and I feel as if I have now found a new area where I wouldn't mind moving too. It was great being so central and in a very nice hotel.
On an afternoon off I managed to head away from the busy city centre to see a close friend of mine at Heywood Cricket Club, where on arrival I was handed, a free drink and a plate of food; it just doesn't get better than that! I was able to soak up the sun and watch a bit of cricket; it was nice to be watching for once!
Superb
Our second game was at Old Trafford; I've never been there before and it was a sight to behold; it has quickly become one of my favourite grounds!
Charlotte and Laura got us off to a good start getting 35 off the first four overs and Arran Brindle and I had a decent partnership of 78, which included a lot of running! We finished on 150-3 off our 20 overs and were very pleased, but we knew it was a decent wicket and the West Indies had some big hitters and could be dangerous.
They got off to a good start and were lucky with a run out in which I managed to brush the stumps without the bail falling off! I never want to do that again.
But in the field we were superb with Susie Rowe taking a brilliant catch whilst avoiding a collision and Anya Shrubsole diving to her right one handed to dismiss Deandra Dottin. Anya may have a slight bruise but I think she is just happy she caught the ball!
The West Indies fought well but fell 29 short. It was a good game and I hope people watching enjoyed it as much as we did playing.
We stayed to watch the men's game after where before a ball was even bowled the RAF Falcons jumped out of a plane and landed on the field. It was so good to watch and if given the opportunity I would love to be able to do something like that, after building up the courage first of course!
We are now 2-0 up and although the rest of the NatWest Women's International T20 Series is not televised we will still be performing at our best in games at Hove on Saturday, Arundel on Sunday and Northampton on Thursday where we would love to wrap the series up.