Back in sharp focus
Sarah Taylor says England's Women are ready to take on West Indies in front of the Sky Sports cameras.
By @Sarah_Taylor30
Last Updated: 07/09/12 6:56pm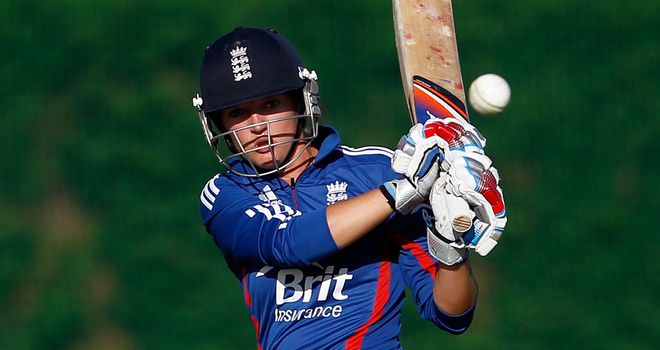 Another tour has come around thick and fast and this time it's a five-match NatWest Women's International T20 Series against the West Indies.
With the first two games televised live on Sky Sports and being played as double-header matches with the men's international T20's its sure to be an exciting start to the series.
We've already played two International T20 matches against Pakistan at Loughborough.
Our first game went well, Anya (Shrubsole) picked up figures of 4-12 as we restricted them to 87 and we knocked off the runs with three wickets down in the 16th over. Read Anya's thoughts here...
The second game was even better with us batting first this time and finishing on 161-7. We bowled well and kept them to 81-5 off their 20 overs.
We also played the England Women's Academy which wasn't quite so straight forward.
They put some pressure on us in a low scoring game but we showed real guts and determination in the field leaving them needing nine off the last over. And it was Anya once again who held her composure and stepped up to bowl six perfect yorkers. They finished four runs short in what was a very tense and exciting match.
Showcase
We travelled up to Durham on Thursday in a lovely coach with black leather seats and a kitchen in the back, although making a cup of tea on a moving coach is quite a challenge! Even though it was a long journey we were happy to be travelling in style and to arrive in the surprisingly sunny North East.
When we arrived I was keen to set about finding a good thick Durham accent, so after dumping everything in my room I headed straight back out for a nice walk along the river.
A few of us spotted some good restaurants including Nandos which I'm sure the likes of Danni Wyatt and Dani Hazell will spend most of their time at. We chose an oriental restaurant called the Fat Buddha for dinner, where there was so much on the menu I just picked a number and hoped for the best. Fortunately it turned out to be a very good choice!
The sun came out for training today which made it all the better and we are all now ready to get the series underway on Saturday.
We can't wait, as a series against the West Indies is always eventful. Let's hope we put on a good show for the TV cameras as we always want to showcase the team's talents and hopefully gain more interest in women's cricket.
Catch the first T20 international between England Women and the West Indies this Saturday from 10am on Sky Sports 1 HD and the second T20 on Monday, from 2pm on Sky Sports 1 HD.