On centre stage
Sarah Taylor warms up for England's series with India with a trip to Billy Elliott and some quality Xbox time.
Last Updated: 01/07/12 6:04pm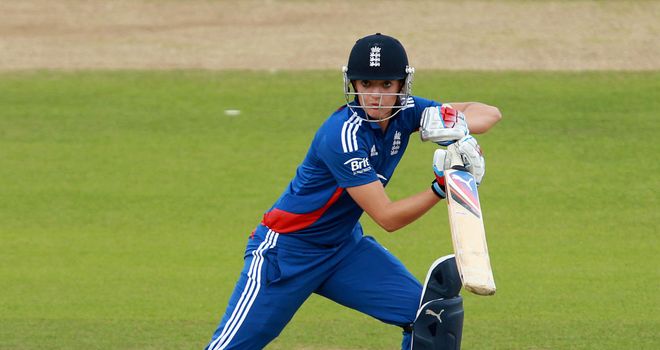 After the beginning of the summer was drastically affected by rain, joining the squad at Loughborough definitely brightened things up for a lot of us.
Jenny Gunn and I become quite the movers on Dance Central on my Xbox. It's safe to say that a few of the girls have some catching up to do!
Our first game of the summer was a T20 against Ireland and considering the pitch was extremely wet that morning I think it was brilliant we even got on! We batted first and struggled with it being so slow but Charlotte did well and ended up on 72 not out. We got 136 and Ireland fell short finishing on 85. Our summer was up and running!
We then headed to Canterbury, which having not been there before has become one of my favourite places. It was very cute with a little bookshop I could have stayed in all day. The team spent an evening supporting England in the Euros, it was sad to see England head out but it made for an entertaining evening.
Competitive
Our first T20 against India came with glorious weather and we were batting first having been put in. Unfortunately Charlotte got an unlucky decision and I came out to bat in the second over, not the best start but it was great to bat with Laura Marsh and we put on a 104 run partnership. We finished on 137, which we saw as competitive.
We bowled very well at the start with Katherine steaming in as always. India lost wickets often and found it hard to maintain any momentum in their innings. Danni Wyatt bowled brilliantly going for next to nothing and Lydia was ridiculously amazing in the field. They fell 33 runs short and it was a good comprehensive win.
Our next travels took us to Chelmsford where we had the hottest day so far this tour. As a team we love playing there as I think we have a 100 per cent winning record and the fans always turn out to support.
This time we were in the field first and Katherine struck in the first over with Sharma edging behind. There were five run outs in the innings, which was a reflection of bad running but equally excellent fielding. Lydia continued her brilliance in the field with the best piece of fielding I've ever seen stopping a six on the boundary. They finished on 114, and we managed to reach the total in the 17th over.
It was great to win Player of the Series and contribute to the wins; all the champagne is hard to not touch!
Dream
We are now currently, for me anyways, back home in London ready for the ODI series which begins at Lord's on Sunday.
We all went to see Billy Elliott on Friday night where Jen's dream of hitting the stage was reignited. It's my second time of seeing it and it never disappoints - what a great show!
We had a rest day on Saturday and what rest means to some means shopping to others. So I went off to fill my boots and spend!
Let's hope the weather's good for the start of the NatWest Women's Series on Sunday, it doesn't get much better than playing at the Home of Cricket.