Simply stunning!
England's Sarah Taylor blogs on one of the best tons she's ever seen and the Port Hills scenery.
By Sarah Taylor
Last Updated: 08/03/12 8:59am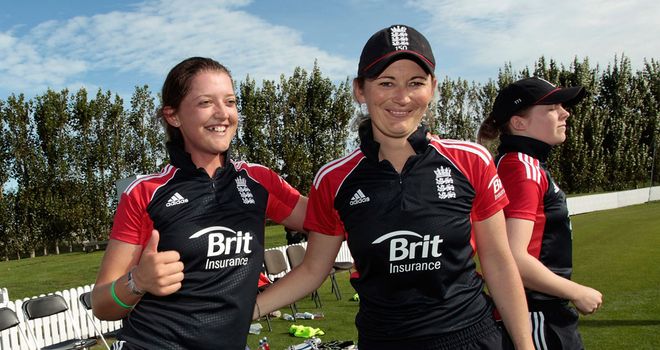 It's hard to imagine a better way to round off a fantastic one-day series!
It's always brilliant to be unbeaten but to do it away from home, in Christchurch, makes it that much sweeter.
It's been a really strong team performance which everyone has contributed to but a highlight has to be Charlotte Edwards scoring one of the quickest and best centuries I have ever seen; I'll remember it for a very long time I'm sure.
On a personal note, my century in the last game was one of my best in an England shirt and I was fortunate enough to have a 201-run partnership with Lydia Greenway which was a great way to finish!
Picturesque
Unfortunately the weather hasn't been that good and one of our games was reduced to 26-overs-a-side, but despite all the rain the ground staff at Lincoln have done a brilliant job in preparing a superb wicket which we have thoroughly enjoyed playing on.
During some down time a few of the girls visited Akaroa. I know the picturesque views were something to behold, but from what I can gather they didn't go on the best afternoon so I'm not sure how much they believe me on that one.
I managed to take a trip up the Port Hills with some of the girls. It's safe to say that the journey up there may have put some of them off visiting again as it is like driving around a cliff edge!
It's completely worth it once you are up there, though; the views are absolutely stunning during the day (picture one) and at night as you can see the majority of Christchurch (picture two).
Now the tour is over I will say goodbye to the girls. Some of them are heading back home and some are heading out to Sydney for a well-deserved holiday.
I shall be continuing my time out here and head back to Wellington to travel around the North Island before heading home, I'm really looking forward to it. I love New Zealand and have enjoyed my five months here but cannot wait to get home to see my family.
Don't forget to follow Charlotte, Sarah and the England Women's team throughout 2012 here on skysports.com.