Tried and tested
After playing at Eden Park and practising her rugby skills, Sarah Taylor gets ready for the 50-over series.
By Sarah Taylor
Last Updated: 27/02/12 11:28am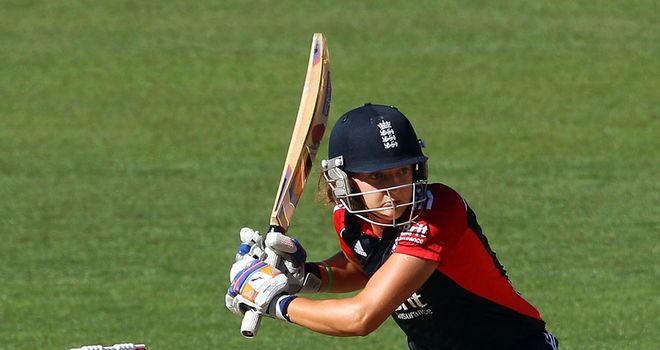 Well, what a great T20 series for us! There were some brilliant performances and to win 4-0 was fantastic.
We played our first three T20 matches before the Black Caps took on South Africa; I personally love doing this because we get to showcase the women's game to people that might not necessarily watch it.
It's also great when the games are on TV and these games were on Sky in New Zealand and back home. All this can only be good for the women's game.
Emotional
We played at some big stadiums in Wellington, Hamilton and Auckland. My favourite was Eden Park in Auckland, as it's not every day you get to play on a ground where a World Cup was won (albeit New Zealand winning at rugby)! But still it was great to play there and I know my father would be jealous.
After our game there was a minute's silence of remembrance for all those involved in the Christchurch Earthquake which happened a year ago to the day; it was extremely touching and very emotional for some.
Our travelling has been somewhat entertaining, the majority has been okay but the flight from Auckland to Christchurch put a lot of the team on edge. Danni Wyatt and Danni Hazell do not enjoy flying at the best of times but to see them with their heads in their hands was interesting!
Stunning
It was a shame to have one game rained off but luckily the fourth and fifth T20s were back-to-back so we were still able to play in Invercargill at a very nice ground.
None of us ever want to miss any international games and found it a bit frustrating hanging around to see if the weather would clear. When the game was finally called off we were all ready to stretch our legs so some of us tried our hand at a few rugby skills. I think it's safe to say we should stick to cricket; we weren't bad but I think we would get crushed if we came up against true rugby opposition!
We are heading to Christchurch today and I know a few of the team plan to visit Akaroa. I went there last year and it's a stunning place with beautiful French restaurants, in terms of visiting places it's a must see.
After a good T20 series we are all looking forward to the three-match ODI series and will be returning to familiar surroundings in Lincoln, where we beat New Zealand emerging players in our three warm up matches.
We'll be looking to continue our form and I personally love 50-over cricket so can't wait.