A decent guide
Sarah Taylor blogs on England's warm-up form and the perils of showing the team around Wellington.
Last Updated: 16/02/12 10:20am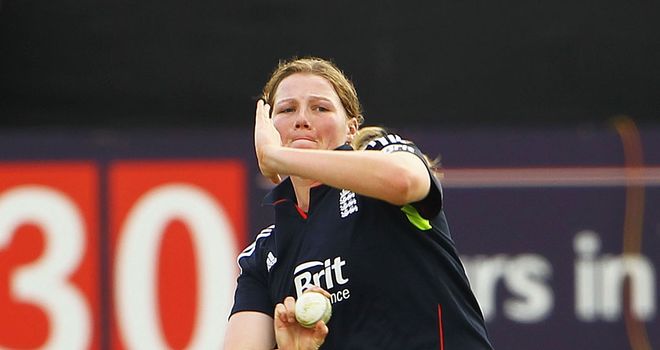 We had a great preparation week in Christchurch, winning all three of our warm-up games convincingly with some good contributions from everyone.
Charlotte Edwards hit a century and Anya Shrubsole picked up a career best 5-5 in the first game.
Having been out here last year I have a few friends in Christchurch and it was nice to be able to catch up with them one night for dinner. It was a year since I last saw them but luckily they hadn't changed a bit.
There have been some funny moments already this tour, one being during training when a ball flew onto the wicket just as the groundsman was rolling it and the ball ended up under the roller. It couldn't have landed on a better line or length, but fortunately the groundsman was a good sport and did a brilliant job fixing it before our game the next day.
I did say it wouldn't take long before the pranks started and Heather Knight made the first move. Fortunately it wasn't me on the receiving end, but Laura Marsh wasn't so lucky.
Nerves
We flew up to Wellington on Wednesday ready for our first T20 against New Zealand on Friday and packing our bags for the flight was somewhat of an event. The plane we flew on was a small propeller one and we were told we all needed to reduce our baggage weight.
Coming over to New Zealand my bags weighed significantly more than 23kg so my gear ended up spread over numerous bags for the internal flight. I think this may become a theme for the tour as many of the girls had the same problem with straighteners and wash bags being passed around to the distribute weight.
It's great to be back in Wellington, it's where I've been based for the winter. Being the 'local girl', I've been showing the girls around and have been tasked with suggesting places for dinner.
My local knowledge has been appreciated by most, apart from those who don't share my taste in restaurants. My tour guide status has also come into play suggesting good spots for free Wi-Fi; it's crazy but I'm not quite sure how people lived without the internet.
Today we trained at the lovely Basin Reserve ground and then went on to the Westpac for a fielding session. It was good to see the stadium and get a look at the wicket, but it's certainly got the nerves going. I can't wait to get the series up and running on Friday.
Watch England take on New Zealand in the first T20 international from 1.30am on Friday on Sky Sports HD3. Follow Sarah on Twitter at @Sarah_Taylor30