No room for error
Danni Wyatt blogs from Potchefstroom as England bid to make a flying start to their South Africa tour.
Last Updated: 28/10/11 9:42am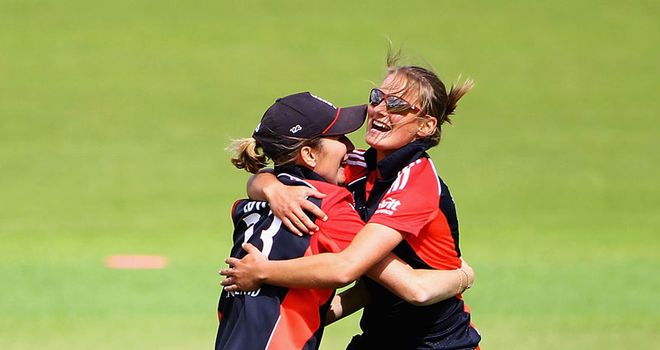 Four weeks after the season finished we've touched down in Potchefstroom.
For the long, 10-hour flight I started off sitting next to Sarah Taylor for take-off, which I hate, but then when she wanted to sleep I moved and sat with Katherine Brunt to have a go at the team quiz. Amazingly we won! I'd like to say this was due to my extensive celebrity knowledge but I think it was down to the help from the couple sitting next to us.
After no sleep at all on the flight I couldn't wait to crash out as soon as we got to our accommodation.
I'm rooming with Lottie and as always we had to go to the local supermarket to make sure the fridge was packed full of food and buy the all-important tea bags, as I make the best cup of tea apparently.
The first night I struggled to keep my eyes open at the opening function where we met up with the South African team for the first time. After a blissful 11-hour sleep in massive double beds we had our first training session at the great facilities here in Potchefstroom.
Inspired
Everything is within walking distance here, which is handy for those that like to sleep in, but it means we don't have to get a coach to training and I'm really missing my fix of Rihanna which was my choice on the team CD.
On the second night we went to an amazing steak restaurant and now I know why the South African's love their meat. It was so good we have booked to go back for a team meal already.
It's been really windy here which has made high catching quite interesting and when we went to coach local school girls in the afternoon it threw it down with rain. They were all joking that we brought the English weather with us, but hopefully the sun will return soon.
To be able to take some time out from training and help out at the girls' training session was a really good thing to be able to do. They were all so enthusiastic, smiling and enjoying themselves and hopefully will be inspired to continue to play cricket.
We finish our preparation by playing a warm-up game against a local boys' team before our first ODI on Friday. We're all looking forward to getting the series underway now and hopefully I'll be in the starting 11.