Bumble blogs on key players in England-India series and impact of spin for both sides
It's not just England's batsmen who need to be wary of India's spinning pitches, says Bumble.
Last Updated: 14/11/12 12:10pm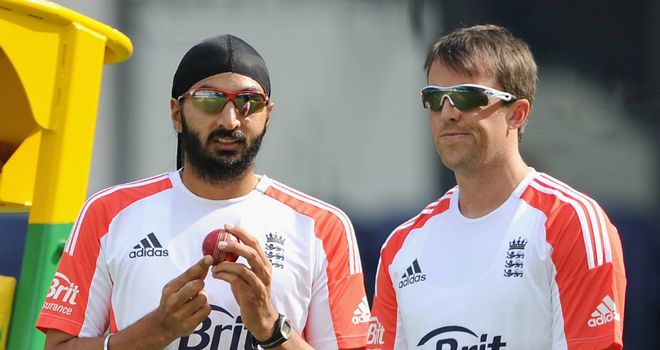 I would expect India to win this series - it's well documented that teams don't travel well in modern Test cricket - but this England team are very resilient and will be very well organised. It won't be as one-sided as some people seem to think.
You don't need me to point out that a lot will depend on how England adapt to playing spin and it's hardly rocket science to suggest that will have a major bearing on the series. There's no doubt England will face spin in the match, probably from ball one, and I have no problem with that because spinning pitches are interesting pitches.
It's never easy, but I believe they can answer those questions. Remember, India don't have a bowler like Saeed Ajmal who undid the top six for Pakistan. They'll know all about Ravichandran Ashwin and Pragyan Ojha, but they've got to ensure they keep Yuvraj Singh quiet as well because he is a decent bowler who shouldn't be underestimated.
But while people talk about England playing spin, it's also about the opposition. If England bat first, get big runs and the pitch deteriorates then they will have ample ammunition to get at India.
Dismiss Graeme Swann at your peril. If you can assess his mood from Twitter then he is absolutely fine after returning home to see his sick daughter and if the batters do their job and he gets to work on a spinning pitch then he can do some damage.
He is a fantastic bowler - and so is Monty Panesar. I don't know whether he'll play or not, but if he does then he is a fine option.
England tend to go in with three seamers and one spinner, but I would have no problem with playing Panesar as a second spinner. Knowing England, they wouldn't play Stuart Broad unless he was 100% fit so I wouldn't see a problem in using him as one of two seamers.
People mention Samit Patel, but he's a "filler-inner" for me. He's there for his batting and his know-how on spinning pitches, but he is another very good player.
Similarly, if Sachin Tendulkar, Verinder Sehwag and company get runs on the board and hand things over to Ashwin then England have got a problem. That's why the toss will be so important.
England are in a comfortable place because they are the underdogs - they prefer to be in that position - but there's no doubt this will be a hellish tough series for both teams.
The key men
There really are some key players on both sides.
For England, Alastair Cook will be extremely important. He needs to get everybody off to a good start and I think he'll do so because he's well organised, has a good method and his record is exemplary. The new England captain is a run machine and they'll have to prise him out.
Then you're looking to Kevin Pietersen to build on the foundations, score quickly and try to take the game away from India. I think everybody's thrilled he's back in the team after everything that's happened and I'm sure he'll be fine. I've never shared a dressing room with him, but I've always found him amiable and polite - and he's also one of the best players I've ever seen.
On the Indian side, I'm looking to Virat Kohli to live up to his reputation and I'm convinced Gautam Gambhir will be a massive player in this series. I think he could have a fabulous impact.
I'm also looking forward to finding out if Yuvraj can cement a place in the Test team, remembering that one-day cricket is totally different to the longer form of the game.
Both teams are evenly balanced and, in a nutshell, it will come down to temperament and first innings runs.
Early starts
There's a lot of cricket coming up on Sky (the Australia-South Africa series looks like it's going to provide some gripping stuff) and it's good to get back to Test match cricket.
I look forward to providing commentary for you all from London. There's no doubt it will be different for us, but we're determined to ensure it will be as seamless as possible for all the viewers. You can rest assured we won't let our standards drop.
It will be strange working from London, but being on Indian time. I suppose most days we'll finish at 12pm, have something to eat and get to bed by 6pm.
Thursday will be slightly different because Jack Russell is going to paint my portrait for his new book. You'll all remember him as a wicket-keeper, but he's also a brilliant artist and in his new book he's painting all the grounds along with characters from the area.
I'm very pleased he's asked to do me for Lancashire (he's also painting the old groundsman Peter Marron) and as a result, I've got to go back to my hotel on Thursday lunchtime and sit for Jack for two hours.
It sounds simple, but I'm not very good at sitting still; that's why I never go to the pictures. I'm sure there's some great movies on, but I can never go to a picture house because I can't sit still for long enough! I need to get up and walk about.
Anyway, I look forward to speaking to you at 3.30am every morning - and I want an email from the chap who watches from ball one to the last ball of the series. We want to hear from you!
I also want to hear from the folks who've been out and are just coming in when play starts. Where have you been? We'll be up at that time, so share your experiences with us!
I look forward to having some fun with you over the next few weeks.
England's Test series in India begins on Thursday November 15 at 3.30am on Sky Sports 1 HD.