Limited appeal?
Is 50-over cricket too predictable? What's Robbie Savage like at cricket? Don't miss Bumble's blog...
Last Updated: 06/09/12 3:07pm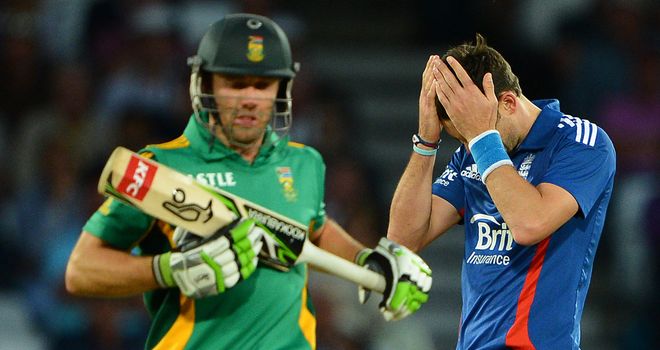 It was honours even in the one-day series and the reaction seems to be that 50-over cricket is becoming very predictable.
The fact remains that it doesn't look like a very good game at the moment. In Twenty20 every ball is an event, but in 50-over cricket there's a middle period when nothing really happens.
You've got 10 overs up front with a brand new ball at each end and neither team is interested. The batsmen aren't bothered about hitting the ball; they're just interested in survival. England and South Africa were going at four-and-a-bit for those overs in this series, compared to seven or eight in T20s.
Then you have a five-over break before you can take another powerplay and then the bowling powerplay comes... you can write down what's going to happen. You know exactly what's coming and there doesn't seem to be any element of surprise. It's almost like a game of chess.
You can't blame the teams. The captains will look at all these by-laws, restrictions and powerplays and work out what they're going to do. You've got to look at the format itself.
Test matches are exciting in a different sort of way. Bowlers will probe and batsmen will have difficult spells in different conditions, which spectators understand. In 50-over cricket it's just "who will score more than the others?" without the bish-bash excitement of Twenty20.
Personally, I wouldn't have a clue how to sex it up again. Some people have suggested having no restrictions (other than 10 overs per bowler) and others are talking about two innings of 25 overs per side.
It didn't help that in this series we had two teams running on empty. Players were being rested for all sorts of reasons and I wonder if a shorter series might have captured the imagination?
The anomaly to it all is that the grounds have been full, but it still doesn't appear to be a very exciting, high-energy game. Other pundits are saying the same thing.
I'd be interested to hear what people think of the format? Is it an exciting game? Are you going to come next year against New Zealand?
From my perspective there's something missing right now.
Tonsillitis and tinkering
I couldn't get on the mic at Trent Bridge on Wednesday. I lost my voice, a bit of tonsillitis or something, so I decided to go home.
We've got lots of commentators anyway, so I thought it'd be better if I didn't infect the others.
I'll be back on Saturday for the first T20 match. This is an ideal time for both sides to prepare for the ICC World Twenty20, minus the stinking hot conditions.
England have got a good, young, mobile squad with lads like Alex Hales, Jonny Bairstow, Craig Kieswetter, Eoin Morgan, Jos Buttler and Luke Wright who looked fantastic when I watched him in a 40-over game last week.
There's 15 in the squad and it's a mystery how they will line up because there's so many permutations. I think we'll see both teams tinkering with their options in this series.
They're obviously playing to win, but they're definitely preparing for the World T20, and in the grand scheme of things these results won't matter too much.
Savage and fighting
I played cricket with Robbie Savage this week.
It was a charity game that Michael Vaughan had organised in Sheffield. I can report that Robbie is a slow, canny bowler (he bowled Phillip DeFreitas) and he was willing to swing from the hip with the bat.
He ran down the pitch at Devon Malcolm, which isn't really a great thing to do, but my favourite moment was when we went out to field. He came over to me and said: "Where's backward point?" He had no idea where he had to go.
Our team won on losing-less-wickets. All I'll say about my own performance is that I ended up with a-few-not-out...
Andrew Flintoff was also playing, complete with a fat lip, a nose all over the place and a black eye.
I found out about his plans to become a professional boxer a few days ago. However, it seems he got absolutely spanked by an army bloke from Aldershot who he's been sparring with.
Personally, I love boxing but I think I'd leave it to the boxers. I have a man to do that sort of thing for me.
If anybody needs straightening up, my man Clarke does that!
Let's dance?
Good news! The Brigadier has taken to Morris dancing!
He's sent me a leaflet for the Exeter Morris Dancers and I can only assume he's decided to take up a new pastime. The chairman - known as the bagman - seems very keen to recruit him. He seems to think we should both give it a go, but I think I might be a bit busy.
It brought to mind the time I met some Morris dancers in a bar in Cartmel. They were in their bells and buckles and I asked one of them how the dancing had gone. He told me they hadn't started yet.
When I expressed surprise that they were having a drink, he turned to me and summed it all up very well.
"Would you do this sober?"