All about hard work
Bumble hails Hashim Amla's arrival, but says England won't change much for the second Test.
Last Updated: 25/07/12 12:11pm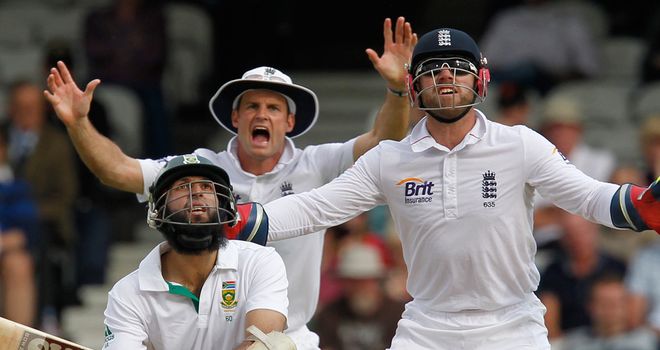 England were absolutely blitzed by South Africa, who had a perfect Test match at The Oval.
They were by far the better team and played total cricket. The batters got runs, the pace bowlers did their job and the pitch helped the leg-spinner, who came into his own in the second innings.
And of course, Hashim Amla confirmed that he is a world-class player with that wonderful triple hundred. At the age of 29, he has announced himself up there with the very best of them.
I recall him being a walking wicket when he first came into the Test team, but he has improved his game out of sight. That's what hard work can do. I always thought he was going to be a fantastic player because of his work ethic: as Gary Player once said, "the more I practise, the luckier I get."
He showed wonderful powers of concentration to go with the skills that he's got. He didn't break sweat and the challenge to the England batsmen is whether or not they have the capacity to score a 300.
Yes, they have the tools and I don't think there's much difference in class, but the question is whether they have the strength, stamina and willpower to score that many runs.
I didn't see any weak links in the South African team and the only shadow on the side is that the horrific injury to Mark Boucher has left them vulnerable in the wicket-keeping department. I felt AB de Villiers looked clumsy at times, but he was well covered by the rest of the team, in particular the captain who had a splendid game.
That might be an area for England to take advantage of, but overall it was a fabulous display.
Don't gimme five
England have got to come back from that and they'll be wishing that this was a five-match series, rather than just three.
England simply weren't potent, they lacked energy and they got well and truly turned over. It's an absolute mystery why none of the bowlers could touch 90mph at The Oval (especially when we saw two guys producing that sort of pace in the T20 game at Taunton on Tuesday).
They need to get something from the next two games, but I don't expect many changes to the team. There's an argument that you could try to get Steven Finn into the side for one of the three fast bowlers, depending on who is fit.
But I don't think there's any way that England will play five bowlers. If they don't do it in the sub-continent when it's 45 degrees, they certainly won't do it at Headingley.
For me, the key to South Africa's success is a fellow who never gets mentioned; Jacques Kallis. He's the fifth bowler and with 280 Test match wickets he's a bloody good one as well! England's fifth bowler is Ravi Bopara, who doesn't offer the same threat, so that's a massive difference.
England must simply work hard and execute the plans that are in place, but one point I will make is there's no substitute for aiming for the top of off-stump. They put three stumps in the ground and I would have thought you should try to hit them?
In the first Test we saw both sides bowling outside off-stump and I've never understood that. You're just hoping for a lapse of concentration from the batsman. At least if you bowl at the top of off-stump you can set simple fields and increase your chance of getting him out.
It's simple, isn't it?
Hotting up
So summer has finally started and suddenly Twenty20 cricket is absolutely fine.
Nobody has been going to the matches in the wet, miserable weather and that's thoroughly understandable, but I was at Taunton on Tuesday and it was packed to the rafters. It was the same at Sussex.
It goes to show that all you need is some decent weather and sadly we can't control that. People have been criticising the format, but it was no wonder the crowds were down. It was like playing in the middle of winter!
The grounds were packed on a sunny day and Sky Sports brought you the two matches back-to-back with all the cameras and commentators you could ask for. It was wall-to-wall cricket and I think it's a fantastic product.
Things are revving up nicely for Finals Day on August 25.
Back in action
I must mention that I'm playing in a charity game on Friday... and I'm dreading it.
It's PCA England Masters playing against The Dean Headley Invitation XI at Stamford from around 2pm and I've been badgered into playing with the likes of Flintoff, Devon, Daffy, Gladstone, Fairbrother, Headley and others.
It will be great fun catching up with them, but I expect I'll need an ice bath at the end of it.
Olympic pains
Finally, I had my first taste of the Olympics down in London. It was chaos.
They opened the Olympic Lane for diplomats, officials, competitors and third-rate celebrities and then you had bus lanes on the other side. That left a little strip of tarmac in the middle for the rest of the city.
The taxi drivers were up in arms and rightly so. The cabbies are trying to get people from A to B and now they can't.
And I don't know if anybody else is getting to the same stage as me, but when are they going to get rid of that torch? I think I've heard enough about that now.
Can't we just get on with running and jumping and throwing things?