Demolition job
Bumble blogs on Australia's plight, rebuilding Old Trafford and the gaping holes in county finances.
Last Updated: 11/07/12 12:42pm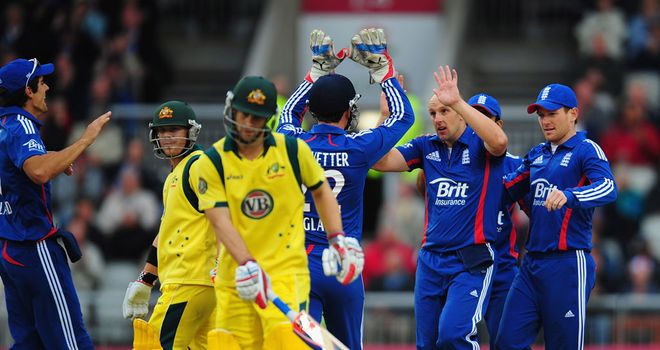 England are the new Australia. It's that simple.
When I was involved with England - and for many years after - Australia were a world-class outfit with players who kept coming at you.
You all know the names; Waugh, Hayden, Langer, McGrath, Warne and the like.
And then there were players like Darren Lehmann who could barely get a game. People used to say Australia seconds would beat most people and they were spot on.
Well, this England team is the negative imprint - they dominated the Aussies in this series and didn't give them an inch.
I did a McGrath at the start and said England would win 5-0 and but for the terrible weather they would have done.
Shrewd
John Inverarity, Cricket Australia's national selector, is a shrewd man and he's smart enough to say that these players are the best they've got.
That puts him at odds with the coach who came out before the defeat at Old Trafford and said he was surprised his side was 3-0 down because the team is world-class.
Well I've got news for him - they aren't!
Mickey Arthur also said he wanted Australia to show some mongrel spirit and admitted that England had 'bullied' his side when 'outplayed' might have been a better choice of word. But we all know what he meant!
It's a bit like that time when I said 'we murdered them' - most people knew what I was trying to say even if I didn't quite express it how I wanted!
Anyway, the point is there's competition for every place in this England side.
James Tredwell came in yesterday when Tim Bresnan was left out and look at the impact he had on the match. He took two wickets and picked up a run out, and for most of his seven overs Australia could barely hit a run off him!
Ian Bell missed out but Alastair Cook and Ravi Bopara did the job with no bother. When one player fails, others step in: that's what makes successful teams great.
England's top order have done so well that I've barely had a chance to speak about Eoin Morgan or Craig Kieswetter, who I thought kept fantastically well.
This team now have to prove they can do the same overseas, which is why this winter's tour to India later this year is so important.
So let's not get carried away. After all, we're still only ranked third in the world behind Australia and South Africa...
Comfort
There were one or two digs about the state of Old Trafford yesterday as the massive redevelopment continues but let me reassure you - there's nothing being done that Lancashire haven't already said would be.
I thought it was wrong to stage international games at the Rose Bowl and Edgbaston when they were being redeveloped so I'm not going to change my tune for Old Trafford.
I don't think it's good for spectator comfort and it's not as though we've got a shortage of grounds that stage them instead while the building work is being done.
But don't worry - Old Trafford will be in great shape by the time next August's third Ashes Test rolls around. It will be a truly world-class venue, don't you worry about that.
Hopefully we'll still have a full complement of English counties then.
I say that because there's a big story brewing in the wake of this season's rain-affected Friends Life t20 competition.
All the bad weather and the impact it has had on crowds means that some counties out there are really struggling financially; they're on their knees and will be in desperate need of a hand-out.
Before I go I want to name-check three players have stood out for me this season.
The two still in the competition both play for Yorkshire - they're Australian left-armer Mitchell Starc and 21-year-old skipper Azeem Rafiq. Keep an eye on them when they play Worcestershire later on in the month.
The other player is David Willey, of Northants, who are out. He's really impressed me - and not just because there's a little bit of the Ryan Sidebottoms about him.
Coming up in a future blog...
I'm going to compare T20 competitions around the world and look at how we can improve ours. I don't want to give too much away but it's fair to say I'm massively in favour of the IPL...