The white approach
Bumble blogs on England's top three for the ODI series and why Ramdin was wrong over Sir Viv.
Last Updated: 14/06/12 3:27pm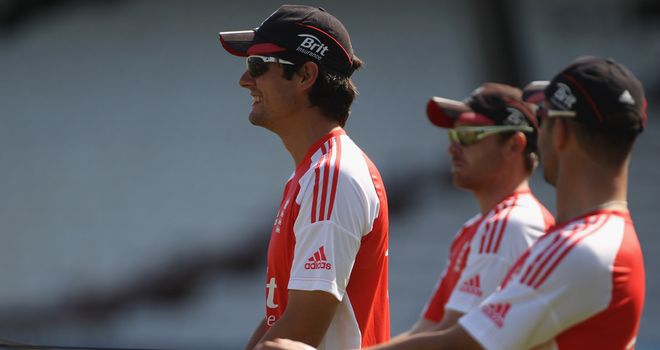 With a white ball at each end, I think we could see more of an old-fashioned approach from England in this one-day series.
There's been two phases in 50-over cricket. More recently we've seen a phase where you wanted pinch-hitters in the side to come belting in, but with a ball that's damned-near brand new at each end things will be slightly different.
I think we're going to go back to ticking over and keeping wickets intact for the last 10 overs. Of course, we've got to score and look to be aggressive, but in the past we've been guilty of not batting 50 overs - and it's an absolute given that you need to do that.
You've got to try to play to your strengths and England's strength will be to keep hold of their wickets, then kick on with everybody playing their part.
The reason I say that is because England's top three - Alastair Cook, Ian Bell and Jonathan Trott - are really good players, but they're not Jayasuriya, they're not Gilchrist and they're not Gayle.
And they're not Kevin Pietersen either. He would have been the one expected to fulfil that role but he can't do it now he's retired.
England's top three will all play in a similar way and must look to set the game up. I can promise you they won't be dawdling, but they can't play like the aforementioned either. They need to rely on their skill instead.
There are all different types of one-day players and those three must look to play like Mahela Jayawardene. Now there's somebody who looks to bat all 50 overs - and when he does he'll get loads of runs. Kumar Sangakkara is the same. It's not all bish-bash; you can go a long way by moving the ball around.
That's the way for England to progress because we don't have another type of player. People say we should have brought a young big hitter to replace Pietersen, but I'm struggling to come up with any names.
The only one that I would have seriously considered - and he's definitely not a youngster - is Michael Carberry. I think he's a terrific player, a magnificent fielder and that could have been a really good selection. I'm all for promoting young players, but in this case, he's the man I'd have gone for.
However, Bell is a terrific batsman and England have made a big investment in him. He's had lots of chances and they've given him another one. Let's see if he takes it.
For me though, one-day cricket is still England's weak suit In contrast, it's the West Indies' strong suit and in Chris Gayle, Dwayne Bravo, Lendl Simmons, Andre Russell and Kieron Pollard they've got some jolly good players.
My two bob on this series would be going on the West Indies.
Ramdin was wrong
It was an awful five days at Edgbaston, but there were some nice pockets of play.
Denesh Ramdin played exceptionally well and the partnership he had with Tino Best was absolutely sensational.
But I thought waving that piece of paper with a message for Viv Richards was really poor. I've been amazed by the number of people on Twitter who've said he deserved his right to reply, but for me, it was totally the wrong thing to do.
A commentator does exactly what it says on the tin - he makes comments. If Sir Viv said it's about time Ramdin got some runs then he was exactly right - and I'm sure he would praise a terrific effort when he got his runs.
The majority of the time you'll hear a commentator talking about great games of cricket, wonderful batting performances and terrific bowling, but every now and again he has to say that someone is a bit off the pace or hasn't played very well. That's why we're there.
We will make our opinions and we're not here to say that those opinions are always right. Whenever we say something on air, we get a shedful of emails from people disagreeing with us and that's absolutely fine.
I'm not going to name the player, but a few years ago I said something on commentary and the player in question came up to me afterwards to give it the big "I am".
I pointed out that I didn't think his performance was very good. I told him I'd be happy to buy him a drink afterwards, but I'm paid to comment on what the players do. It's not that I didn't like him, I just made a comment.
I also pointed out that he'd never come up to thank me when I'd said he was brilliant...
Who'll be top rod?
I've been everywhere this week. I went straight from the Test match to Leicester and then it's Sussex, the Rose Bowl, Taunton and over to London.
Somehow I've managed to find time for a day off on Monday and I'm going Fishing for Heroes; a fishing competition in the Meon Valley for the Help For Heroes charity.
Beefy will be there. Atherton will be there. I fancy my chances of beating the pair of them, but I'm sure they're thinking the same.
You can find out more on this website
I'm also pleased to report I'll be staying with The Brigadier when I'm down at Taunton. He lives somewhere around Exeter, so he's taking me to the Thirsty Farmer.
No doubt I'll have to have a cider or two!