Give it a rest
In an era of too much cricket, Bumble says England are totally right to rest Jimmy Anderson.
Last Updated: 06/06/12 2:54pm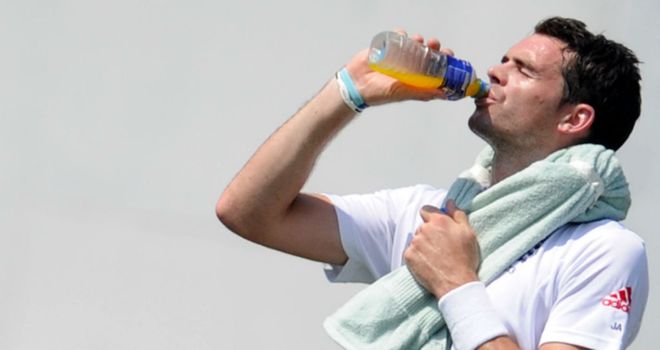 I've been a manager and one of your jobs is to know when your players need to rest.
A good manager will do what's best for the team, so I would agree 120 per cent with the decision to leave out Jimmy Anderson for the third Test against the West Indies.
It should be no different to football. The football spectator now understands that Robin van Persie or Wayne Rooney won't play in every single game. The manager gives them a rest from time to time to prolong their careers.
I would suggest that Arsene Wenger and Sir Alex Ferguson are very good managers. The player might say he's fit and he wants to play, but it's not their decision. The manager has to do what's best for the team.
I like the idea that cricket is moving more and more towards the football manager; somebody who is seen to be managing.
We still have the situation in England, which I'm comfortable with, whereby we have selectors. Geoff Miller is the selector on the payroll and you could argue that he's the manager with a coaching staff under him, headed up by Andy Flower. Everything points to Flower being the "Ferguson" figure, but it may actually be Miller.
His job is to take charge of the team's best interests and it really gets my back up when people talk about individual players reaching personal records. I'm not remotely interested in Anderson trying to catch Ian Botham's bowling numbers; the only thing I'm interested in is what's best for the England cricket team.
My view is that a rest for Anderson is a good idea because it will help him to be fit and firing for a very demanding summer - and personally I would rest Stuart Broad as well.
The fast bowlers provide the engine for any cricket team and they have a very demanding job. Just ask any of the great quicks of yesteryear if they've got any knees left!
Flower has made the point that if you think Anderson, Broad and Tim Bresnan are going to open the bowling in every single international game this summer then you must be having a laugh. So take your first-choice men away from the coalface and let the other guys come in and play the David Fairclough role. Let them be the super subs.
Steven Finn and Graeme Onions can come in and Chris Tremlett is another option when he's fully fit. Plus if you want a left-field choice they could also take a look at Jack Brooks, who bowls at 90mph and is improving all the time.
The management of the players is of great interest to me and I'm absolutely thrilled that the England set-up seems to be managing the players to get the best out of the team.
Too much
The Anderson situation is closely related to the Kevin Pietersen situation, which is closely related to the Chris Gayle situation.
There is so much cricket now that Pietersen has had to make a choice about what he wants. First and foremost he wants to play Test match cricket and then he wants to play IPL cricket because that pays the rent. He would like to play Twenty20 cricket as well, but he doesn't feel he can do all of that and also play 50-over cricket.
So his retirement tells you that there's too much cricket, just as the England management's decision to rest Anderson tells you there's too much cricket.
Meanwhile, Chris Gayle is being selective over where he wants to play. That also tells you there's too much cricket.
Want more examples? Lancashire have already finished half of their Championship programme and they'd done so by June 2. There's too much cricket.
It's not just the players that are feeling it either; it's the fans, too. I attended a 40-over match on Tuesday in which Vikram Solanki and Phil Hughes each hit a hundred. It was a wonderful exhibition of batting from two crackerjack players - but there were two cats, a dog and a shopping basket watching the game.
I can't stand it when people say things were better in the past, but I can remember when you'd get 20,000 packed in every Sunday to watch a 40-over game.
All these things are telling you the same thing: there's too much cricket.
Hellish busy
I heard there was a bit of a party over the weekend. That passed me by.
I've been hellish busy, travelling all over the place. I've been in Nottingham, Durham, Manchester... and it's Edgbaston next. I even had to squeeze in a few hours to jet-wash the mother-in-law's patio.
There's more to come in June and the logistics are pretty demanding, especially when you're sitting in stationary traffic on the motorway.
There were no street parties on the M6 or the M62, let me assure you...