A pair of aces
Bumble puts Broad and Anderson in the league of great pairings and looks at the West Indies' issues.
Last Updated: 24/05/12 3:45pm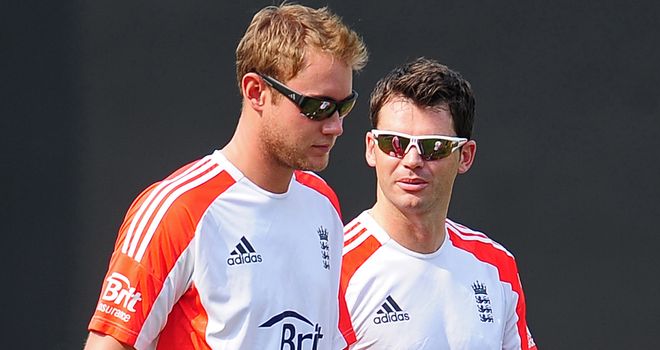 We saw a very good Test match at Lord's and a very competent performance from England.
I thought all of the bowlers did very, very well. Jimmy Anderson made the early breakthrough and the wickets fell for Stuart Broad. They are at the height of their powers and are, quite simply, a wonderful pair.
As I wrote in the Daily Mail, when you look back at great teams throughout history they've had great pairings. You can go through them all; Statham and Trueman, Warne and McGrath... you're going to win a lot of Test matches when you have people like that in your team.
Fairly recently the West Indies had Ambrose and Walsh and in the 1980's there were four of them. Nobody could beat a side with Roberts, Holding, Marshall and Garner in the attack.
All in all, it was a very good performance from the England bowlers. Graeme Swann did his job at Lord's and even though Tim Bresnan's figures didn't stack up, I thought he gave great support.
The selectors have options if they want to make a change there and I'd have no problem with them doing so, but Bresnan has played 12 and won 12. There's got to be something in that.
I'd expect more of the same at Trent Bridge, a place Jimmy Anderson absolutely loves. He's taken 25 wickets in his last three Test matches there.
England had a bit of a rocky time at Lord's, as you would expect in a Test match, but came through it comfortably. I was pleased to see Andrew Strauss get some runs and I think he'll push on through the summer now.
I expect them to win the next match without too much difficulty.
Board silly
There's a lot of debate about the West Indies being under strength.
There are all sorts of reasons for that, including the incompetence of the board. Their players don't earn a lot of money and they are understandably opting for the IPL, where they can pocket a few quid.
But I'm absolutely certain that if there was harmony in the camp and the administration was stronger then you wouldn't see as many defections.
I'm not in the camp and I wouldn't like to say what should be done, but Michael Holding is in the thick of this and he talks very passionately on this topic. It's worth listening to what he's saying.
We all know about Chris Gayle and we all know how much he'll be missed, but they definitely miss Sunil Narine as well. He's a mystery spinner, who would definitely get into this team.
Should he become available it would lead to some interesting selection issues. You can only play 11 and you would assume the captain is one of those - however, Darren Sammy is a very medium pace bowler who bats at number eight.
They've got Fidel Edwards and Kemar Roach as their frontline blowers and they've also got Ravi Rampaul, who is a damn good bowler. If the mystery spinner comes into the side as the fourth member of the attack then there's no room for Sammy. Unless the captain bats at six then he possibly wouldn't get in the team.
The other option is to promote Denesh Ramdin (who has scored 166 in one innings against England) to number six and leave Sammy at seven. Those are the issues that could arise if they brought some of those players back.
But to temper all of that, you have to remember that when those players were available they weren't winning either!
Tied up in Notts
Great news from the IPL. My favourite team, the Chennai Super Kings, have just scraped into the play-offs. They've had a very indifferent time, but definitely don't write them off!
The other big news is that The Brigadier is coming to Trent Bridge. He moved down south a few weeks ago, but he's coming to one day at the Test match and he's having two days out in Nottingham. He's looking forward to it with great anticipation.
He's staying with the Colonel who lives in Nottingham. The Colonel is something to do with a major computer organisation and says he travels the world, but I don't believe a word of it.
There should be plenty to report next week.