A smart new start
Bumble's back to work this week and the top brass at Sky are smartening him up for the new season...
Last Updated: 02/05/12 11:46am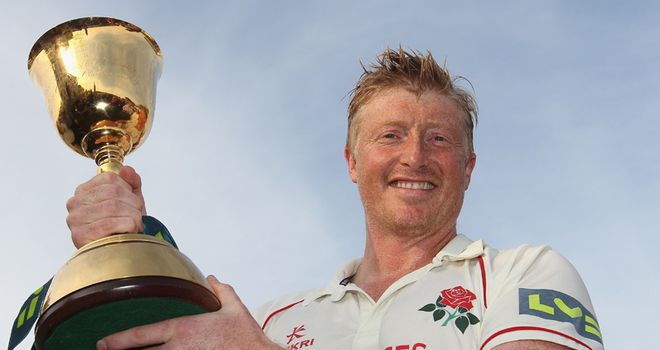 I'm back at work this week, starting at the Oval on Friday, and I'm really looking forward to it.
The season is always heralded by the new Sky cricket advert and this year you can see me and Beefy flying a model aeroplane at David Gower. Everyone seems to be talking about that.
My season starts with the day-nighter between Surrey and Somerset on Friday (which is likely to be freezing in this weather) and on Sunday I'm off to Headingley for Yorkshire v Kent. Then from next Wednesday I'm doing the four-day game between Sussex and Lancashire.
During that game you can see the interview that I did with Glen Chapple on all things Lancashire. Glen's a smashing lad, an absolute pro and at the age of 38 he's still going. As he said, you're a long time retired.
He makes it pretty evident during the interview that he's a one-club man and how much the club means to him. We spoke for a long time and it should be a fabulous little piece of television.
That was part of a very hectic day for me on Tuesday. I did a new voiceover for IMG in the morning ("the mole and the beaver") and then it was off to one of my favourite pubs in Manchester, the Sir Ralph Abercromby run by George the Greek, to interview Glen.
Once work was out of the way it was time for antics. I met up with the hierarchy from the Daily Mail for a shift around Manchester and to cut a long story short I fell asleep on the train home and missed my station.
I had no idea where I was when I woke up. I jumped off and called a cab from the nearest curry house...
Derby day
The city of Manchester wasn't sleeping on Monday during the big derby match.
I watched it indoors with my son and I think even the United fans will admit that City were stronger and sharper and deserved to win the game.
Now I'm looking forward to the must-win situation for both teams on May 6 live on Sky Sports. It's going to be an enormous day of high drama.
That's right. Yorkshire v Kent. Headingley. CB40. Join us for the big one.
On the subject of football, look out for some great news coming out of Accrington Stanley on Friday. There's going to be a press release, but I can't tell you anything just yet...
Also, I can tell the world that 'Vipers' is a York City fan and has just got a ticket to see them play at Wembley in some sort of cup final. She might be going back the week after if they get through the play-offs. They could be playing Stanley before long!
Myself and 'Vipers' went for a nice run-out the other day. We hopped in the car with the dog and went up to the Yorkshire Dales to visit two of my favourite places: Burnsall and Grassington.
We sat outside the Red Lion for a pub lunch on a beautiful day. We overlooked a village green and a river and life couldn't have been better.
In fact, I almost forgot I was in Yorkshire...
Dressing to impress
I've got to go to London on Thursday to get fitted for some new clothes.
The top brass of Sky have decided we need smartening up for the new season, so we're all getting put in some new togs. I wonder if this will affect Athers?
I'm worried it might require an iron.
I also fear I might get sent to the barbers because I've been growing my hair. I'd been hoping for more of a Bohemian look and I'm not sure that'll match the new togs.
You'll see the results on Sky Sports on Friday. Speak to you then.