Too much, too soon
Should the domestic season start so early? Bumble returns to a familiar argument...
Last Updated: 25/04/12 3:03pm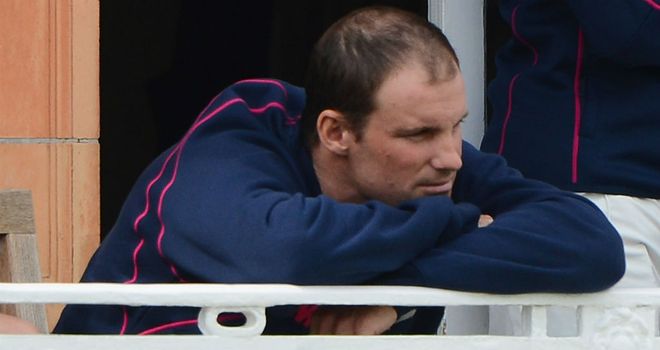 It's a case of trying to grin and bear it at the start of this County Championship season.
It's just pot luck with our weather. If we'd started the season in March the pitches would have been magnificent and in other years you'll find it's really nice at this time.
One or two people up here are a bit doom and gloom after two defeats for Lancashire, but the games are basically a toss of a coin right now.
In these conditions you can steal a march and get yourselves a few points early in the season or you can lose a few. If you get caught out by the weather you have to put up with it.
Clearly when the weather's awful the cricket becomes biased towards the bowling side. The batsmen are finding it difficult and the medium pacers and quicker bowlers are enjoying themselves.
Everybody has suddenly started saying that Andrew Strauss can't play, but try opening the batting on a damp pitch against a new ball. It's not easy. Everyone is shooting at him and things are 90 per cent in the favour of the bowler on these pitches.
As a result of all of this, Mark Ramprakash has suggested that the County Championship is becoming devalued.
I go back to the point that I make time and time again (and I'm sure everybody's bored of me saying this), but there are far too many matches. If you were playing fewer games there'd be no need to be playing at this time and things would be more meaningful.
It's dead simple. If you just played 12 matches per season you wouldn't need to be playing in April, but this is the schedule the counties want so this is what they're getting.
They're cramming the fixtures in - and don't forget there are two other competitions to squeeze in as well - and you end up taking pot luck with the weather. People ask why nobody goes to County Championship cricket any more but you'd have to be barking mad to go out and sit in this weather for six hours.
I want the spectator to see a great game with teams fully prepared to produce top performances. Cricketers would be absolutely up for if there were less matches, but that's not the case.
Forgive me if you've heard this one before. This is a long-playing record for me that I've had on repeat for years and years...
Charity capers
I spent last weekend in Portugal at an annual charity golf event with plenty of names from cricket, football and rugby.
It's a great event and it's good to meet up with the same people year-in, year-out. It was good to catch up with mates like Gladstone Small (who doesn't usually come out in daylight hours), Bob Willis, Andy Lloyd, John Lever, Shaun Udal, Paul Allott and Mark Butcher.
They also attracted sportsmen like Jason Leonard, Matt Dawson and Jeremy Guscott and they raised an enormous amount of money. It's always nice to do something for somebody else.
The organiser is a chap called Monky and he's a big Luton Town fan, so he gave us a marvellous insight into that particular football club. Fascinating it was. No surprise that two of their great stars - Brian Stein and Mick Harford - were both there too.
And here's a little-known fact that might knock you off your chair: JR Thompson ('Thommo' to you and I) is Mick Harford's best mate. Every year he goes and stays with him at his house.
I don't know how or why, but I know it's 100 per cent gospel. There you go.
Farewell to the Brigadier
Finally, I must report that the Regiment has been depleted by the departure of The Brigadier. He's left us to go and live down in the South West somewhere.
We gave him a traditional send-off and he proved to be very accomplished when it comes to upside down drinking.
For the uninitiated that involved the Group Captain holding him upside down by his ankles while he drinks a pint of bitter.
It all went swimmingly until it came out through his nose. Nothing untoward then.
I'll leave it there. Speak to you next week.