Coming together
Bumble celebrates the way cricket united on Twitter following the theft of Ben Hollioake's kit.
Last Updated: 22/04/12 4:14pm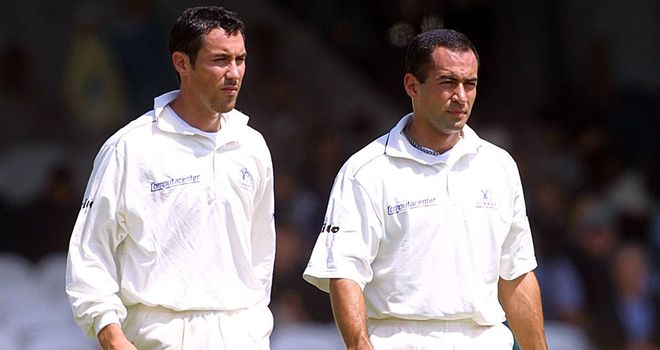 Twitter can be many things. It can be a base for anger, a forum for debate, a place to be downright rude or a tool for self-promotion.
But it can also be used to raise awareness and that's exactly what happened on Wednesday when the cricket fraternity came together over the theft of Ben Hollioake's kit.
Ben tragically died in a car accident several years ago and a number of items were stolen from his parents' home in Australia. Those shirts and bats were the memories that a mum and dad had of their son.
So people stopped squabbling about the IPL or who should be number one in the Test rankings and instead rallied round to raise awareness of this crime. Real heavyweights like Shane Warne and Michael Vaughan came piling in and everybody was united.
Ben's father John got in touch with me to say the awareness had been very high and, as John Etheridge of The Sun pointed out, thousands of people were kept updated on each development. That's something that would have been impossible a few years ago.
The great news is that Western Australia Police recovered some of the kit within hours. Obviously those of us on Twitter did not find the kit - that was down to the great work of the police force - but we came together to ensure the kit was unfenceable.
It was heart-warming to see and I'm pleased there was good news for John, Daria and Adam in the end.
Over in the IPL
Over in the IPL my team isn't doing too brilliantly.
I decided to support Chennai Super Kings, mainly because I like MS Dhoni, who has always been a great ambassador for the game. I also like the vice-captain Suresh Raina.
But they've not been doing well, so I'm thinking of changing sides. Rajasthan Royals did unbelievably to win an unlikely game against Deccan Chargers - I'd already started the tuk tuk - but they knocked off 197, largely thanks to Brad Hodge. They might have earned themselves a new supporter after that effort.
Having watched some of the IPL, I don't think the player interaction always works. I know it's quite raw, but I find that some players are quite self-conscious when they've got a microphone on them. There's only so many times you can ask them if they think they've got enough, what the atmosphere's like, what the pitch is like and who's playing well.
If you've got somebody like Shane Warne on the mic it can be box office, but you need the right person. For instance, I want to listen to iconic players like Rahul Dravid. It needs to be an integral part of the broadcast, rather than a bit of small talk.
There are merits, but it has to be the right bloke. We've done it on Sky Sports for Twenty20 games and sometimes I don't find it adds to the coverage. We've done some with Dominic Cork that have been fantastic, but sometimes they give it to a young chap who is petrified.
I'd be interested to hear what people think about it. There are obviously merits to it and if it's well-structured, well-thought-out and with the right person then I can see how it can work.
But I don't like it in the IPL when they speak to some bloke who isn't even involved. I find it rather self-promotional when they're interviewing the owner of a franchise in the middle of a game. I suspect these fellows want to be interviewed, but when the ball is flying all over the place it detracts from the game when all you're hearing is some rich guy talking about his missus!
I've enjoyed the games, but I can pick holes in the IPL coverage - as you can with any coverage - and I think that's important because cricket should deliver the best possible experience for the people watching.
Domestic bliss
I've been keeping an eye on the start of the county cricket season and when you look at the squads it looks like there are some good teams around, particularly in Division One.
The county champions, Lancashire, got beat by Sussex and one of my first games for Sky Sports this summer will be the return game down at Hove.
Myself, Athers, Bob Willis and Paul Allot are doing that one in early May and I'm looking forward to it. If we had more time at Sky Sports then we would do more County Championship matches, but we can't be in two places at once.
I'd like to mention a few coaches who've been doing a great job: Geoff Cook (Durham), Mick Newell (Notts), Peter Moores (Lancs), Andy Hurry (Somerset) and Chris Adams (Surrey) are all outstanding coaches.
It doesn't get widely reported, but every now and again Andy Flower takes these guys to work with the England team. These are really good people and it's important to get them involved.
I'm looking forward to a really tough Championship this year.
A dog's life
Right. I'm off for a game of flog with my tailor-made Rocketballz golf club. I took it out for a stroll the other day, but I might actually use it this time.
I reckon I deserve an afternoon off after putting together the dog's new bed. 'Vipers' has decided the family pet deserved a proper four-poster bed with a proper mattress. I needed a screwdriver to put the damn thing together!
You have to wonder what the world's coming to. The dog gets a luxury four-poster bed and I end up stuck in the Outer West Wing whenever there's any marital skirmishes...