Stadiums and scraps
Bumble blogs on England's T20 efforts, a difficult Dubai stadium and a fight in his favourite bar...
Last Updated: 24/02/12 5:49pm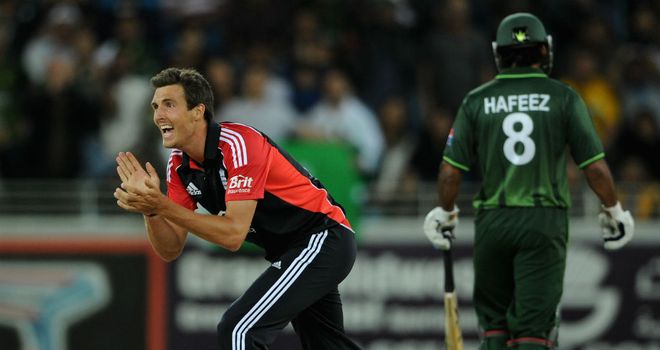 England got turned over by some excellent captaincy and some wonderful bowling in the first Twenty20.
Pakistan showed a lot of know-how to reach 144, a decent total considering the average score is 140, and in typical Twenty20 fashion England lost a game they had been cruising through a mixture of Pakistan's excellence and their own inability to hit the ball. Three of the batters looked like they were trying to stand on the next pitch to hit it - which is not really the way forward!
As I wrote on Twitter, England don't have players like Chris Gayle, Virender Sehwag, Adam Gilchrist, Richard Levi or Tillakaratne Dilshan. People have jumped on me for saying that, but they're missing the point.
We don't have those batsmen who can hit the boundary cleanly. We have some wonderful attacking and inventive players like Kevin Pietersen and Eoin Morgan, but if you look at Thursday's game they were eight runs short and that's because the boundary count was much lower.
Maybe that's down to the excellence of Pakistan's bowling, but we scored lots of ones and twos - and they don't win Twenty20 games. One chap Tweeted me to say you don't need to hit boundaries when you need 35 off five overs... well, you do. A run a ball would leave you five short! Also, why leave it until the last ball? If you've got five overs left then why not try to get the job done in four?
Having been in that dressing room, I'm sure they'll dwell on the amount of contortionist shots they were playing and the way they kept moving away from the stumps. We also need to start playing with the full face of the bat.
It's not that wide in the first place, so use all of it!
The need for Steve?
They won't be too worried about the bowling, although personally I would play Tim Bresnan ahead of Steven Finn. I think the latter is a fantastic bowler, but I just don't think there's any need to play him.
To explain myself, there's no catchers, no short leg, no slips, no gully and he can only bowl 24 deliveries. He's a fantastic bowler, but in this format I just don't see it. Furthermore, he doesn't bat. In contrast, Bresnan can bowl his 24 balls and he's a big hitter as well.
Apart from that, the team is right and in Twenty20 cricket you win some and you lose some. They'll be able to bounce back with a different method.
Pakistan will also fancy their chances though. Umar Gul and some of the spinners were exceptional, the captain remained calm and they defended fantastically well.
With five overs to go I said it would all come down to nerve... and Pakistan had it.
Grounds for concern
I must say that the ground was an absolute shambles.
The match finished at 11.15pm (what sort of time is that to finish a cricket match by the way?), but I didn't get back to the hotel until 1.15am because of the chaos outside the Dubai International Stadium.
The ground was only half full, but outside the roads were totally and utterly gridlocked. There was no public transport, the taxi queue was a mile long, there were no police and no marshals. It would appear that VVIP's are well catered for and everybody else has to fend for themselves.
One of the criteria for holding major sporting events should be ease of access and exit and this ground clearly doesn't have that. There's two or three in the UK that aren't much better either.
It's disappointing when you see the response on Twitter, which is a pretty good yardstick, to this sort of thing. You get people saying they won't go to cricket again if that's how they're treated.
When I eventually got back I wanted a little livener, so I wandered into trusty Nelson's Bar and sat in the smashing leather easy chair by the fire (it's a bit close to the gents, but you can't have everything).
To my surprise, a bunch of bikers were in with all their leathers on (I thought it was a bit hot for that, but I didn't mention it). I had a chat with a couple of the Harley crew and they seemed like nice chaps.
Then I returned to my chair in time to watch the madness unravel. It seems somebody took exception to something and it all kicked off; there was a fracas and the security blokes had to pile in and break it up.
But the thing that made me laugh was that the music played on. Nobody stopped dancing.
Packing and slacking
I flew out to Dubai on Wednesday and had a few celebrity spots en route. I saw Andy Murray at Dubai airport on the way to New York and on my flight there was a footballer with his leg in plaster in one of those big boots. He was in first class with his family (I hasten to add I was not sitting in first class).
Unfortunately I can't remember his name. He looked very similar to Theo Walcott, but it wasn't him, so if anybody knows which footballer was on a flight from Manchester to Dubai this week then please let me know.
Turns out I didn't pack too well. In England, we wear polo shirts and chinos for t20 games, but over here we're not working for Sky Sports, we're working for Ten Sports and their production policy is suits, collars and ties.
Of course, I hadn't brought any with me, so I borrowed a shirt off our cameraman Jake, who is about three times as big as me. It was a little loose.
I needed a tie and, predictably, Nasser saw this as a business opportunity. He hired a tie to me at an hourly rate. I'm not sure I'll give it him back though. I'm sure he'll forget.
So I need to go out to buy a few clothes later on, but I need to get up first. As I type it's 2.10pm and I'm still in bed with a huge bag of Minstrels. That's breakfast and lunch sorted.
I'm only away for six days, but I hope that when I get back 'Vipers' will have re-pointed the chimney stack. That should be a nice job for her. Nice views and a bit of fresh air.
See you next week.