Learning to Cook
Bumble blogs on the lessons from Alastair Cook's ODI form, Bopara, Finn and a naughty heron.
Last Updated: 17/02/12 3:29pm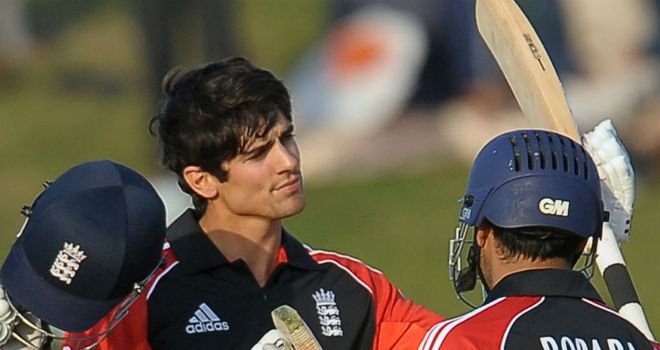 I'm delighted to see Alastair Cook playing so well in one-day cricket and I think there's a massive message here for a few other players.
If you think back to not-very-long-ago this was a lad who couldn't get near England's one-day team. But he knew his shortcomings, he's gone away, he's worked on it and now he looks like a very effective player.
He's scoring at a damn good rate and is taking responsibility by getting big scores rather than flashy little 30s and then out. He's playing with controlled aggression and a lot of knowhow; he keeps the percentages on his side with regards to where he can score and where he's vulnerable.
He's also been turning the strike over. I've often said in the past that England are not good at losing the strike (i.e. ones and twos) and not good at hitting boundaries either. Cook's doing both of those things.
He's doing everything that's been asked of him and he has accepted the challenge to improve and make himself better in this form of the game. The message is clear: it can be done.
There were a number of us, myself included, who weren't sure about Cook and Jonathan Trott being in the top three, but it seems to be working. I still think Trott will score, too.
It's also good that Ravi Bopara has been given the signal that he's the man. I don't know him that well, but he looks to be a confidence player and if you believe in him then he improves significantly.
He seems to be vulnerable when he's in and out of the team, but he seems to have found himself a nice little slot. The big minus against his name was that he didn't play as well as expected against India, but they've given him another go and he has responded.
I'll also mention the performance of two other notables. Firstly, I'll continue to say that Samit Patel will be a terrific player for England. It's tiresome to hear people going on about his fitness (only he and his manager will know about that), but I like the cut of his jib and I think he's a very effective cricketer. I honestly do think he could play Test match cricket, particularly in that part of the world.
Also, Steven Finn just gets better and better. His performances in one-day cricket have been terrific and now people are asking whether he'll get back in the Test team.
I was speaking to a former England cricketer (who shall remain nameless) about this and he made an interesting point about Finn. He said that he's an exceptional bowler, but his stock delivery is a nip-backer.
That's fine in one-day cricket when batsmen are being aggressive and playing shots because you don't give them any room, but in Test matches you actually need to go the other way to bring the wicket-keeper and slips in.
I thought that was an interesting point, but I think Finn is an intelligent lad and at his age I'm sure he'll be working on taking the ball away as well. I'll also say that one of the best I ever played with was Brian Staham, who also used to nip it back. He had one that went straight on too, but it does work
Anyway, it was a wonderful performance from Finn, a lad who is very eye-catching.
Stop blowing your tumpet
In the two wins so far, we've seen stellar performances from the opening batsman (two centuries) and the opening bowler (four wickets). I thought we'd get thumped 4-0 in this series, but I've now reversed that view and I think it could go the other way.
However, there may be some significance in the pattern that if you win the toss and bat first then you've got a percentage in your favour straight away. Also, I don't think these two teams (and I'd love England to prove me wrong here) are effective chasing sides.
I'd also like to see Craig Kieswetter given a bit more freedom as a batsman and to have a bit less self-doubt about his position. On the face of things he's a very bullish character, but he's given away a few signs of lacking a bit of self-confidence when he bats.
If he was playing for Somerset he would just whack it, but he needs to believe in himself in an England shirt. He's in the side, so they obviously think he's good enough.
I must say, his catch in the second ODI was an absolute stunner and I couldn't believe how harsh some people were being on Twitter: they said he was in completely the wrong position and made it look difficult!
From where I was sat, he turned backwards from his wicket-keeping position and sprinted with a swirling ball coming over his shoulder in the lights to take the catch. It was fantastic, come on chaps!
However, I did agree with the Twitter complaints about that trumpet every five minutes. I'd like to shove that where the sun doesn't shine. It's ridiculous and I don't know what purpose it serves.
Apparently they had it during the Rugby World Cup as well. It's not so bad for 80 minutes, but six hours of it is a bit much...
Bird watch
There's a heron on the loose in these parts and it's eaten two of our fish.
We've put all sorts of deterrents out to try and stop him. We've got nets up and a plastic heron to frighten it off, but he's still nicked two fish. 'Vipers' is hopping mad about it.
There's only one thing for it. 'Vipers' will have to camp out in the garden every night and shoo it away. Put a pair of gloves and a scarf on her and she'll be fine. I might even take her a brew out in the mornings.
She won't mind because I gave her an extra special Valentine's Day treat this year: a lovely bag of gravel.
Well, she did ask for something useful...
A load of balls
Strong rumours have reached me that Mr Balotelli has been driving around a village not far from here and chucking his money about again.
I think that bloke is flipping brilliant (football's about entertainment isn't it?), but I don't think Senor Mancini, who lives quite close to him, will sleep very well when he's out and about.
Finally, a few of you have questioned the new formation for the England football team that I suggested in last week's blog.
The 4-4-3 formation seems to have caused a bit of a stir because on the face of it we're playing with 12 men, but I've been in touch with a Mr Bloater from FIFA (seemed a nice chap) and he said it's okay if one of the front men drops back a bit.
It's called tactics. You need to be on song with these things in international football.