Breaking boundaries
Will youth get a chance? Will England start hitting boundaries? Bumble blogs ahead of the ODI series...
Last Updated: 09/02/12 2:17pm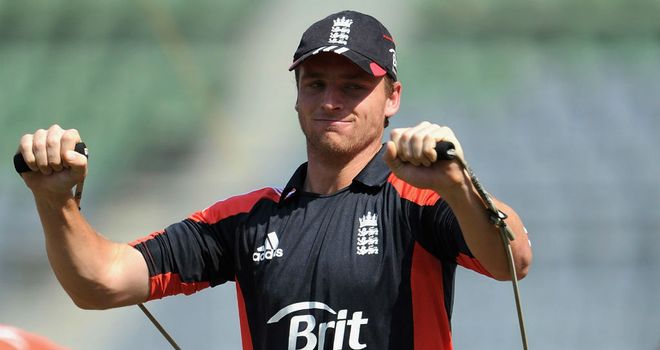 I wouldn't hold your breath over England's chances in the one-day series.
This is probably Pakistan's strong suit and they should enjoy themselves in the same sort of conditions that they enjoyed during the Test matches. I'm also absolutely certain that they'll hit England with four spinners.
They'll also have more potential for hitting boundaries and for moving the ball around for ones and twos. That's something that they can do, but England have not been able to do. It's simple.
There are only four matches and everybody is waiting to see which members of England's 16-man squad will be selected. I hope they've not just picked the young hitters to carry drinks. Danny Briggs and Jos Buttler won't get any experience by sitting down and watching, they will get that by playing.
After the defeats in India and at the World Cup, when England played inadequate cricket, Andy Flower said he would take a long hard look at the one-day team. He said he would look at himself seriously and I hope he'll give the young lads a go to see if they can hit boundaries. It will be interesting to see how much of a run they're given.
I've seen these lads in domestic cricket and the question is whether or not they can step up from the county game to international cricket. That's a massive step; just look at Junaid Khan, who would be seen as a bit of a superstar for Lancashire, but was miles off the pace in the Test matches.
For a number of years we have been inconsistent in one-day cricket and unable to move the ball where the fielders aren't. We're the one team that regularly plays contortionist's shots - and it's very clear that they don't work.
Changes have been made and Ian Bell has been a casualty of that. The other talking point would be Alastair Cook and Jonathan Trott playing in the top three. I don't want to make any judgments on that, but it's worth asking whether they will take advantage of the opening 10 overs of powerplay? We seem to totally disregard that aspect. I hope they can both show me that they can hit boundaries.
Kevin Pietersen is due to open, so we'll see how he goes. Looking around the world, Chris Gayle is the best player in the West Indies team and Sachin Tendulkar was the best in India and both of those guys opened the batting. People would tell you that Pietersen is our best (although we're not a very good team), so get him in.
We know Pakistan will hit us with a load of spin and I'll declare my opinion that Samit Patel is a very good cricketer. A lot of negative things are said about him, but I hope he is given a chance on these pitches too.
Bleeding
As for Pakistan, a significant key to their revival has been the influence of their captain.
Misbah-ul-Haq is quite a conservative chap and he has stopped the bleeding that has been happening for the last few months. He has made the team difficult to beat and he has taken advantage of some world-class players in Saeed Ajmal, Younis Khan and Umar Gul. I'd also say Abdur Rehman is a quality left-arm spinner and they are a very good team.
They are well organised, good to watch and after all of the problems and controversies they've been through they are an excellent bunch of lads.
People are asking what will happen when Mohammad Amir and the other blokes are available again, but my view is that they should have been banned for life. It will certainly leave me cold when he comes back and I won't be interested in what he does. I'll just remember what he has done.
Please don't come back at me with your opinions on that topic - and I'd also like to hear less of your opinions on who is number one in the world.
On Twitter, it seems that our friends in India are completely obsessed with that subject. It's just a table that currently ranks England as number one and I couldn't care if they are or they aren't, so talk to somebody who's interested.
Worry about something else. Something worthwhile. Concern yourself with your sock drawer and whether or not your socks are paired up.
Just leave me alone on Twitter!
An English Fry up?
I'm back home in England for the one-day series, and I'm enjoying catching up with friends and family, but I'll be going back for the Twenty20 matches.
I'd have to say that I had a brilliant time in Dubai and I've been very lucky to play on some fantastic golf courses out there.
The Montgomerie course is special and the people out there have been terrific, apart from Mr Hussain who reckons I'm the worst golfer in the world. Maybe some people should take a look in the mirror...
All the talk around here is about Fabio Capello. It always baffled me that a bloke who couldn't speak the language was doing that job, but I suppose it's not my business.
I hope it sorts itself out soon. We need somebody who knows the game inside out and who can put some passion back into it. We need a character; someone who'll come in and play 4-4-3.
It's got to be Barry Fry hasn't it?
We need Ron Manager - or for a real wildcard, what about a chap called John Sitton. If you don't remember him, type his name into YouTube.
Now there's someone who would give the players a kick up the backside at half-time...