All in a spin
Bumble enjoyed two days off, but says says England must now learn to cope with Saeed Ajmal.
Last Updated: 21/01/12 4:56pm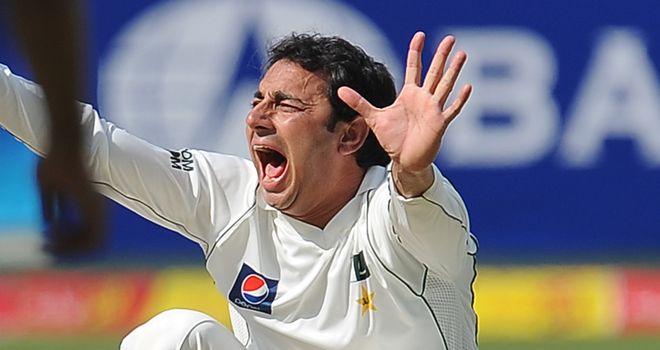 So we got two days off... I didn't see that coming!
I thought Pakistan were excellent in the first Test. You often don't know what you're going to get with them, but the results under this captain, Misbah-ul-Haq, have been very strong. His record in 13 matches features seven wins and they're a form team.
They played with a lot of method and remained calm throughout the game. Pakistan have been a bit scattered over the years, but that wasn't the case in this match.
The bowlers, in particular Saeed Ajmal as the spin bowler and Umar Gul as the quick bowling leader, were exceptional. I also felt the young wicketkeeper - another flying Akmal - is much better than the previous one. Overall they played very impressive cricket.
I had reservations about their batting before the first Test, but they were fine. The captain gets a bit of criticism, but he grinds it out. He's a management consultant by trade and he's getting the best out of his team.
They've gone for tried and tested cricketers - they're not a young team - and they played solid cricket.
Hands up
England were very poor in that game and they've held their hands up and said as much.
I heard Jonathan Trott say they weren't looking to give any special treatment to Ajmal, but they'll have to now. Many of them were playing back and it may be that you have to play forward to him.
The other aspect they need to be aware of is DRS. If you get your pad in line you will be out because he bowls straight wicket to wicket. He's similar to Graeme Swann, who has got an enormous number of wickets through DRS from hitting on the front foot.
England need to devise a method to get the leg out of the way, but they're being puzzled by which way the ball is going. It also seems they were surprised by the pace with which he bowls and they will need to look at that.
They will have been practising with that Merlyn machine set as Ajmal, but I wonder if that has been set too slow? They need to practise against quicker spin bowling before the second Test.
I know there has been some talk about Ajmal's action, but there's no point. He's playing in international cricket and has been cleared to do so until the authorities say otherwise.
The only observation I will make is that there's far worse than that action playing in international cricket right now.
Must do better
England must now show their mettle and give a much better performance in the second and third Test matches - and they're fully capable of doing so.
I've been bombarded with people on Twitter criticising them as the number one Test team. Get a life! They've lost a game of cricket! I'm too long in the tooth for things like that and I really couldn't care less. Go and talk to somebody who's interested.
I'm out here to watch some good cricket, but England's performance - as they know - was not good enough, and I now expect a response.
Will there be any changes? All I'll say is that the coaches took Monty Panesar out into the middle on the last day. There was no Steven Finn nor Graham Onions, it was just him - so tactically they may be thinking about two spinners with two seamers.
You could supplement that with a bit of Jonathan Trott - and they might think about playing Ravi Bopara because he can bowl that wicket-to-wicket stuff. That would mean Eoin Morgan making way because he's the lad at number six, where Bopara would slot in.
I don't think you can single out any individual players after the first match. The bottom line is that as a collective batting unit (apart from arguably the number seven, Matt Prior, who played very well) didn't show up.
All at sea
The early finish gave me a day off on Friday and I spent the day on a great big boat with some friends.
This wasn't a yacht. I didn't spend the day pulling sails or tacking (or whatever it's called), I sat there with a gin and tonic and we had a lovely time.
It's never appealed to me before. Whenever Beefy's in Australia he always gets a boat, but I've never gone on one (I've reasoned that there's about 3,000 boats in Sydney Harbour and they never go anywhere), but we went out to sea and I really enjoyed it.
Then on Saturday I teamed up with Nasser to play a game of golf against Beefy and Mike Selvey of The Guardian. It was another thoroughly enjoyable day.
We played The Montgomerie here in Dubai, which is run by a friend of ours called Ed. They gave us courtesy of the course and the hospitality was second to none. It was wonderful.
The other three played well, but I was shocking and we lost 3&1. I plan to turn things around when we play Michael Vaughan and Beefy on Sunday although Nasser - being Nasser - is trying to offload me as his partner. Sorry pal, I'll be there!
It has to be said that Dubai is a very expensive place. A pint of Guinness is a minimum of eight quid! Why don't they drop it to three quid and then you'd drink three in an hour and spend nine quid?
Instead nobody buys anything and the tactic is to buy one pint and look at it for an hour. Once you've looked at it for an hour you can have a drink... but not before.
'Stone me
I leave you with a joke that has been described by some of my co-commentators as the worst joke in history.
It's been used on Sky Sports, on Sky Sports News, on Sky News and on Twitter, so I might as well share it again here on the blog.
They don't like the Flintstones in Dubai... but Abu Dhabi do!