In the Wright place
Bumble blogs on England's hopes in the UAE and how they should handle the explosive Luke Wright.
Last Updated: 11/01/12 12:57pm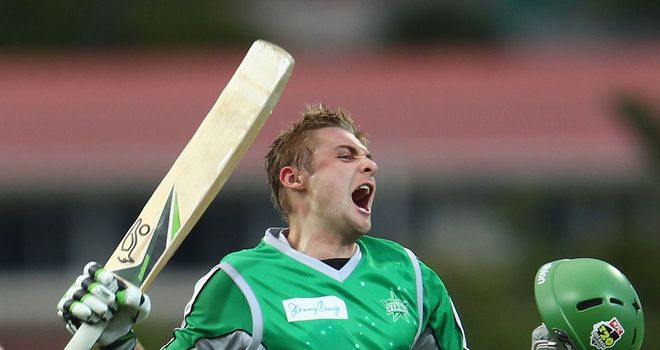 England are a comfortable side these days and it will be good to see them playing Test cricket again.
I'm looking forward to getting out to Dubai this weekend and I'll be having a close look at the attitude of our players. It's always difficult to play away from home and both Pakistan and Sri Lanka will provide an excellent challenge.
The injury to Tim Bresnan has upset the balance ever so slightly. They'd have liked him in the team because he extends the batting (something that this England set-up has placed a big emphasis on), but the team will still be pretty strong without him.
Options include Chris Tremlett and Graham Onions, but Steven Finn was left out of Wednesday's warm-up match, along with James Anderson and Stuart Broad, so I assume those will be the three pacemen.
Finn has come back fitter and stronger than ever and he's one of the quickest bowlers in the world, so I'm certain he'll play. He can't bat like Bresnan, but you've still got Graeme Swann and Broad to come in below Matt Prior.
Swann will be the other bowler and I really can't see them playing two spinners out there. Obviously it depends on the pitches, but when you look at the ones they've played on recently in the UAE it's the quicker bowlers that have done the damage. You only need one spinner.
In the running
This is an important tour for Andrew Strauss. He's the captain of the team, but he's the oldest player in the side and he himself will want some runs to keep justifying his inclusion.
There are players around and about who may look to challenge him for his place, but I would suggest the younger ones - Alex Hales for example - are not quite ready yet. Another, Michael Carberry, is a very good player, but he's been unwell lately and is also in his thirties.
Strauss is a wonderful leader and there's no concerns about him yet, but he will know that he's the oldest player and he'll want some big runs to go with it.
Some people are saying Kevin Pietersen won't get any runs, but I have no worries there. He's back and even though he hasn't got too many in the warm-ups (he never does) he's been scoring well.
It won't be easy though. Make no mistake, Pakistan are a good team. They might be a bit short on batting but they have got some wonderful bowlers despite the demise of the players in jail. I really like Umar Gul and Saeed Ajmal and they will be hoping that both Junaid Khan and Wahab Riaz can prove their fitness to feature in this series.
As always they will be unpredictable under yet another new captain and yet another new coach, but I expect them to be okay.
I haven't seen any of the conditions yet, but overall I like England's chances of winning, mainly because I like their line-up. Some teams would struggle to replace a player like Bresnan but we have plenty to come in.
The Wright choice
Away from the Test side, I enjoyed a sensational innings from Luke Wright in the Big Bash as he scored 100 in 44 balls. That puts him right up there with Chris Gayle, Adam Gilchrist and Virender Sehwag.
That begs the question: what should England do with him?
He's batted in every position (bar the roller) in England's one-day side and has been continually chopping and changing. Some players never ever move, but others - like Wright and Prior - are tried everywhere. That allows them to become vulnerable.
Well, he has now shown us what he can do and while I don't think he will make it into the Test side, he can be a very destructive one-day player.
England have been searching and searching for someone to go in at the top and it's not gone unnoticed that the world and his mate have played there in the last few years. Wright has probably opened two or three times and then moved back down again. Personally, I would look at him again.
With his style of play he will fail in matches, but how many matches will he win for you from the top of the order? That's what you've got to suss out. Yes, he is a high-risk player but all teams have those guys who go in and give it a crack.
England's Test side is very settled, but the one-day side keeps changing and the direct link is results. When you are winning you tend to stick with your team, but there have been frustrations in limited-overs cricket.
I'd like to see England decide that Wright is the man and then stick with him in a position.
Sock and Scholes
All the talk in the pub this week was of the Manchester derby. I've never seen so much money changing hands in the pub!
Paul Scholes is back and it begs the question who's next? Can we expect to see Denis Law or Bobby Charlton in the starting line-up next week?
I can also report strong rumours that Private Macca has dyed his hair back; maybe he wants to be a Goth? He's now known as the Rinse of Darkness.
Anyway, I'd better go and start packing for Dubai. The big question is how much underwear do I need to take?
It tends to get a bit hot over there, so I'll play on the safe side and take a second pair of socks with me...
See you next week!