Respect is due
Bumble blogs on the need for respect in cricket, teary times on Countdown and a visit to the Stanley!
Last Updated: 10/11/11 3:47pm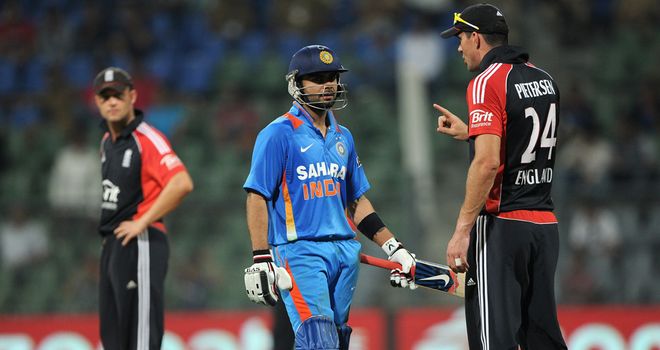 I've been lying low after arriving back from India. I'm now on sabbatical until January when we head out to Abu Dhabi and Dubai to play Pakistan.
India were far too good for England, who will be very disappointed with their performances over there. They will need to go away and think long and hard and dismantle their approach to playing on the sub-continent. It needs to be different next time.
In those conditions, Inida were too strong and the captain MS Dhoni was excellent. The young players responded to his leadership and they can take away plenty of positives.
However, it was a bad-tempered series and I would say both teams were as bad as each other. I'd like to see heavier punishments handed out by the match referees and the ICC when players misbehave on the field.
The one word that young players should be fully aware of is "respect". By that I mean respect for each other, respect for the game and respect for the officials.
The Federation of International Cricketers' Associations (FICA) must now take a role in telling every player how to behave and how to respect the game.
A sad episode
The costly spot-fixing court case was a sad episode for cricket and on the face of it I felt the punishments seemed very lenient.
I also feel the cricketers involved should never play cricket again. Ever. That would be the ultimate punishment for Salman Butt, Mohammad Asif and Mohammad Amir.
I believe that has to happen because if I had to go and watch or commentate on these blokes again, I wouldn't trust anything that they did.
It's very disappointing to discover that sort of thing has been going on in the game and it'll be interesting to find out if there's any more. It's sad that the authorities now have ongoing investigations.
When things are brought to light, sometimes you look back at incidents and think they were quite odd. You don't detect them in the heat of a game, but in the cold light of day it comes to home to you.
It's a very good thing that it's come to light, but I think the punishments should have been stronger.
On the box
Next week I'll be filming a programme for Sky Sports called Time of Our Lives, which will be about the Lancashire team of the early 1970's.
Gary Newbon is the host and I'll be in a studio with Farouk Engineer and our old captain Jack Bond, who is a good bloke and was a great leader for the team. He's getting on a bit now, but he'll still have a few stories to tell.
We'll reminisce about those times and we're bound to discuss the game that finished at 10 to nine at night. You can look forward to some good tales.
I also recorded five episodes of Countdown this week, which was good fun as usual. I didn't get any nine-letter words, but I did come up with 'gonad', which I was pleased with.
The ladies were all in tears because Jeff Stelling is leaving the show very soon. Apparently they've lined up his replacement, but they've all been sworn to secrecy, so I can't tell you any insider gossip.
All I can tell you is that it won't be me. I'd love that job, but I'm far too busy. Other things to do.
Up for the Cup
The biggest news of the week is that I went up to visit my beloved Accrington Stanley, having bought some shares in the club. You can still buy yours from the official website!
I had a chat with the manager John Coleman ahead of their FA Cup tie at Notts County on Saturday and I did an interview for their website as well.
I also went to watch the players training and they looked in fine fettle. There were no scouts though, just me.
I must also report that The Brigadier is leaving our village to set up a new regiment somewhere called Milverton. Apparently it's near Taunton. I can't imagine I'll be a regular visitor.
I feel the people of Milverton need to be warned. This blog comes with a government health warning for those of you that live in that part of the world!
See you soon.