A wristy business
Bumble blogs on England's technical failings and the poor behaviour of both teams in the ODI series.
Last Updated: 26/10/11 4:17pm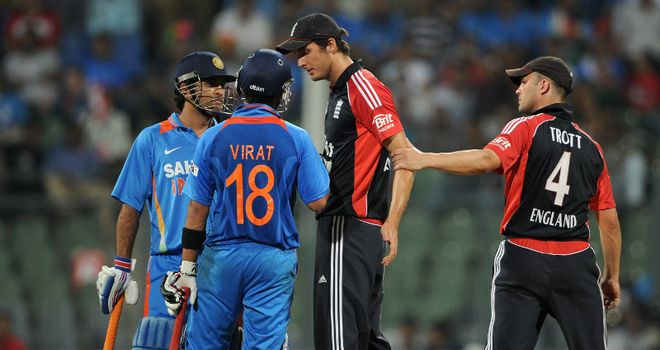 Andy Flower has been absolutely fantastic in his brutally honest assessment of England's performance in India: not good enough.
There have been no platitudes from him and, having been smacked 5-0, he's said he'll be looking at all aspects of their performance from selection to technique to preparation. He's even going to look at himself.
Having been up close and personal to the team, I'd agree they simply haven't been good enough against this opposition in these conditions.
In terms of technique, it doesn't appear that we're able to manoeuvre the ball in the field, open our wrists and play for ones and twos. When you can't find the boundary either then there's not a lot going for us.
It's all to do with how we teach the game in England. We teach a stiff-wrist game, whereas in India the game is played with supple wrists. When wristy players come to England and face pace and bounce their technique doesn't work, as we saw in the summer, but equally our approach doesn't work on the subcontinent.
When you watch an Indian player, they are very naturally wristy and there is a lot of work going on with that part of the body. That applies to the bowlers from the subcontinent as well - just look at Murali and his revolving wrists!
That's something we are unable to do. The MCC coaching manual will talk a stiff-wrist game for both batting and bowling and perhaps we need to go back and look at individual techniques.
Mushtaq Ahmed is there as a spin-bowling coach and maybe we need to bring in an Asian batting coach to work with the players and educate them. You need players who can play in any given situation, such as Sachin Tendulkar, Rahul Dravid or Javed Miandad - one of the best I've ever seen.
You can't point to a lack of effort or a lack of fitness; the issues are technical and England are not the only team that find it hard to come here. There's lots to learn and lots to ponder.
Grow up, lads
Arguments have been raging in the commentary box about the behaviour of both teams.
I'm involved with the umpires and I know they, like the match referees and the ICC, have a concern over how to deal with this.
I'm all for banter, which is an integral part of the game whether it's serious or jocular, but it mustn't be vindictive. Michael Atherton and Allan Donald gave us an epic passage of cricket at Trent Bridge in 1998 as two warriors battled it out - that was good, serious banter - and Andrew Flintoff was always good for the jocular stuff: "Mind the windows Tino."
There's a place for getting stuck in and acting like real men, but in this series we've seen boorish, childish handbags and disrespect for the officials. I think some of those lads, on both teams, need to grow up a bit.
I don't think I need to go into specifics. Everyone has seen some of England's antics, but India were very poor in their treatment of Samit Patel when he was walking out to bat. People didn't see that because we were on adverts at the time, but it was very cowardly. Unfortunately, the cameras can't show everything.
We saw visuals of Steven Finn shouting someone off and also of Tim Bresnan snatching his hat, but I'd like to see the umpires and the match referees be stronger. I know Bresnan is a really nice chap, but he only incurred a fine of 7.5 per cent of his match fee, which is nothing.
Personally, I'd prefer to see red and yellow cards. The first yellow card would put the player on notice of a charge and a second in the series would see you definitely on a charge. If your on-field antics warrant a red card then you're charged straight away.
The beauty of the cards system is that they're visible to the crowd and you're not waiting for days to see what might or might not happen.
Totally fan-atical
People at home might find it difficult to understand just how fanatical the spectators are over here. You cannot describe it.
The nearest thing I can compare it to is an individual's support of his football team, but even the most dyed-in-the-wool supporter of Millwall or Cardiff or whoever are nothing compared to these blokes. They're waving flags and dancing in the streets for hours after cricket matches, bringing all of the traffic to a standstill. I look at it in absolute amazement.
The Indian players are all mega superstars; they're on all of the adverts and they're earning fabulous amounts of money. I'm sure the England players are totally bemused by it all.
I see it when I go on Twitter too. I get some unbelievable abuse about a game of cricket. Thankfully I've mastered the art of blocking when people get out of hand: cheerio, go and bother somebody else!
Sadly I still haven't worked out how to put pictures up. I'd like to put up snaps from the commentary box and from the cities I visit, but I haven't got a clue how to do it. Someone needs to give me a tutorial.
Save our Stanley
It's time for an SOS: Save our Stanley.
You can now invest in shares in Accrington Stanley. Just imagine coming home each day and seeing your shares issue certificate on the wall. What could be better?
I keep saying that we need to find a rich Arab with an airline and 12 oil wells, who wants to throw a bit of money Accrington's way. We could spend a bit of money for him.
But for now we need people to buy some shares. See the Stanley website for details and help out a good homely club; or to be more accurate, a "skint" good homely club!
I've brought my Stanley home shirt with me (I haven't seen many others out here) and I had a photo taken of me wearing it next to the hotel doorman in all his Indian finery. I've emailed that to our local newspaper.
Speaking of Lancashire, the Stone Roses are back together, so I've been listening to some of their back catalogue in my hotel room. I've also been playing some Happy Mondays, some Black Grape, New York Dolls and the Urban Voodoo Machine.
I'd like to go and see the Stone Roses next summer if I can get a ticket. If not I'll have to go and see the other group that's doing the rounds, the Clone Roses!
Then there was four...
We're down to four commentators for the t20 match at the weekend. Ian Botham has left us; he doesn't do Twenty20.
England are number one in the world in that form of the game, but if you're expecting a victory don't hold your breath!
See you next week.