Dots not so hot
A change of attitude will help England in India as much as a change of personnel, says Bumble.
Last Updated: 18/10/11 4:58pm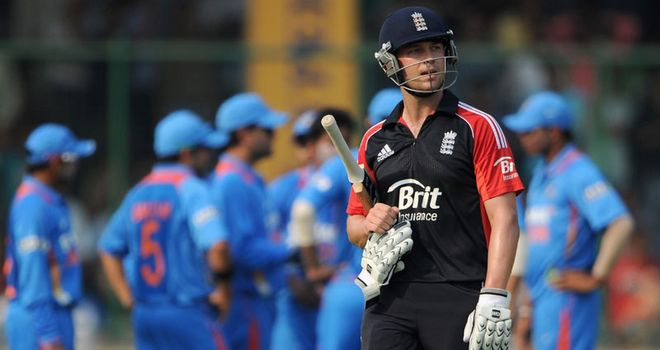 I said the score in this series would be 5-0.
Sadly it looks like I picked the wrong team... I wonder if my bookmaker will still pay out on the correct score?
Maybe the best thing that could have happened to Duncan Fletcher was that some of India's iconic players pulled out through injury. He's ended up with a team of willing lads, who want to give as much as they can.
There's a very visible difference between India over here and what they were like in England a few weeks ago. Back then they were all falling over injured, apart from Rahul Dravid and MS Dhoni, but now they have a youthfulness about them.
You can see the difference in Dhoni six weeks on and he seems to be enjoying looking after these lads. There's no dead wood, no ulterior motives and it's just a bunch of youngsters who want to play - and play well.
The selectors have decided to stick with the same squad for the rest of the series, which is significant, and if they keep winning they will keep some of the big shots out.
I assume Sachin Tendulkar and Virender Sehwag would open if they were fit - but the pair of them will need to pull their socks up in the field if they want to keep out Parthiv Patel and Ajinkya Rahane.
The players in the team now have a terrific opportunity in the rest of this series. I like the fact that when Ravi Shastri asked MS Dhoni if he was looking for 5-0, he dropped it like a stone.
He says all they're looking for is to continue to play well and improve. That's a good attitude.
What do England change?
England have had a poor time of things so far. They've looked angry with each other and they've fielded very poorly. People have been talking about Nasser Hussain's donkeys, but it looks like we've got two or three camels.
People are talking about making changes, but where can you improve the team? I'd suggest that while Steven Finn is an impressive bowler, the quicker you bowl it over here the further it will go. Perhaps that opens the door for Chris Woakes, who is a similar bowler to the Kumars and can bat and field as well.
The other issue is whether you can get Ian Bell into the team. It seems when the team is getting beaten then those who aren't in it become better players. He'll know as much as anybody that the reason he was left out in the first place was because his scores have not been there.
This isn't my opinion, but I've heard people saying that 12 months down the line Bell will be opening the batting with Ravi Bopara. That would obviously mean there's no room for Alastair Cook and that's an interesting view.
When a team is losing you get a knee-jerk reaction from people saying things need to change, but I don't think you can change the side too much. It's as good as we've got.
Instead, I'd pay attention to the way we play. For example, we have far too many dot balls. We should look at Gautam Gambhir, a player I really admire, who manoeuvres the ball and keeps things ticking over. We're unable to do that.
We're also far too reluctant to whack it. If you look at the statistics for ODI's in 2011 you'll see India have hit 528 fours to England's 496 - but significantly they have 92 sixes compared to England's 60. That's a massive difference.
I'm sure if you asked Samit Patel and Graeme Swann if they'd rather bowl at Kevin Pietersen and Jonathan Trott or Virat Kohli and MS Dhoni - who are going to come at you - then I know what they'd say.
From my point of view, England don't get enough boundaries and there are too many dot balls. But supporters mustn't lose track of the fact we had a fabulous time at home.
England's big challenge is to win in India, just as they wanted to win in England. But both teams have found that task hellishly difficult.
Down the line
Speaking of challenges, I went back to my old radio days last Friday as I delivered the first few overs of the first ODI down a phone line for Sky Sports.
We are reliant on the host broadcaster, Nimbus, and we have been caught up in their dispute involving the BCCI and the Indian government. As a result, we didn't have pictures for the first three overs and we didn't get a broadcasting licence in time, so were unable to bring you commentary for the rest of the game. I can tell you that our letters have now been stamped up to and including the third game.
I have been tweeting regularly throughout the series, but there has been some unbelievable filth posted on my page. It seems some people took exception to my predictions on this blog last week.
I have retweeted some of the bile to expose these people before blocking them. They're the dregs of society and I know the vast majority of India's supporters are embarrassed by it.
I suppose that among 1.2billion people there's always going to be one or two nutters....
Music and mountains
We've just arrived at the Mount View Hotel in Chandigarh which, as you might expect, has a view of a mountain.
The teams and officials are in a much posher place, but I like this one. It's a nice homely hotel and I like the area (Sanjay Manjrekar tells me it's the first laid-out city) and the ground is grand as well.
They have a surprising taste in music around these parts too. I was sitting in the lobby and you'd never guess what was being piped through as I was writing some emails: "Tie a Yellow Ribbon Round the Ole Oak Tree" by Dawn featuring Tony Orlando. I haven't heard that for a while and I definitely wasn't expecting to hear it over here!
Anyway, I'm off to the gym with my Real Mass weight gain. Speak to you next week.