Flower power
Should the England coach be able to miss tours? Bumble starts the debate in his latest blog...
Last Updated: 05/05/11 8:13am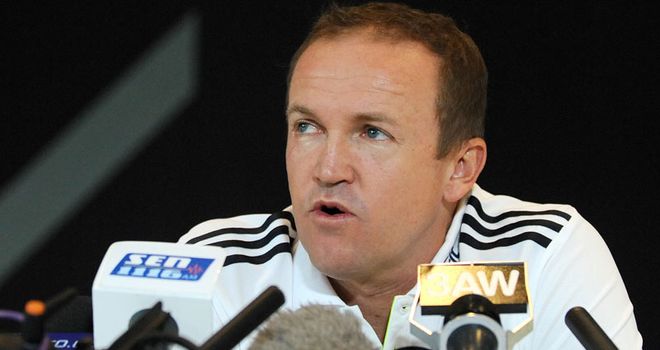 A very strange parcel arrived at my house this week.
It was sent by a Mr S. Warne and contained some nice underpants and a few sets of socks. It's always pleasing to receive a pair of underpants from a fellow commentator.
He also sent me a t-shirt and a polo shirt from his new 'Spinners' line of clothing. It's all in my size and it's really good stuff, so I'll give him my heartfelt thanks when I see him.
I also got a free mountain bike from Paul Allott, who has been clearing his garage out, so it's been a good week for me.
Tough on tour
It was no surprise to see Andy Flower get a new deal and it will be interesting to see how things progress from here.
I was interested to hear suggestions that he might miss tours in the future because of the staggering amount of cricket the England team is asked to play these days.
It's a really good talking point because while he is being asked to go away for an enormous amount of time, I wonder how the players would feel if he turned around and said: "You lot clear off, I'm not coming." I'm not sure that would work.
I'm not sure if it would sit well with the public either because at the end of the day it's part of the job. Like me, they'd be asking questions. You also risk deeming certain tours as being of lesser importance than others.
Of course the players and the coaches suffer when you go away for these extended periods of time, but you need to find a way to manage it. As a commentator I found it tough being away from home for so long this winter. It was hard to be away from my family, especially when we've been going through a difficult time. There's no harm in saying that I found it tough, but it's my job. It's what I do.
One option is to let the families travel with the squad and the other observation I would make is that they need more time off. After going on so many tours myself, I passionately believe the players and staff need more breaks while they are actually on tour.
They spend so much time going to the nets and practising. Give it a rest lads. Take your family to the Taj Mahal for three days. Pop over to Dubai to play some golf. Follow the Botham way... do a bit of fishing and enjoy a glass of wine!
The press wouldn't like to see the players being allowed to do what they want, but I think it would freshen things up.
Club life
I've just found out that I'm going to be doing a spotlight on Burnley Cricket Club for Sky Sports this summer.
Burnley has produced lots of good cricketers, including the likes of Jimmy Anderson, Jonathan Harvey, Mark Harvey, Bob Entwistle and Jack Jordan so I'm really looking forward to heading up there.
I'll be going to see them on Sunday May 15 to meet everybody when they play their fierce rivals Lowerhouse, so I hope we get a good day.
The weather has been perfect for cricket so far. I'm not playing for Accrington this year, but I'm thrilled to announce they broke the Lancashire League batting record last weekend by scoring 386/6 from 50 overs. Well done to the lads.
They've played three and won three so far and they'll be looking to carry that on against two tough teams this weekend.
Fabulous footy
I haven't seen much cricket so far because it's all about football right now. This is a terrific time of the season and I've been watching it all on Sky Sports.
I think the football lads do a really top-drawer job. I really enjoy watching guys like Jeff Stelling, Alan Smith, Jamie Redknapp and Dwight Yorke - and I think Graeme Souness has been great lately.
On that topic, I was watching my grandson at an athletics meeting in Blackpool and heard on the wireless they have unveiled a statue up there for Jimmy Armfield.
That's brilliant news because I reckon that guy should be knighted. He's a wonderful man - he plays the organ at one of the churches in Bolton - and he should be Sir Jimmy by now.
I also hear Robbie Savage is hanging his boots up and he gave us a great line on the radio the other night.
He said he'd bet his mortgage that the ball hadn't crossed the line. When a caller said he shouldn't risk his mortgage when referees are involved, he replied: "I'm only having you on. I've played Premier League football for 11 years. What would I be doing with a mortgage?"
He's outrageous and I love that.
Brazil nuts
Finally, the boys have come back safely from Copacabana, although Butty doesn't seem to be aware he ever went in the first place.
Also, Cheesy was in intensive care for a while, but made a dramatic recovery and was seen at the bar again later the same day and the Group Captain took to wandering around the streets in a pair of red underpants with white socks and trainers. He says they all do it over there.
There is photographic evidence and if I get hold of it I'll put it up on the blog.
They're off to Chester Races this week, so be careful if you're there because they've been talking a good game. I can't go because I've got a million-and-one things to do with my new house.
I didn't even watch the Royal Wedding because I was so busy pruning the roses. Or was I rearranging my sock drawer? I can't remember. Anyway, the whole thing passed me by.
See you next week.