Rating the pacemen
Bob Willis runs the rule over England and South Africa's seamers ahead of their hotly-anticipated Test duels.
Last Updated: 17/07/12 11:21am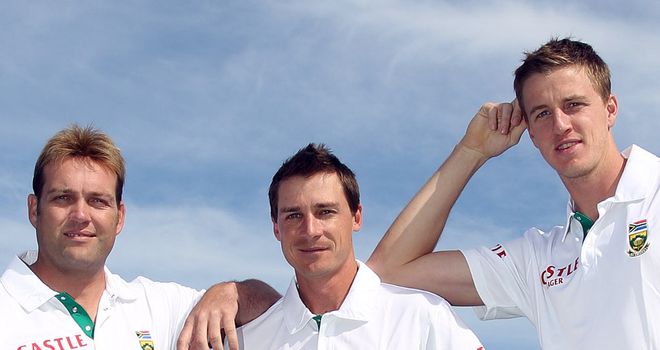 I don't think we have seen a contest between two sides with such slick bowling units in quite some time, so England's series with South Africa should be a cracker.
England's batsmen are more comfortable against pace and, if Ravi Bopara comes in for Jonny Bairstow, they will all be in decent form, but Dale Steyn, Vernon Philander, Morne Morkel and Jacques Kallis are top-quality bowlers who will each pose different threats.
The hosts, meanwhile, are the masters of swinging the ball consistently; it doesn't seem to matter who they face and what conditions the play them in, the England attack can move the ball at will, generate both conventional and reverse swing, and bowl the opposition out.
Read below to get my assessment of the seamers that will be on show this summer...
SOUTH AFRICA
Dale Steyn is the number one-ranked bowler in Test cricket for good reason. He combines electrifying pace with deadly accuracy, which is something you rarely get from a fast bowler; it's usually one or the other. He bowls wicket-to-wicket and doesn't waste many deliveries by pitching them wide of the stumps. However, the 29-year-old hasn't been so fluent in games with England, averaging 35 against them compared to his overall Test match bowling average of 23. He is a better bowler than when he has previously played England, but Andrew Strauss and co like the ball coming onto the bat so they can work it into the gaps and keep the scoreboard moving. I think England can deal with Steyn.
I think England will encounter more problems from the swinging deliveries of Vernon Philander, who has been a revelation since he entered the Test match arena, claiming 51 wickets from his first seven games. Moving the ball is a terrific skill and it seems to be the in-vogue way of picking up wickets now, as with Test cricket played on mostly flat pitches you can't rely on getting deviation off the seam. Philander gets plenty of swing and backs that up with tremendous control. We've seen Mitchell Johnson swing and seam the ball, yet on occasions it can go all over the place. Philander, though, is very consistent. He is not the quickest bowler on the circuit but he is one of the most effective.
Morne Morkel is a beast of a man, standing at 6ft 6in, and generates quite alarming bounce when he bowls a good length, let alone a short one; he is a big danger when he gets it right. That said, the wet weather we have encountered will make the pitches slow and easy paced which may negate his threat, while he also bowls enough bad balls for you to get scoring opportunities. He doesn't have the control or accuracy of his fellow seamers Steyn and Philander, which explains his average of over 30, and of the three, I would suggest he is the most vulnerable. But that is just nit-picking because he is still a top-drawer international bowler, with 129 Test match wickets to his name and no doubt plenty more to come. England will have to be at their best to stifle him.
I think Jacques Kallis is one of the most underrated cricketers of all time and his statistics would suggest that he is the best all-round player ever. He has a batting average not too short of 60, while his bowling record - 274 wickets at an average of 32 - would stand alone, too; he is a top-class Test match bowler. I'm not too sure how much he will bowl but he is a great foil to the other seamers, and is capable of fulfilling an attacking or containing role. England won't find it easy to see him off and he mustn't be underestimated.
ENGLAND
James Anderson looks irresistible. He is in exhilarating form at the moment and claims wickets under any circumstances, on any pitch, and in any weather conditions, while he very rarely bowls a bad spell. He has had a fair amount of bad luck so far this summer as when Tim Bresnan and Stuart Broad have been picking up wickets, he has had catches dropped and missed the outside edge. He should pose no end of problems for the South African batsmen, particularly Graeme Smith. The Proteas skipper has scored a hoard of runs against England in the past but I don't expect him to do so this time; he is a strong lbw candidate early on and I would back Anderson to get the better of him.
I was highly critical of Stuart Broad when we played Sri Lanka over here in 2011, when he bowled far too short and kept trying too many different things in order to take wickets. But the message has got through to him and he is now more focussed on bowling a good length. Broad is much more threatening these days, while he is also an excellent presence to have on the field because he is a great competitor and likes to be in the thick of the action. He is getting close to the consistency of his teammate Anderson, bowling fewer wild spells and fewer loose deliveries.
Tim Bresnan, apart from the washout at Edgbaston during the West Indies series, has won every match he has played for England and has become a vital cog in the side. Bresnan is a workhorse who will bowl over after over with the minimum of fuss and often comes into his own when he has an old, flat track to work with. He relishes the task of trying to get wickets on an unresponsive surface and is an excellent exponent of reverse swing, albeit at a lesser pace than Simon Jones, who ripped Australia apart during the 2005 Ashes. He Is very canny and, of course, is held in high regard by the England hierarchy because of the threat he offers with the bat, in addition to his main job with the ball.
Steve Finn is probably one of the unluckiest bowlers in the world. He would walk into any other Test side due to his combination of high pace, steep bounce and ability to swing the ball, as he showed in the ODI series with Australia by taking eight wickets in the four games that took place. He will probably miss out on a spot in the first XI as England like the safety valve of Bresnan's batting but he will not weaken England's attack if he comes in and you could say he would enhance it.
England begin their series with South Africa at 10am on Thursday and you can see all the action live on Sky Sports 1 HD.