No slack in attack
Bob Willis says England's victory in Colombo is nothing less than their bowlers deserve.
Last Updated: 07/04/12 2:22pm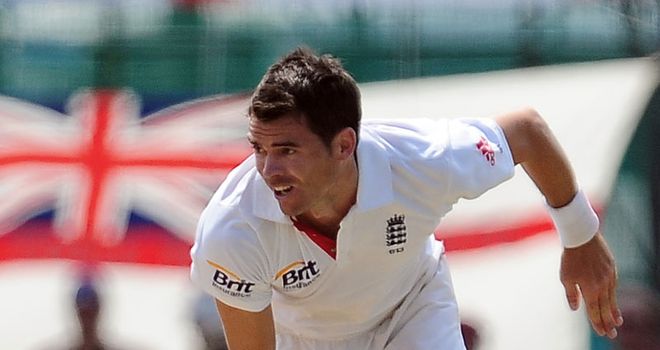 England's victory in Colombo is nothing less than their bowlers deserve.
This tightly-knit unit has bowled brilliantly in difficult conditions throughout the winter and they would have been well within their rights to ask some very searching questions of the batsmen if they'd ended up on the losing side in all five Tests!
James Anderson, in particular, has been a revelation. While he's not the same type of bowler as Glenn McGrath, he possesses the same metronomic art as the Australian and is firmly established as England's 'Mr Reliable'.
We used to say how easy captaincy was for Ricky Ponting - all he had to do was throw the ball to McGrath or Shane Warne and they'd do the job for him. Well, these days Anderson offers Andrew Strauss something very similar.
The queue of fast-medium bowlers waiting to get into this England side is as long as your arm - by my reckoning there are probably up to 10 guys who could come in and not let England down - but I don't think any of them would match Anderson for quality and consistency.
Progress
The sub-continent is usually a batting paradise but Anderson (18 wickets in five Tests) and Graeme Swann (29 wickets) have produced some wonderful figures in the UAE and Sri Lanka.
For different reasons England were without Stuart Broad and Monty Panesar in Colombo but both have truly played their part by bowling brilliantly this winter and, fitness and form permitting, that can only augur well for England this summer.
The reserves have come in and plugged the holes where necessary, with Steven Finn and Tim Bresnan doing a terrific job.
If our seam bowlers can enjoy such success in the UAE and Sri Lanka on adverse pitches - these conditions are the most testing in the world - they can certainly be a force in England.
Personally, I don't think England have had such a consistent bowling attack for a decade or two so I'm pretty optimistic about the team's progress.
They should steamroller the West Indies - particularly early on in the English summer as those guys don't like the ball moving around off the seam or in the air.
South Africa present a much tougher challenge. For my money these are clearly the best two sides in world cricket at the moment.
With their fearsome pace attack now complemented by Imran Tahir, South Africa will certainly give England plenty to think about but England's batsmen probably prefer the ball coming onto the bat.
At this stage I'm still backing England to come out on top in their own backyard, although it may well be a different story if the series was in South Africa.
Transformation
As beautifully as Anderson and Swann bowled, though, I'm pleased that Kevin Pietersen was named man-of-the-match. I say that even though I'm a retired member of the bowler's union!
Why? Putting runs on the board in the first innings wins matches and it was Pietersen's magnificent 151 that enabled England to take control.
It was a real shame that the controversy surrounding his use of the switch-hit took the gloss of the praise he deserved for that innings. It was one of the outstanding Test match innings, one of the best I've seen by anybody.
Pietersen's transformation has been remarkable and brilliant for England fans to witness; he's looked like an entirely different player since he rediscovered his form in the ODI and T20 series in the Emirates. It's just a shame that he and England can't have one final crack at Sri Lanka.
It would have been great to see this series decided one way or another.
England's next sub-continental challenge comes next winter when they take on India on their own patch.
Three batsmen - Alastair Cook, Jonathan Trott and Pietersen can feel more relaxed about their prospects in India but I'm not so sure about Strauss, Ian Bell and Matt Prior. Each of them has plenty of work to do against the turning ball.
But certainly Strauss will be in better heart with a victory - and a fifty - under his belt. The pressure is now off him to a large extent.
He can return home, have a rest and then play some Championship cricket for Middlesex before getting himself ready for the summer's Test series.
For his part, Cook rarely lets anybody down; he did struggle in the Emirates, but he's such an intelligent batsman that it didn't faze him. He showed his immense powers of concentration in the first innings before opening his shoulders in the second, to prove that he can adapt to the given situation.
Creditable
His runs have been as crucial as anyone's in terms of preserving England's status as the best Test side in the business.
After winning the Ashes in Australia, Strauss and Andy Flower wanted to avoid falling into the same man-trap as the 2005 side. Where did the wheels start coming off for that team? Pakistan.
They went there and lost the series and then they couldn't get the thread back. Michael Vaughan got injured and Andrew Flitnoff was left to take the side to Australia in 2006/07, where they got white-washed, so the process of rebuilding then had to begin again.
In case you've forgotten, we then had the Moores-Pietersen fracas before the Strauss-Flower partnership was forged in the Caribbean.
Although England lost that series, Flower and Strauss were determined to do things their own way and, apart from the hiccup in the Emirates, it has been an uphill graph all the way through.
In that context, a drawn series in Sri Lanka is a perfectly acceptable and creditable result.