Stick and twist
Samit Patel's spin can be a useful tool for England in the hot and humid Sri Lankan conditions, says Bob Willis.
Last Updated: 30/03/12 3:27pm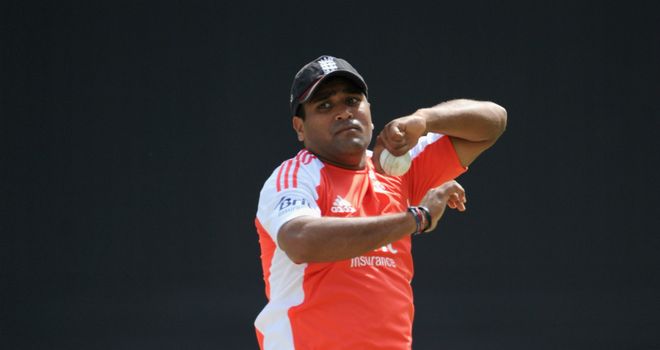 England's batsmen failed dismally against Pakistan, but I don't think they will face many problems from Sri Lanka's bowling attack.
The hosts have found it impossible to replace Chaminda Vaas, Lasith Malinga and Muttiah Muralitharan and they don't have a mystery spinner like Saeed Ajmal, who ripped England to shreds in the United Arab Emirates.
The humidity in Sri Lanka will be far more treacherous, however, and the conditions are certainly the fiercest that international cricketers have to face.
I can remember my first visit when we went out for the team photo and after two minutes we had to change our clothes completely as they were drenched in sweat!
The batsmen will find it tough to keep their concentration in such intense heat, while it will be a physical slog for the bowlers who will have to keep running in while the sun beams.
Rate
England found wickets hard to come by in their warm-up match with the Sri Lankan Development XI.
For that reason, I would select Samit Patel to bat at six instead of Ravi Bopara, who has picked up a side strain and is unlikely to bowl throughout the series
If Graeme Swann continues to not take wickets at the rate that he used to - he won't have that many left-handers to bowl at in this two-match series remember - England could well do with a third spinning option to complement Swann and Monty Panesar, who should play in both games after his excellent performances in the UAE.
England could always select Patel and Bopara and leave out the short-of-form Ian Bell; the selectors are a very loyal bunch but we saw with the omission of Eoin Morgan from this tour that an extended period of poor form will result in a player being left out
I would be surprised if they went in that direction, though, as having one inexperienced batsman in the top six is sufficient and I don't think they would want to risk having two.
England won't want to be overconfident with the bat, despite the lack of venom in Sri Lanka's bowling arsenal, and should use their time in the middle wisely.
They were frankly embarrassing against spin in the UAE and need to get to grips with the nuances of slow bowling ahead of future series.
Trotting
Sri Lanka, meanwhile, haven't had ideal preparation for these Tests on two counts.
Firstly, they have been contesting a host of one-day matches and only finished their Asia Cup campaign this week, plus they have also been trotting around the globe playing non-stop cricket for a long while now.
They may have resolved the pay dispute with their board but they could be mentally weary.
England will be hoping to keep high-calibre batsmen Kumar Sangakkara, Mahela Jayawardene, Tillakaratne Dilshan and Thilan Samaraweera quiet but that could prove tricky on pitches that should deliver run-fests.
Sangakkara, in particular, is wonderful player and it is remarkable that he has an average at a similar level to those of Sachin Tendulkar and Jacques Kallis having had to keep wicket for a large portion of his career.
The 34-year-old has shed that duty now, though, and that should ensure he punishes bowlers for a few more years to come.
I don't expect either side to dominate what should be a batters' series, but England have a far more penetrative bowling attack and I would back them to win 1-0.