Slowing Eoin gone
Eoin Morgan's dip in form in the UAE has cost him his place in the England side, say Bob Willis.
Last Updated: 28/02/12 10:50am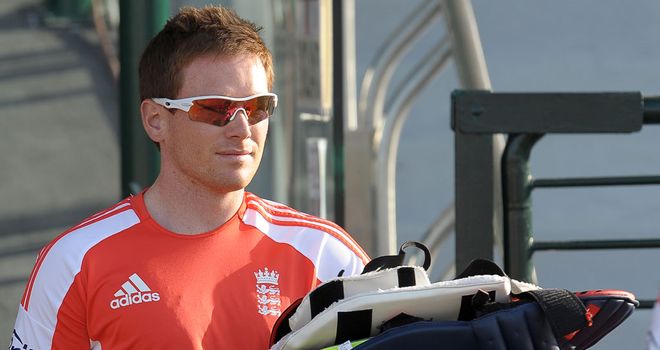 Andy Flower and the England selectors are nothing if not ruthless as they've proved again by axing Eoin Morgan ahead of the tour to Sri Lanka.
Morgan looks an excellent player of spin bowling in most conditions - but crucially not on the sub-continent yet - and he has paid the price for his failures in the United Arab Emirates. Check out the full squad here.
It's a shame because he is clearly a batsman of some talent and I sincerely hope this setback doesn't convince him to embark on a mercenary round-the-world trip playing Twenty20 cricket.
Morgan clearly had no idea against Saeed Ajmal in the Pakistan Test series but he wasn't alone in that regard so it appears a little harsh on him. The phrase 'last in, first out' springs to mind.
Ian Bell - and Kevin Pietersen and Alastair Cook for that matter - didn't look much, if any, better but the latter two subsequently had the luxury of finding some form at the top of the 50-over innings.
In Morgan's absence, I'm surprised that the selectors have not named another frontline reserve batsman. It would appear that Ravi Bopara is now going to have another run in the side, although it is worth remembering that the last time he played in Sri Lanka he couldn't buy a run.
Balance
On the bowling front, the addition of James Tredwell and Samit Patel to the squad suggests that the selectors feel they were a spinner light in the Emirates.
The side is now packed with no less than four slow bowlers so there is plenty of cover if either Monty Panesar or Graeme Swann get injured on the morning of the game; otherwise I can see the new additions carrying a lot of drinks.
Regardless of that, I'm pleased for Patel; he seems a lot fitter these days and is starting to fulfil his talent. He came to the crease in some difficult situations in the one-day series and batted well, while his bowling was very important too.
I think he could turn into a decent Test player but only if the balance of England's side gives him sufficient opportunity.
It would be great to have somebody batting in the top six who could also contribute seriously as a bowler but at present he's unlikely to get the nod ahead of Panesar if England play two spinners.
Swann isn't under pressure for his place, even though Panesar bowled superbly well in the Emirates. Monty was lucky that Pakistan had so many right-handed batsmen in their line-up. Swann bowls superbly at left-handers and no doubts he'll already have the likes of Kumar Sangakkara in his sights.
I think England may well go down the two-spinner route, which means once again that there will be no place for Steven Finn even though he was the outstanding bowler in the one-day series and Twenty20 fixtures. It's not going to be long until he forces his way back into five-day contention.
Finn's improvement has been dramatic over the last year. Don't forget he was the leading wicket-taker when he was left out of the side in the Ashes series in Australia. He's a much better bowler now than he was then and it's only because of the brilliance of Stuart Broad and James Anderson that he can't nail down a place in the side.
Now the balance of the side looks like it will move towards two seamers and two spinners, so Finn may have to wait for his turn again.
Slack
Returning skipper Andrew Strauss will be keen to reassert his authority on the side after something of a lean spell.
Strauss was rested for England's last tour of Sri Lanka and his career was subsequently on a tightrope when England went to New Zealand.
Times and situations change but the bottom line remains that he needs runs, particularly now that he's only playing Test match cricket.
Strauss has still got a fair amount of slack after his performances in the Ashes victories and the home whitewash of India, so I don't think there will be any changes to the England captaincy - certainly not before the end of the next English summer at the very earliest.
But if Strauss is still struggling for runs after that and Cook continues to pile them on and continues to impress as a one-day captain, then Strauss had better watch his back.
So will his be a victorious return? Well, I'm surprised England played so badly in the Emirates, although admittedly in Saeed Ajmal and Abdur Rehman they came up against two world-class spinners.
I'm not sure Sri Lanka have got that strength in depth in the spin department any longer so it should be easier for England to score runs.
We'll have to see whether the bowling attack is well enough suited to the very oppressive conditions in Galle and Colombo, where it is fiercely hot and humid, but I can't see England losing in Sri Lanka.