Middle dearth
England's batsmen need game time, says Bob Willis, but sadly won't get any before the next Test.
Last Updated: 20/01/12 1:37pm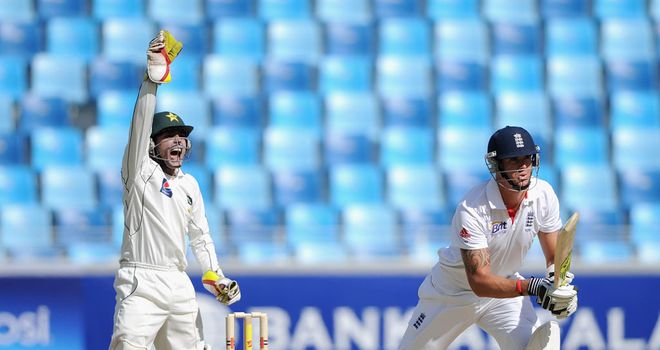 England will find it incredibly tough to get back into this series after two very bad days at the office for their batsmen.
It was pretty demoralising stuff in Dubai.
I expected England to bounce back in the second innings having learnt from their mistakes in the first - perhaps not well enough to save the match but at least to make a better fist of things.
But that wasn't the case and Umar Gul knocked the stuffing out of the top order before Saeed Ajmal was even needed.
Confidence
Andy Flower is right when he says the quality of the warm-up facilities isn't to blame. What England lacked was time in the middle ahead of the series.
You can have as many nets and throw-downs as you want but it's no substitute for the real thing. It's difficult to see how the batsmen can gain confidence between now and the second Test without any game time.
Ian Bell's inability to read Ajmal's deliveries is particularly worrying, as is Kevin Pietersen's total lack of back-lift against spin.
Pietersen's preferred tactic seems to be to thrust his front foot forward and then follow that with his bat, using it like a kind of divining rod.
It's a far cry from the Pietersen who splattered Shane Warne all around South-East London in 2005; let's hope he can find a way to work out his problems.
Nasser Hussain is right when he says the big occasion brings the best out of Pietersen; the challenge facing England is huge, so let's see how Pietersen responds.
Before the series began I made the point that England would have to make their own atmosphere on this tour and so it proved in Dubai. Playing in front of less than 1,000 people in a stadium that holds 25,000 is pretty soul-destroying.
It's worth putting that in the mix but the bottom line is that England must get used to the sound of echoing grounds, I'm afraid. In some parts of the world that's the story in Test cricket in any event.
Change
I certainly can't criticise England's work ethic - their fitness and commitment on that front has been superb.
I thought the bowlers performed magnificently. Chris Tremlett was perhaps slightly below par but I didn't think he deserved to be wicket-less in the match.
Stuart Broad and James Anderson bowled beautifully at times, as did Graeme Swann once he'd settled into his opening spell. As a unit I thought the bowlers stuck to their guns terrifically well.
I don't think playing Monty Panesar for Tremlett would have made that much difference in Dubai but that change is something the selectors will consider.
One could be cynical and say that's what normally happens when the batsmen fail - England drop a bowler - but I can't see the batting line-up changing.
England will want to show faith in their seven batsmen because they will feel they need big runs to put pressure on the opposition.
The question is can they deliver?