Dubious impact
Monty Panesar, Ravi Bopara and Steven Davies will find game-time limited in the UAE, says Bob Willis.
Last Updated: 09/12/11 12:35pm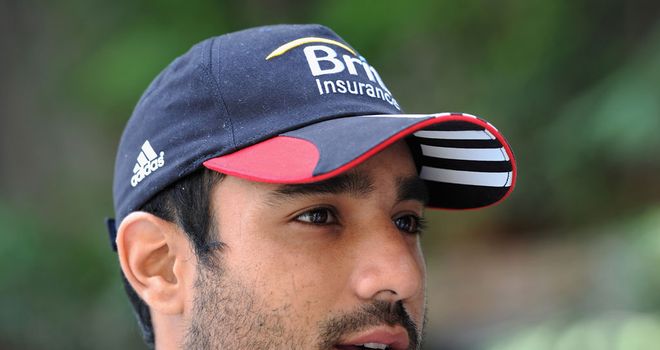 There is always some spice around when England play Pakistan and next year's three Tests in the Emirates will be no different.
The series will be heavily scrutinised, coming as it does so soon after the jailing of Salman Butt, Mohammad Asif and Mohammad Amir in November - the first time that such penalties have been handed out to cricketers involved with spot-fixing.
I'm sure the custodial sentences that were handed down will have sent a very clear and strong message to those individuals and others, of any nationality, who are tempted to fix cricket matches in any way whatsoever.
Hopefully, cricket will take centre stage as England take a step into the unknown and play Test cricket in the Emirates for the first time.
Formula
Andy Flower will have the players well-prepared but I'm pretty worried about the strength of opposition that they could face in the warm-up matches.
The other possible downside of playing in the UAE concerns the crowd - or lack of one - because I don't think there will be many people watching these games.
I guess there will be a few Pakistani supporters and England tourist groups around but the players should prepare for sparse crowds.
That said, England will be relieved they aren't playing in Pakistan where security measures and the unresponsive nature of the pitches for their bowlers are added complications.
Seam and spin bowlers enjoyed success in the recent series between Pakistan and Sri Lanka in the UAE, so there's a little bit of everything in the melting pot.
England, with their tried and trusted formula of selection and continuity - injuries permitting - have most bases covered in their squad of 16 and I expect them to win the series, although Pakistan are certainly on the up.
Opportunity
I'll be surprised if Monty Panesar is selected for a Test; the pitches will have to have a predictive element of prodigious spin before England will break from their three seamer, one spinner formula. Even if Panesar is selected, I think it will be in a four-man rather than a five-man bowling attack.
Rather England will trust the skill with swing - orthodox and reverse - and if there is anything in the pitches at all, their taller bowlers will certainly make life uncomfortable for the Pakistan top order.
Over the next 12-18 months Ravi Bopara must prove to the selectors that he has got what it takes to cut it at the highest level. He must grasp every chance that comes his way because I suspect they will be few and far between.
The selectors believe Eoin Morgan has got something special about him and are prepared to give him a long run in the side and they are unlikely to drop any of the other top five batsmen.
So Bopara - along with Panesar and Steven Davies - can expect to carry a lot of drinks.
Improving
Davies certainly isn't the second-best glovesman in the country - he's nowhere near it and I think he would be the first to admit that.
But England, in recent years, have put much greater store by the wicketkeeper's ability to play as a frontline batsman, rather than his keeping.
They've come unstuck to a certain degree in the 50-over game with Craig Kieswetter's lack of success with the gloves but the selectors seem prepared to put up with that.
Davies is an improving cricketer; I think the fact that he moved to Surrey to be assured of better pitches to bat on has benefitted him. Yes, he is an aggressive batsman but so is Matt Prior. If Prior was ever ill or injured, he's a close enough replacement.
I don't think there are any glaring omissions from the squad. It may have been worthwhile having Samit Patel around because his bowling should not be underestimated and he would not weaken the side's batting department, which Panesar would.
But if they want a frontline spinner, then Panesar is the man. The younger batsmen who got a taste of the big stage in 20-over and 50-over cricket in India are going to have to produce more in the county scene before they are seriously pressing for five-day honours.