Plenty on their plate
Bob Willis says Mickey Arthur and Haroon Lorgat's successor at the ICC have their work cut out.
Last Updated: 23/11/11 5:07pm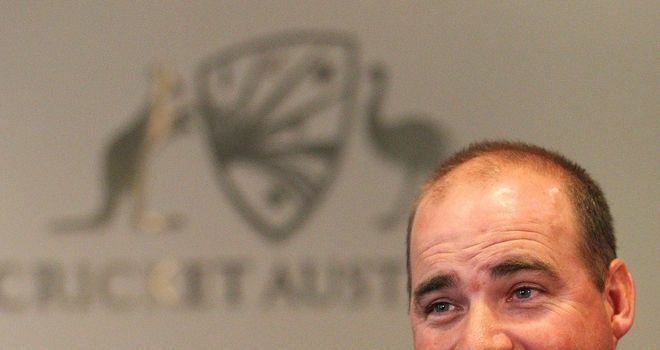 The world is changing!
Only a few years ago it would have been unthinkable for Australia to have a foreign coach but Mickey Arthur's appointment suggests the time has come for a fresh approach.
With a fairly cerebral chairman of selectors in John Inverarity now on board and former rugby union coach Pat Howard installed as Cricket Australia's new head of high performance, a shake-up definitely looks on the cards.
It's not as if Arthur lacked Australian competition - the names of Tom Moody, Justin Langer and Steve Rixon were never far from the debate when the subject of Tim Neilsen's successor came up - it is just that his credentials are better suited to the job.
Arthur did a good job in his time with South Africa - even guiding the team to a series win Down Under - and now he needs to draw on all that experience.
Peppered
One of his first jobs will be to try and sort out the technique of some of Australia's young batsmen, in particular Phillip Hughes and Usman Khawaja who both have difficulty with the short delivery.
At this stage I doubt whether either are going to have long and successful batting careers at the top level, but you never know.
Both will get peppered from here on in and must learn to deal with that. Michael Bevan was a great one-day player but never learnt to play the short ball at Test level and only played 18 times as a result.
As spirited a performance as Australia put in against South Africa in Johannesburg, the match highlighted that they must find a spin bowler of some consistency and threat and a replacement for Peter Siddle, who looked distinctly ordinary.
Innovative
I still believe that Australia work on the principle of the captain being the managing director of the team, with the coach slightly behind the scenes. Michael Clarke may get his way on the field but perhaps not so much when it comes to selection.
Clarke is certainly more innovative than Ricky Ponting on the field, although the side captained itself in the days when Glenn McGrath and Shane Warne held sway.
But despite not having the bowlers to execute his plans as well as he'd like, I think Clarke has started well in the job and certainly chasing down 310 to win in Jo'burg will give him and the side an enormous lift.
Another item on the agenda in the long-term is to find a replacement for Ponting in the batting order and, for that matter, how much longer is Mike Hussey going to have?
Ponting's standards are so high that I imagine he would retire with grace when he thinks he can't hack it any longer.
His presence in the team is quite important at the moment, though; Australia need senior players like Ponting and Clarke in the side at a time when Hughes, Khawaja and Shaun Marsh are trying to kick on.
Consistent
One player who did impress me last week was 18-year-old debutant Pat Cummins, who produced some pretty effective stuff with the ball - and the bat as things turned out!
It was a terrific start for him; he completely out-bowled Siddle and was far more consistent than Mitchell Johnson, who continues to spray it around and produce the odd magic spell too.
I would imagine that there is a great opportunity for him to establish himself in the Test side, starting with the upcoming series against New Zealand.
It was bizarre to see Johnson shorten his run-up midway through the second Test; he clearly has got some on-going problems with rhythm.
He has looked at where he delivers the ball on the crease, the height of his arm and the position of his wrist and now he is looking at his run up as well. It's not exactly the sort of endorsement a captain would look for from one of his premium bowlers!
But the signs are that he is going to continue to be an in-and-out sort of player; his approach and action doesn't lend itself to deliver what I would call a repeatable bowling action. He's about as far removed from McGrath as you could get.
Difficult
By the time Australia head over to England next summer, International Cricket Council Haroon Lorgat will have all but stood down from his post.
Overall Lorgat has been a safe pair of hands in what is a difficult job but the role needs a stronger character if the ICC is serious about taking on India's powerbrokers.
I don't believe the postponement of the Test match Championship until 2017 had anything to do with his decision; it was stupid to put it on the ICC agenda before they'd sat down with their broadcast partners, in all honesty.
Lorgat grasped the nettle with the spot-fixing, handling the whole matter pretty well I thought, but the Future Tours Programme is a complete mess.
Why for example are we are only playing three Tests against South Africa next summer?
PersonalIy I didn't think that the World Test Championship was going to be a panacea for the format.
It would make more sense to me to split the 10 countries into two divisions but I don't suppose many broadcasters would be interested in showing second division Test cricket.