Does he or Dhoni?
Bob Willis wonders if Duncan Fletcher - and his coaching style - fits in with India's star-studded set-up.
Last Updated: 19/07/11 3:34pm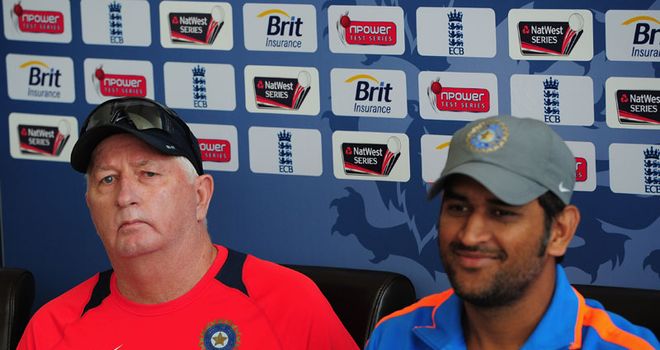 It will be quite a strange homecoming for Duncan Fletcher this week.
The former England supremo is one of the most highly-respected coaches of all time and must be congratulated on reaching 100 Tests this week at Lord's.
It is a fantastic milestone and he would love to celebrate by getting one over Andy Flower in the coming weeks.
But his position within the tourists' camp is delicate and his relationship with English cricket is fragile, despite that historic Ashes victory of 2005.
Months after resigning as England coach in 2007, Fletcher wrote about his experiences and didn't pull many punches.
He put as many people's noses out of joint with that book as his modus operandi did when he was in charge.
Authority
Fletcher's style has always been that of a managing director and woe betide any member of the press, media or squad that doesn't fall into line; he likes to have ultimate authority and for a large part of his career with England he was lucky enough to have it.
At times he took that too far; for example, the relationship between the counties and those players centrally contracted to England was far too restrictive during Fletcher's tenure.
There is no way in the world that Andrew Strauss would have been allowed to play a warm-up game for Somerset during Fletcher's time. Too often players were kept out of cricket when they should have been playing.
The situation we have now is far more sensible and Andy Flower has done a lot to rebuild some of the bridges that were broken down between England and the counties.
Flower also recognises that it is part of his job to deal with the media; the success of the England team is priority No 1 but he is far more willing to go out on a limb with the press than Fletcher ever was.
Say
It remains to be seen whether Fletcher will by-pass the media in this series and how great a say he will have in the running of the side.
The one thing the experiences of Gary Kirsten and Greg Chappell have taught us is that if you go into an Indian dressing room like a bull in a china shop and try to change things drastically then you will come unstuck pretty quickly.
Chappell's coaching career went into a downward spiral following his rift with Sourav Ganguly and Kirsten would readily admit that he was wrong to try and impose his way on the Indian players in the first six to nine months of his tenure.
He soon realised that the best way was to take a back seat and encourage the players from a distance; they came to respect him greatly and enjoyed his time as their coach.
Fletcher will have to learn to operate in that way - particularly as some high-profile names have been against him since the start - even if it doesn't come naturally to him.
Advice
So what is Fletcher's role?
While there are a few young players trying to integrate themselves into the Indian side, it's pretty clear that the old stagers - the likes of Sachin Tendulkar, Rahul Dravid and Mahendra Singh Dhoni - don't need coaching.
Perhaps Fletcher will take his lead from England batting coach Graham Gooch, who is on hand to offer advice to players when they need it.
Gooch doesn't try to teach the players how to bat but shows them how to play Test match innings.
His influence is clearly evident in the development of Strauss, Alastair Cook and Jonathan Trott in particular and the manner in which they try to bed in at the crease.
Fletcher, of course, knows some English players well - and what is required to play in English conditions too - but Strauss and Ian Bell are far more mature batsmen now than when he first knew them.
Time has moved on and England have too, under Flower. His coaching contest with Fletcher will be at the very crux of this series.