Go for greatness
KP has nothing left to prove in the Test match arena, says Mikey Holding, but he shouldn't quit just yet.
Last Updated: 10/08/12 2:24pm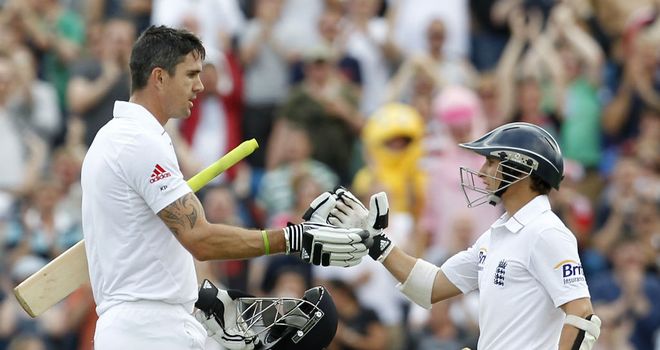 No-one knows what Kevin Pietersen's plans are, perhaps not even him, but it will be extremely sad for the paying public if he calls time on his Test career.
He is such a fantastic player and fans will miss out on some electrifying batting if he is not part of England's line-up after the third and final Test against South Africa.
It is very difficult for me to say that Pietersen is, or could become, one of the greatest Test batsmen ever because I have not seen every batsman in the game's history at such close quarters, but he is certainly one of the best batsmen I have witnessed.
He makes batting look easy at times and his innings of 149 against South Africa showed what he is capable of when he is in the zone. If he had a back-foot game there would be very few people in the modern era who could compete with him.
Test cricket is where you make your name and show your ability. Pietersen has done that against the great Australia team and this very good South Africa team and doesn't have much else to prove, but I hope he stays in the Test match arena for a while yet.
But the ECB cannot allow him to dictate his future; the same rules have to be applied for him as they would for every other member of the team, even if that forces Pietersen to retire.
Adventurous
James Taylor was at the wicket with Pietersen on Saturday afternoon and I thought he performed reasonably well at Headingley in his maiden Test match; he had some good moments during his knock of 34.
I wouldn't say the Nottinghamshire player was a total success but who is in their debut match? He has now learned what the Test game is about, spent a pretty long time at the crease (104 balls) and could grow into a very accomplished international player.
England got themselves into a position of strength on Monday afternoon and had a genuine chance of forcing a victory, but I don't think they were adventurous enough.
They were chasing a target of 253 from 39 overs and pushed Pietersen up to open alongside Alastair Cook, but once he got out they seemed to reign in their attack, with Andrew Strauss and Jonathan Trott coming in at numbers three and four respectively.
Ian Bell opens in the one-day internationals now so maybe they could have pushed him a bit further up the order rather than placing him at six, while Matt Prior, who can be a very destructive batsman, might also have come to the crease higher than five.
That would then have left Strauss and Trott available to focus on saving the game had England lost a flurry of wickets.
Determination
England have been outplayed by South Africa for large periods this summer, so if they can win the third Test at Lord's and draw the series it will show they have the grit and determination to stay at number one as well as the talent.
I might have said before the second Test that Headingley presented England with their best chance to win a match, due to the usual seamer-friendly conditions at the ground, but I don't think the pitch was that great and, like The Oval track, was too slanted towards batting.
No-one can be certain as to what effect Graeme Swann would have had in Yorkshire and England did have had valid reasons for leaving him out: spinners traditionally do not do that well at the Headingly and he didn't bowl well at The Oval.
I certainly wouldn't have omitted him out but I can't categorically say it was the wrong decision. I would expect Swann to return at the expense of Steven Finn for the third Test, though, which would be disappointing for the Finn because I rate him highly and Lord's is his home ground.
Anomaly
Bob Willis suggested Graham Onions could come into the side and while I think he is a very good bowler, I don't see where there is a place for him.
England are unlikely to select an all-seam attack again, I don't think they will drop Tim Bresnan and Stuart Broad returned to some sort of form at Headingley when he started to pitch the ball up.
South Africa have had the better of the series so far but I don't think there is too much between the teams; the Proteas comprehensive win in the first Test was a bit of an anomaly in my mind.
I wouldn't say they are that much better than England, if at all, and at The Oval it was a case of Graeme Smith's men playing fantastically and Strauss' being under par.
Headingley's contest was a fairer reflection and England are certainly capable of winning at Lord's and drawing the series.