Lack of attack
Unimaginative and passive... Michael Holding looks at why England's bowlers toiled at The Oval.
Last Updated: 26/07/12 11:37am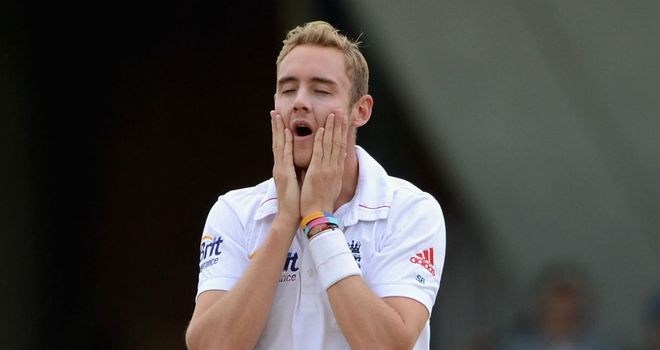 England's bowlers were nowhere near aggressive enough during their side's heavy defeat to South Africa at The Oval.
Jimmy Anderson, Stuart Broad and Tim Bresnan do not possess the pace of Dale Steyn and Morne Morkel and with the pitch not generating swing or seam, they had to readjust their plans - but they didn't.
It seemed like the England quicks were not as motivated as their South African counterparts; it was almost as if they thought that because they were playing at home the ball was bound to move, and that they would get rewards without having to earn them.
There was no oomph from the hosts and they were not prepared to try different things to take wickets. Bowling a consistent line and length is not going to help you if the ball is not deviating; you need to try bouncers and slow balls. England delivered some short-pitched stuff but not enough of it.
You have to really attack batsmen when they first come to the crease and put seeds of doubt into their mind, yet England gave up on that philosophy too soon.
It is okay thinking about containing when a batsman has a century and the ball is 50-60 overs old but England went that way too early, allowing Graeme Smith, Jacques Kallis, and - most notably - Hashim Amla to settle.
My colleague, Sir Ian Botham, said on Monday afternoon that England's bowlers were probably out of rhythm having last played a first-class game in mid-June, but I don't think they can give that as a valid excuse.
International teams did not used to play cricket all year round so guys would go five months without playing first-class games yet turn up for a tour ready. Besides, South Africa are out of their season but bowled exceptionally well.
Steven Finn could have made a big difference for England as he is probably the quickest of his country's bowlers and also has an aggressive streak. Perhaps he will come into contention for Headingley.
Analyse
We can talk about how well South Africa bowled on the final day and whether England batted poorly, but it would have been extremely difficult for Andrew Strauss' side to regroup mentally after spending such a long time in the field. They had been totally outplayed for three days so to salvage a draw after that was always going to be a tough ask.
A lot of sports teams like to get straight back on the park after losing so heavily, but England will be happy that they have a 10-day break between Test matches; it will allow them to analyse what went wrong and what they can do to solve the problems.
South Africa, though, were ruthless and put together a perfect batting performance; they played with patience initially to make sure that they got themselves into a position of strength and then accelerated their scoring to around four runs an over before declaring.
Smith and Kallis' centuries were very well constructed but the star of the show was undoubtedly Amla, for his score of 311 not out.
The 29-year-old is not a man to attract a lot of attraction - although that might change now that he has just scored a triple hundred! He doesn't play flamboyant strokes but he plays some very good ones and works extremely hard for his runs.
Peppering
The Proteas will also be delighted that each of their bowlers took wickets in the Test match; you always want that to be the case rather than having one guy on a rampage.
Morkel still has a lot of work to do in terms of his consistency but he bowled in a very clever manner to work over and finally dismiss Kevin Pietersen in England's second innings; peppering him with short-pitched deliveries and then hitting his stumps.
A lot of bowlers with pace will harm Pietersen because he is not the greatest on the back foot - Glenn McGrath once broke his ribs, while Dwayne Bravo has previously knocked off his helmet - but it was still an impressive ploy from Morkel.
England will be glad that the next Test is at Headingley as the ball usually swings there and that will make their bowlers more effective.
But whether they get much out of the pitch or not, the hosts must now play some attacking cricket if they want to salvage this series and retain their world number one status.
The final two Tests should make for intriguing viewing.