Beginning to bloom
The maturing Kieron Pollard is becoming an important part of West Indies' one-day side, says Michael Holding.
Last Updated: 20/06/12 5:02pm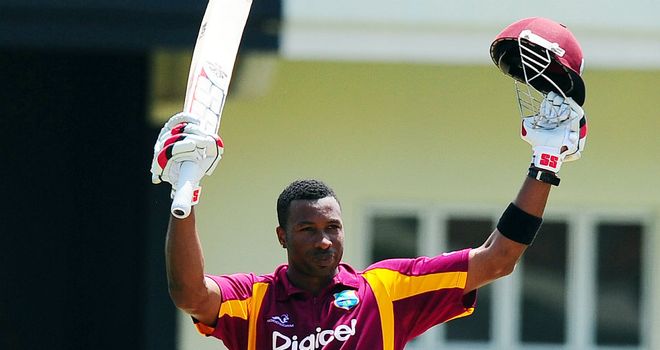 Chris Gayle's return to the international fold should have a positive effect on the West Indies dressing room.
He is someone that the youngsters look up to and he can guide them along as they try to make their way in top-level cricket; he should really help their mental approach.
However, Gayle's main attribute is still his batting and he showed with his quick-fire 50 at The Oval on Tuesday what a destructive player he can be. Everyone was excited to see him and even some of the English fans were booing when he was given out!
He hits the ball a lot further than I think I have seen anyone else hit it and can destroy the opposition bowlers, but due to the way he plays he always gives you a chance.
You can't expect him to bat all the way through the innings, but if he bats for 25-30 overs that will be enough as he will have scored more than a hundred.
Accumulating
West Indies are blessed to have a player like him because there are not too many around. You also need batsmen to spend time at the crease, like the way Alastair Cook is doing for England; playing long innings and accumulating runs.
Dwayne Bravo and, to a lesser extent, Kieron Pollard did that at The Oval; the former scoring 77 and the latter chipping in with a measured 41.
Bravo is a very good cricketer, who can offer a lot to the team with both bat and ball, and he is not a bad fielder either.
Pollard, meanwhile, has his restrictions and I think the England bowlers have realised that if you don't pitch the ball up to him he cannot score as freely. But he buckled down and did not give his wicket away when he realised that things were not going to be easy.
He also scored a century against Australia in the spring and batted very well, combining big hitting with good decision making.
He is learning and realising that he has to adapt because bowlers will know about his game and not just bowl a ball in his slot.
Pollard is getting better all the time and hopefully he, Gayle and some others can lead West Indies forward in the one-day game.
Emulate
As a team the West Indies should now have learnt that Sunil Narine is not going to be as effective in ODIs as he has been on turning pitches in the IPL and is not yet ready to be a match-winner, while they probably still need to tinker with certain aspects of their side to find the right formula in the 50-over game.
England, though, are playing much better one-day cricket now - they were pretty rubbish at it a few years ago! They have no issues in their home conditions and I expect that to continue with the good batting line-up they possess.
They have "proper" batsmen in their top three positions, instead of designated sloggers or pinch-hitters, and that is something other teams may look to emulate when they play in England as it can be dangerous to have your power players at the top when there is a swinging ball to contend with.
But England's top three must prove themselves in other conditions, such as in the subcontinent, when the pressure to score quick early runs is higher, and the fact there are two new balls at the top of the innings makes little difference on batter-friendly pitches.
West Indies have been below par in this series, but that should not detract from England's performances; they have not lost a Test series or an ODI series at home in a long while and are playing some excellent cricket.
After this series with the West Indies, Cook's side will face Australia and I think they will probably be the favourites. Michael Clarke's men are rated number one in the world in the ODI format, but I think they are a pretty ordinary side.