Royal variety
Michael Holding says Sunil Narine's array of spinning deliveries could trouble England at Edgbaston.
Last Updated: 04/06/12 12:54pm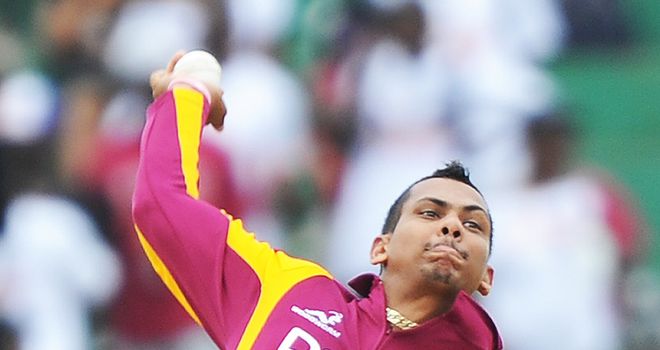 Sunil Narine has prospered in the shorter form of the game but it will be intriguing to see how he performs in a Test match environment.
The Trinidadian spinner has been called up to the West Indies squad as a replacement for the injured Kemar Roach and is line to make his five-day debut at Edgbaston this week.
Narine has been brilliant for Kolkata in the Indian Premier League recently but in Test matches the pressure is not on batsmen to score runs that quickly and they can wait for the bad deliveries to arrive.
His six first-class games for Trinidad and Tobago have yielded 34 wickets at an average of just under 12, with best figures of 8/17. They are excellent initial statistics but I will wait until I see someone perform at the highest level before I get too excited about them and predict that they will be a star.
I have been impressed by what I have seen so far, though. He bowled very well against Australia in the one-day series this spring, where he took 11 wickets in five games.
Narine has a great variety of deliveries; some spin a great deal into the right-hander, like a normal off-spinner, while some stay straight and others drift away.
Plus, he also has his much-talked-about knuckle ball. I think he will threaten England's batsmen.
He is generating a lot of column inches at the moment because the West Indies have been famed for their arsenal of fast bowlers.
However, we have always had good spin bowlers in the Caribbean, guys like Albert Padmore, Roger Harper, Derek Parry and Rangy Nanan. It is just that we have always picked the best four bowlers and they have tended to be quick men.
Slow bowlers like Sulieman Benn, Nikita Miller, Shane Shillingford and now Narine have come to the fore in recent years, but I think that says more about our depleted pace resources than how good the spinners are.
Attacking
Roach will be a big miss for the West Indies as he has been the leading light throughout the last eight months or so. He was by far the best bowler in Australia and has repeated the trick in England.
Fidel Edwards may come back into the side now and he will have a point to prove because I don't think he has been at his best for a while. He has had a slight injury but he hasn't really looked like taking wickets.
Edwards doesn't have a classical fast-bowler's action and he can be a bit expensive, which perhaps explains why he has a Test match bowling average of 38.
He can't be relied upon to bowl line and length; he keeps on attacking, pitching the ball up and looking for swing, while he also occasionally goes for the short ball.
West Indies could get another fast bowler into the side if Darren Sammy batted higher up the order but I wouldn't go that way yet.
Sammy scored a great hundred at Trent Bridge but one swallow doesn't make a summer. Let's not forget that Jerome Taylor scored a century against New Zealand, and former Australia bowler Jason Gillespie has a Test match double hundred but they didn't move up the order.
If Sammy begins to get runs consistently there will be an argument for pushing him up to six but not after one innings, no matter how good it was. He cannot be considered a batsman who bowls just now.
Experiment
I also agree with Sir Viv Richards' sentiments on Cricket AM that the West Indies should not try to sort out their batting problems by moving Shivnarine Chanderpaul up the order from five to three.
Chanderpaul is the only man who has been getting runs consistently, so why would you want to experiment by moving him around? You need to find other batsmen who can get runs, not alter what is already working.
Windies number three Kirk Edwards has not scored many runs throughout the series and I don't think he should continue in the third Test.
Either Assad Fudaddin or Narsingh Deonarine should play instead and I would probably opt for the latter. Roach's absence will deplete the bowling attack and Deonarine's off-spin could be a useful tool.
I made the point after the second Test at Trent Bridge that West Indies' batsmen are good enough to score runs as long as they focus on occupying the crease.
Adrian Barath, Kieran Powell and Darren Bravo have ability, no-one is doubting that, but they have been a little bit careless and a bit free with their stroke-play.
I'm not sure they realise that in England the ball will constantly be doing something and that you can't just play through the line as if you are on hard pitches where the ball comes onto the bat
West Indies have battled hard in this series but Chanderpaul and Marlon Samuels are the only batsmen who have performed, while Roach has been the only really potent bowler. Three players can't make a team and more guys need to stand up and be counted.
Hopefully that will happen at Edgbaston so that whatever the result the West Indies can gain some confidence ahead of the one-day series - something they have a much better chance of winning.