Too tough a Test?
Michael Holding fears that West Indies' less experienced players will come unstuck in England.
Last Updated: 10/05/12 9:43am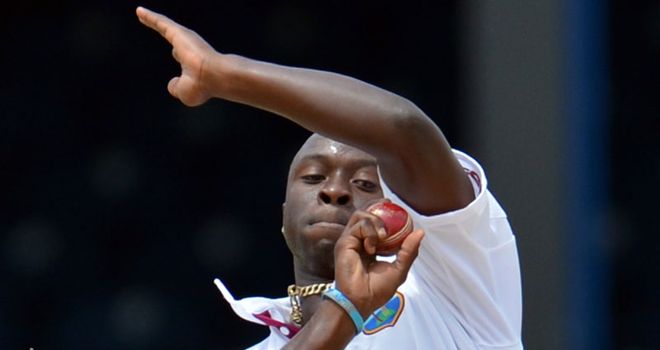 If you're a West Indies fan looking for some good news about the team's Test chances against England, you've come to the wrong place!
While a lot of people in the Caribbean are encouraged by the way the team played against Australia, there's no escaping the fact that Michael Clarke's side is a very ordinary team and they still won the series 2-0.
As I said to one Australian journalist, if that side had been playing England for the Ashes this summer they would not come close to drawing a game.
Yes, the West Indies were more competitive and produced passages of quality cricket, but I don't believe that the current side is very strong.
To be honest, I expect them to be properly thrashed by England - an outstanding team that is close to having a great bowling attack.
I just don't see how the majority of the batsmen - playing in English conditions they are unaccustomed to - will stand up to an attack that has lifted England to the top of the rankings.
Two victories in 19 Tests is bad by anyone's standards - it certainly isn't a record to be proud of.
Convince
However, things would be very different if everyone who is eligible to play for the West Indies was considered for selection.
The issues surrounding the absence of some of the team's best players are well documented; with the likes of Chris Gayle, Ramnaresh Sarwan and Dwayne Bravo on board the West Indies would be a match for anyone.
And then there are people like Jerome Taylor who have pretty much been banished by the West Indies Cricket board; the last Test series the West Indies won was against England in 2009 and England won't need reminding of the part that Taylor played at Sabina Park.
At full-strength I'd back the West Indies to be competitive against England and beat the current Australia side; Ricky Ponting is well past his prime and while Clarke is a fantastic cricketer and a great batsman, the team lacks depth.
Mike Hussey is a very good player but he's not a youngster, while Shane Watson is a good all-rounder but not a world-beater. The spin options are very ordinary, the seamers kept breaking down while the openers simply weren't good enough.
In many ways Ottis Gibson only has himself to blame because one of the first things he did when he was appointed in 2010 was clear out the senior players.
He wanted to start with a brand new team - it was as if he wasn't satisfied with the attitude and commitment of some of the senior players. He wanted to start over.
When you take that approach you have to rely on your youngsters but the reality is that it takes a very, very long time to build a team.
Most sides have players or squad members who can be difficult at times but the answer isn't simply to get rid of them - otherwise you get nowhere.
What you need to do is convince the senior players that your way is the way to go. That is what man-management is all about. Tackling issues head on and bringing players back into the fold. If you can't do that then you do have a serious problem.
Ability
Apart from man-of-the-series Shivnarine Chanderpaul, who scored 346 runs at 86.50, the other stand out performer in Australia was Kemar Roach.
Shane Shillingford came in and bowled very well in the last two Test matches but Roach was head-and-shoulders above everybody else in the bowling department.
There's no doubt that some of the young guys in this squad have a fair amount of ability but it is going to take them a long time to develop properly.
This tour has probably come at the wrong time for several of them and there is a real chance that they will get a little deflated.
Take Kieran Powell, for example. I think he has a pretty good technique and should develop into a good Test cricketer but I don't think he is quite ready for this challenge yet.
If the more inexperienced players were shielded a bit, if they were being brought into the team one at a time and helped along by the more senior players, it would stand them in far greater stead for the long-term.
Instead, they are being thrust in at the deep end and haven't been given the opportunity to learn the game.