In praise of Proteas
Pollock hails efforts of Philander and Kallis
Last Updated: August 20, 2012 6:08pm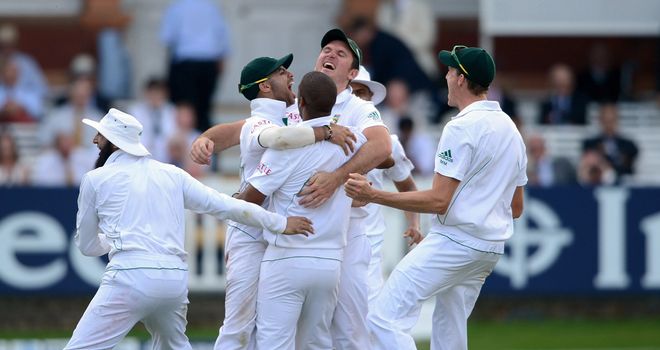 South Africa: new top dogs in Test cricket
Shaun Pollock has encouraged South Africa to "keep building" after establishing themselves as the top Test side in world cricket.
"They know they can play well, they've got a bowling attack that can be successful all around the world and they've got batsmen who are very mature and settled."
Shaun Pollock Quotes of the week
Graeme Smith walked away from Lord's clutching the ICC Test Championship mace after his side wrapped up a 2-0 series over England and leapfrogged them to the top of the rankings.
Pollock has been in the Sky Sports commentary box throughout the series and insists his countrymen deserved the plaudits after outclassing England in all departments.
But he says thoughts must quickly turn to defending their status, starting with a winter tour of Australia.
"You've got to give the credit to South Africa," Pollock said. "They stuck to their guns the whole way through the series and they stuck to their guns in this Test match.
"From a bowling perspective I thought they were better, their batting was more solid and their catching was more solid. They got the deserved result and I think they'll be really happy with their performance.
"They've got a big tour at the end of November to Australia and playing them away from home will be an interesting series, but one they'll believe they can win.
"It will be another tough one, so they'll have to keep their wits about them but they can take a lesson from what Andrew Strauss said; you've got to keep improving and keep performing. You can't rest on your laurels.
"They know they can play well, they've got a bowling attack that can be successful all around the world and they've got batsmen who are very mature and settled.
"They've got a good unit, but they need to keep building."
Key
Vernon Philander was named man of the match following a third Test in which he took seven wickets, including the key scalps of Andrew Strauss and Alastair Cook early in the second innings.
Pollock insists he has the talent to be a successful bowler in the long term, describing his performance in England as "awesome".
"He's superb. He's got great control and great skills," he said.
"He has been shaping the ball back at the left-handers and it was a big strike on Sunday night before the close of play to pick up two vital wickets.
"He got a wicket on Monday morning to set the wheels in motion and he wrapped up the tail. That's the sign of a class bowler.
"There's nothing more you can say with regard to his skills. He lands the ball on a full-ish length and they don't play him in the one-day arena so he can continue to be confident of doing that length. He gets it up there full enough and he finds the edges.
"He'll continue to be successful. His stats are unbelievable - his man of the match here is the fourth in 10 Test matches - so he's an awesome performer.
"His batting is going to go from strength to strength as well."
Willing
Pollock also paid tribute to the evergreen Jacques Kallis, who finished the series with 262 runs and four wickets to his name.
And with 278 Test wickets under his belt, he denied claims he was a reluctant bowler.
"When you look at him as a reluctant bowler it's more in the one-day game and the t20 game," Pollock explained.
"When it comes to his Test overs he's always been willing to do the job. He understands the importance of what he does and what he brings to the party for the South African team.
"He does the bulk of the fourth bowling overs in the first innings and then in general the spinner takes over in the second.
"He's never shirked his responsibilities when it comes to bowling in Tests, he appreciates Test cricket and if he was honest he'd say he loves Test cricket the most.
"He knows what a wonderful record he's got and he knows what an important player he is in Test cricket."