Parnell - More runs needed
South Africa seamer calls on batsmen to step up in series decider
Last Updated: September 4, 2012 4:58pm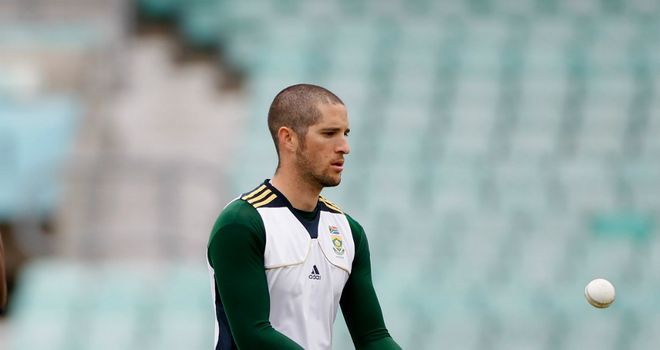 Wayne Parnell: batting at number seven for South Africa's ODI team in England
South Africa know what they must put right if they are to claim a share of the one-day series against England at Trent Bridge on Wednesday.
The common denominator in the tourists' back-to-back defeats has been a lack of runs, the totals of 211 all out they set at The Oval and then 220-8 at Lord's proving well within England's range.
In contrast, the hosts could get nowhere near the 287-5 South Africa racked up off the back of Hashim Amla's 150 in the series opener in Southampton.
South Africa captain AB de Villiers was candid in his assessment of what had gone wrong at Lord's, and it was clear when all-rounder Wayne Parnell spoke on Tuesday the message has got through.
"We just didn't score enough runs," said Parnell, who has been deployed at number seven so far in this series.
"Whatever it might be, if England have bowled well or we have batted poorly, is up for debate ... it's probably a bit of both," he added.
"But we have a pretty quality batting line-up, and I expect us to do better tomorrow."
Kallis absence
South Africa have been unable in their last two fixtures to paper over the absence of Jacques Kallis, a frontline and world-class contributor with bat and ball in all formats but rested at present after the tourists' Test series victory.
Parnell, however, does not necessarily subscribe to the obvious theory that South Africa cannot operate near full capacity without Kallis. "It's up for debate," he said. "If he were here and we were 2-1 down, what would people be saying?
"Now he's not, people are questioning whether he should be here or not."
England's Lord's victory was completed in resounding fashion when Craig Kieswetter launched Dale Steyn over long-off to the pavilion for six.
It was a chastening experience for one of the world's fastest bowlers, but Parnell warns his fellow seamer will be back with a vengeance.
"He obviously wasn't happy with that," he added. "No fast bowler likes to be hit, but Dale's a competitor - and he'll be back tomorrow."