Conference call
Kammy reviews the weekend and says Luis Suarez must apologise directly to Patrice Evra.
Last Updated: 13/02/12 4:52pm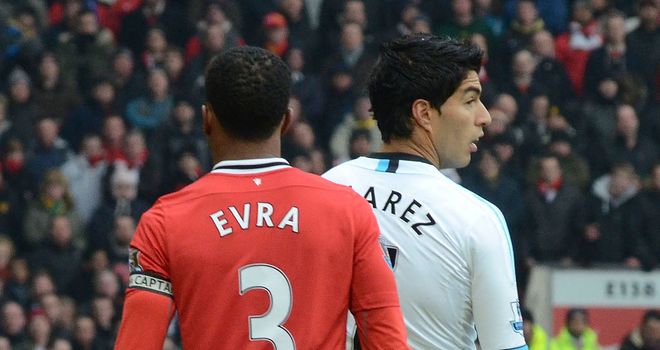 Every Saturday afternoon, Chris Kamara heads to stadiums up and down the country to deliver his unique match reports for Soccer Saturday.
On Sundays you can see him back in the Sky Sports studios as he brings you all of the highlights as well as in-depth analysis of all the action on Goals on Sunday.
And then on Mondays you can find Kammy right here on skysports.com as he brings you his views on the weekend.
Join us every week as he runs through his highs and lows of the Premier League...
The Luis Suarez row rumbles on...
It was another great weekend in the Premier League but unfortunately it was overshadowed by the Luis Suarez situation. A lot of people at Liverpool have got mixed up in this, but the club can restore its reputation - no doubt. However, the two clubs still need to get the two players together and have a press conference. Whatever it takes, Suarez should say sorry to Patrice Evra and end the issue for the benefit of the game, for the benefit of other black footballers and white footballers who get involved in this and for the benefit of the kids. I still don't think it is finished.
It has to be Harry Redknapp...
I don't want to see anyone take the England job other than Harry Redknapp. Rio Ferdinand and Frank Lampard and everyone else would stick their chests out and perform to the maximum of their ability because that is what Harry does. He gets the best out of players. I can't see why it would not be a problem for him to do it part-time. He is a delegator as well as a motivator. You could see with the court case, he was away for three weeks and the bandwagon still rolled on with him taking charge of the matches. Spurs have got to make a few noises because the supporters will ask: "Why did you let our manager go?" But the only time to start thinking about other options is when Harry says no or the FA rule him out.
Wolves' players were taking the Mick...
As soon as the goals started going in against their near neighbours West Brom, it did not look good for Mick McCarthy. And that was after the chairman Steve Morgan went into the dressing room after the last home game. I know Mick very well and the last thing in the world he would have liked was a chairman coming into the dressing room uninvited on the final whistle - that's the manager's domain. But you can understand why the chairman did it. That moment was the beginning of the end and from then he was on borrowed time. The players let Mick down mssively. I was at the Liverpool game, which they lost 3-0, and it was more than a lack of confidence. The players were not taking responsibility; some of them were hiding at home. Their performances were very disappointing at Molineux and if you don't win you're home games then you are going to get relegated.
Next man in...
Steve Bruce has helped teams survive in the Premier League before, as has Alan Curbishley. But has Curbishley been out for too long? The likes of Dave Jones and Neil Warnock are contenders so there are managers out there. But good managers are in short supply now. I suspect Steve Morgan must have someone in mind.
Next man out...
It will be very difficult for Andre Villas-Boas to keep his job at Chelsea. He is in a foreign situation after such success with Porto and things have not worked out as he would have imagined. He looks like a worried man and the players are not performing for him. The one thing that Roman Abramovich wants is the Champions League; it's something that he craves. He wants that coveted prize to be Kings of Europe so to not even qualify would mean Villas-Boas would be history.
King Henry left on a high note...
Thierry Henry coming on and scoring the winner in his last match against Sunderland was magical. The script was written; it was amazing. He deserves all the accolades because it has never been easy for him as a legend coming back to the club. He is not the Thierry Henry of old, he's lost his pace but he has not lost the art of scoring goals.