Cricket Expert & Columnist
The Ashes: David Warner third Test recall is vital for Australia
David Warner's made mistakes but Australia desperately need his runs, says Nasser Hussain.
Last Updated: 30/07/13 4:07pm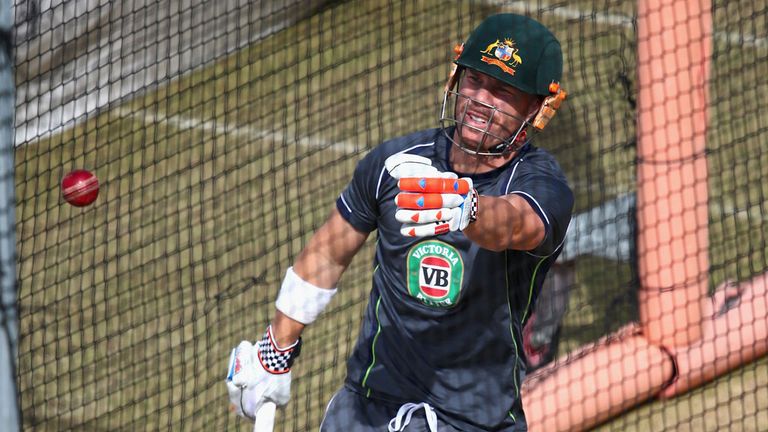 The tourists can't keep going around in circles; at 2-0 down the time has come to pick their team on character and consistency otherwise the rot will just continue.
Warner's mistakes are well-documented and he's clearly had his issues but Australia's need for top-order runs is greater; embarrassingly tail-ender Ashton Agar remains their leading run-scorer in the series.
It won't be easy for Warner to come straight back into the Australian team and deliver after jetting in from South Africa but all of his indiscretions will be forgotten and forgiven back home if he goes out and smashes 150 at Old Trafford.
His character traits mean he will occasionally get himself in trouble - last week's on-field spat with South African A's Thami Tsolekile being the latest example - but I'm sure Australia can manage that side of things providing he's doing the business on the field.
Darren Lehmann doesn't want 11 'yes men' out there; he doesn't want everyone to be all 'nicey, nicey'. Boof likes tough cricketers who can perform. Personally, I would pick Warner.
Best
Old Trafford has a history of producing turning pitches and this season is no different; for that reason alone it's time for Australia to pick their best spinner. If that man is Nathan Lyon, then get him in.
Lyon bowled 12 more overs than Agar in the tour match at Sussex and has 22 Tests under his belt, so if he doesn't play this week I really don't know what he's doing in the squad.
Australia must surely know by now who their best spinner is? That man doesn't have to be Shane Warne, he just has to be the best of the rest.
I've not seen enough of Lyon of late to make that decision but I do know that he took career-best figures of 7-94 in his last Test, against India in Delhi earlier this year, and you can't just overlook him on a spinning pitch.
England's decision to add Monty Panesar to their squad underlines the point.
Monty has taken 25 wickets in three Tests at Old Trafford and is very much a serious 'horses for courses' selection; England want him around in case the pitch looks like it might become an absolute dust bowl.
It will take a lot for England to change their one-spinner policy in England and with Graeme Swann in residence I do think it is unlikely that Panesar will play, especially given that Joe Root produced some very decent off spin at Lord's when asked to turn his arm over.
Shrewd
I also don't expect Chris Tremlett to make the cut unless the selectors think the pitch looks really quick and bouncy.
Including him in the squad is a shrewd move, though; it's the selectors' way of saying 'you are still in our thoughts'.
It also allows them to keep a close eye on his physical condition and to ensure that he is doing all of the right things so that if he does go away with England to Australia in the winter he's already put in some hard work with David Saker, the bowling coach.
I suspect that England won't decide on their final XI until late on Wednesday or Thursday morning, partly so they can give Kevin Pietersen as much time to recover from his calf problem as possible.
If he fails to recover then I've got absolutely no problem with James Taylor stepping in.
There are a lot of things to like about this lad but the main one is that he gets runs!
I heard a few people trying to put a downer on Taylor's hundred against Australia down at Hove by saying it wasn't an eye-catching innings, but how he scores his runs doesn't bother me.
Ridiculously I've also heard people say that at five foot six inches tall he's too short to cut it at the top level. As I remember it Sunil Gavaskar, Brian Lara, Sachin Tendulkar, Ricky Ponting all scored a few runs...
I judge Taylor by his record over the last couple of years at a leading county in Division One cricket and, to be honest, if he doesn't get his chance then that it reflects badly on our domestic game.
I like Taylor's toughness; it can't have been easy for him to go and play one game for a different county against Australia when everyone's eyes were on him and he responded with a century.
That tells me all I need to know about his temperament and ability.
My gut feeling is that by this time next week England - regardless of their line-up - will have retained the Ashes and, barring any bad weather, hold a 3-0 lead in the series.
While Australia only lost the first Test by 14 runs I think the manner of their defeat at Lord's will have damaged their confidence irreparably creating a huge gulf between the two sides.
Watch the third Ashes Test between England and Australia live on Sky Sports Ashes from 10am on Thursday and on the Ashes Event Centre - our first second-screen experience for cricket for Ipad and mobile.
The Ashes Event Centre is available via the Sky Sports app and online at skysports.com/cricket by clicking here