Cricket Expert & Columnist
England will field a stronger ODI side in New Zealand despite ending their India tour in style, says Nasser Hussain
England will field a stronger ODI side in New Zealand despite ending with a win in India, says Nasser Hussain.
Last Updated: 27/01/13 2:05pm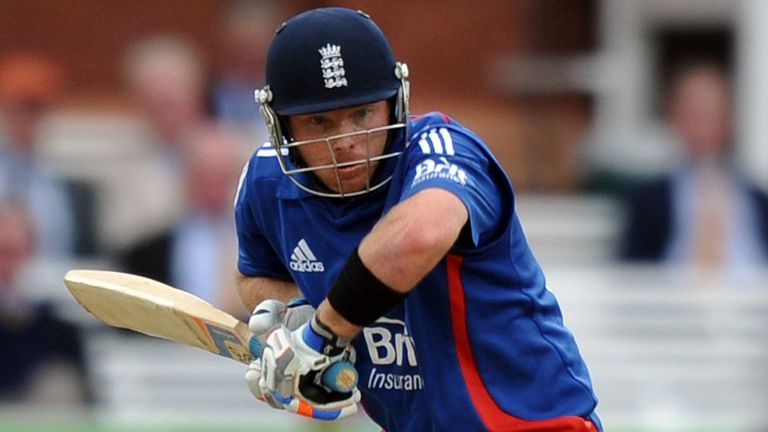 Bell struck an unbeaten 113 from 143 balls to steer the tourists past India's total of 226 all out in 49.4 overs with 16 balls to spare, in Dharamsala.
India still won the series 3-2 and Hussain told Sky Sports that as well as England played, the result showed that they remain an inconsistent side.
"England will be frustrated [at losing 3-2] because today was the perfect run chase," said the former England skipper. "Ian Bell timed it perfectly, Eoin Morgan came in and finished it off. It was exactly how you should play in one-day cricket chasing a score.
"Being an England coach must be very frustrating at times, whether it be Andy Flower or Ashley Giles, to see the two performances in the middle of the series where they were bowled out for low scores when you know they can bat like that.
"All credit to India for how they played and all credit to England today - I thought they put in almost the perfect performance."
Key
Bell scored 85 in the first one-day international in Rajkot, which England won by nine runs, but thereafter made one, 25 and 10 in his next three knocks.
However, Hussain said Bell's century in the fifth one-dayer fully justified the selectors' decision to install him in the opener's slot alongside Alastair Cook.
"Bell has done very well at the top of the order since he came in - he just needed this score," he said. "If he bats overs, he's going to have 100-plus because he never scores slowly.
"There was a bit of pace in the pitch and that suited him; he just timed it beautifully. He's got all of the shots. You wouldn't say there's a certain area you would bowl to him so you can tie him down. He's a good player of spin and he's a good player of medium-quick bowling.
"The key today was to bat through. Bell's hundred was the first hundred of the series by anyone on either side and if you do that, generally you win the game.
"I'd rather have it this way, where Bell has had three low scores and then he gets a hundred - especially as an opening batsman, because if you get 30 and then get out, you're just using up deliveries.
"Bell will look back and wish he'd got a few more runs but he's doing absolutely fine as an opener."
Rest
India, invited to bat, failed to fully recover after Tim Bresnan (4-45) and Steven Finn reduced the home side to 24-3 inside seven overs and despite the best efforts of Suresh Raina (83) they failed to bat out their overs.
However, Bresnan will now miss the upcoming tour of New Zealand as he continues to recover from an elbow problem. Despite the all-rounder's impressive display, Hussain said it is essential that Bresnan is rested so that England get the best out of him in what promises to be a demanding year.
"The one mistake that I think Alastair Cook has made in the series is giving Jade Dernbach the new ball, when he has done. I think Bresnan should always take the new ball if Jimmy Anderson isn't playing," said Hussain.
"Are Bresnan and Finn better new-ball bowlers than Dernbach? Of course, they are. The first few overs set the tone and often Dernbach has set the wrong one and I think Bresnan is better than that.
"Some people will ask, 'how come he's getting four wickets even though he's injured and not going to New Zealand?' Bowlers often bowl with some kind of niggle. Ian Botham and Michael Holding will tell you that. They are very rarely 100 per cent fit.
"If England can rest him and make sure that he's fit the Champions Trophy and the Ashes, then they will do."
Stronger
England will now turn their attention to their tour of New Zealand, where they will play three T20 internationals before tackling the Black Caps in as many one-dayers and a three- match Test series.
Hussain said he fully expects England to turn out a stronger 50-over side in the coming weeks than they have done in India.
"England will definitely be stronger in the bowling department, with the likes of James Anderson, Stuart Broad and Graeme Swann coming into the side.
"They've got some decisions to make with the batting, but that's made easier because there is no Kevin Pietersen so Joe Root can probably play.
"They are going to decide what they are going to do with Samit Patel and there will be some discussion about who should fill the number seven position - the batting all-rounder.
"But don't take New Zealand lightly. As South Africa found out, if you are under par against New Zealand you will get beaten. But the squad should be good enough to go to New Zealand and win - and win comfortably.
"The key issue with the Test squad is the five bowlers. England have won in India because of the skills of their two spinners - there are other reasons but Monty Panesar and Swann worked brilliantly together.
"Some feel that they should play together all of the time. To do that you'd have to leave a batsman out and I can't see England doing that in New Zealand, unless it's a dust bowl, and you don't often get them. So I think it will be back to Plan A - six batsmen, Matt Prior at seven and your four best bowlers."
Watch the T20 warm-up game between New Zealand XI and England live on Sky Sports 1 HD from 3.55am, on Monday 4 February.
Then catch the first T20 between New Zealand and England live from 5.30am on Saturday 9 February, also on Sky Sports 1 HD.