Cricket Expert & Columnist
England will not fear playing India on their own patch, says Nasser Hussain
England face a trial by spin but will not fear playing India on their own patch, says Nasser Hussain.
Last Updated: 28/10/12 10:02pm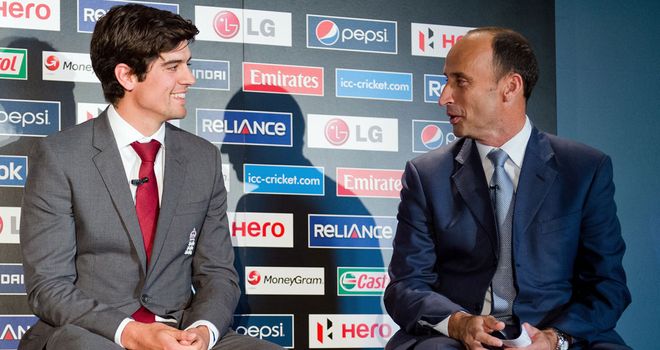 There is perhaps no bigger challenge than playing India in India, where home advantage is massive and results are always hard to come by.
Some of India's players can look pretty ordinary overseas but when they get on their own turf you see why they are god-like figures to their fans; quite simply, they know how to play in their conditions.
History tells you just how tough touring India is - David Gower was captain the last time England won a series over there, in 1984-85.
India are again favourites this time but that could work in Cook's favour. When people write you off before a tour even starts, it eases the weight of expectation.
There are other reasons for English fans to have hope too. In fact, I think this could be England's best chance to win in India since Gower was in charge.
This is no novice, inexperienced England side. Nick Compton and Joe Root are uncapped, but the squad also includes guys who have played a lot of first-class cricket - Kevin Pietersen, Jonathan Trott, Ian Bell and Cook himself.
Chance
England won't fear India. Their first-choice side is pretty much available and fit and the players are well-rested and raring to go.
Moreover, the last time the two sides met in a Test series England - playing at home - won 4-0. Conditions will be different in India but the pitches England won on weren't exactly green minefields.
The ball span at the Oval and Edgbaston - and at that stage India still had Rahul Dravid and VVS Laxman in their side.
The worst thing India could do, in my opinion, is prepare absolute dust-bowls because I think that will bring Graeme Swann and Monty Panesar into the equation. Their batsmen play spin so well that they'd be much better off playing on flat pitches that turn a bit.
If - and on the evidence of last winter it's still a big if - England can bat well against spin then I think they've got a real chance in this series because I think their bowlers will take wickets.
England won't put all of their eggs in the spin basket - James Anderson, Stuart Broad, Steven Finn and Tim Bresnan will be just as important if they can get the ball to seam and reverse-swing.
But can England get enough runs on the board? Bell probably sums up where England are against spin right now. He is a fantastic player of slow bowling until it becomes something a bit unorthodox - someone like Saeed Ajmal, for example.
India have already shown their hand by picking a squad for the first warm-up match that doesn't include a single spinner - mystery or otherwise. As a statement ahead of the first Test it's pretty simple - even though Ahmedabad has historically been pretty good for the quickies, India are going to hit England with spin.
Ravichandran Ashwin is essentially a very good orthodox spinner, while Pragyan Ojha has opened the bowling before (plus he's a left-armer, which might not go down well with Kevin Pietersen) but England shouldn't fear them.
Stronger
All the talk before England flew out this morning for their three-day training camp in Dubai was about re-integrating Pietersen back into the squad and, quite frankly, that can't happen soon enough.
The hardest part of the process will be that first meeting after Pietersen's spell with the Delhi Daredevils is over and he joins up with the squad.
England will just have to find a way to get over that and move on. There's been enough chat about KP now and he's spent enough time out of the team.
England need to get him back in at number four - we're not good enough to leave players of his ability out of the side.
They England players don't have to all like each other - they simply have to realise that if they are 20-2, they need Kevin.
I've no doubt that Duncan Fletcher and Mahendra Singh Dhoni believe that England are a stronger side with Pietersen in the side, and that tells you all you need to know.
Yes, team spirit is very important but so is having your best players available and playing. It's time to move on.
Whispers
Dhoni and Fletcher will be feeling the heat a little bit themselves after India's disappointing World Twenty20 campaign and it's up to England to keep them under pressure for as long as possible.
India is not a place where you go and blast the opposition out; rather you set your stall out to play attritional cricket and try to nick a result.
There are already whispers about Dhoni's ability to be Test captain doing the rounds and it's up to England to try and sow more seeds of discontent amongst India's fans about how their side is performing.
You can never write the likes of Dhoni or Sachin Tendulkar off but neither has played much first-class cricket recently so if England can hit the ground running there is every reason for optimism.
Watch the first Test between India and England from 3.30am on November 15 on Sky Sports 1 HD.