Cricket Expert & Columnist
Simply the best
Nasser Hussain says South Africa deserve to be Test No 1 as they outplayed England in all departments.
Last Updated: 21/08/12 6:21am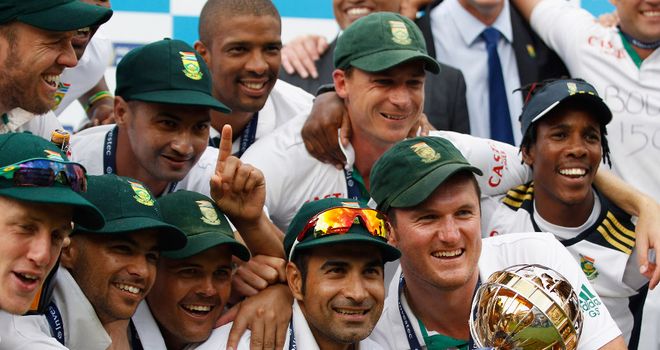 This was a seriously good Test match which South Africa deserved to win.
It was a great advert for Test cricket - dramatic until deep into the last day - and come the end, we got the right result.
Across this series South Africa have been the better side in all three departments quite comfortably. They have the better bowling attack, the better batting line-up and they've caught better than England.
Add it all up and they deserve to be World No 1. What makes it all the more impressive is that they've won 2-0 in a three-Test series against the side that was No 1 and they've done it away from home.
When you look at recent Test results around the world, sides haven't travelled particularly well but South Africa came here without much cricket behind them and emerged as clear winners.
It was a monumental effort, it really was.
Delivers
It will take some team to dislodge South Africa.
We didn't know too much about man-of-the-match Vernon Philander at the start of the series, but now we've seen him it's clear that under pressure he delivers.
He gets good players out - Alastair Cook and Andrew Strauss at the end of day four, for example - and then today right at the end, when South Africa needed two wickets with the new ball, he delivered within an over.
Very quickly he has become their go-to man - quite a feat in an attack that boasts Morne Morkel and Dale Steyn.
In Graeme Smith they have one of the best captains the modern game has seen and he leads a strong, deep batting line up from the front.
Hashim Amla came out with a great line in the post-match presentation when he said 'forget being No 2 player in the world - I'm not even the second-best player in our team'.
Amla comes across as a bloke who just wants to do his job and go about his business quietly. To have a rock of a player like him at No 3 is exceptional.
That's why South Africa have given Jacques Kallis the upcoming one-dayers off - they realise that he holds the whole balance of this side together.
With him in the team they can play all of their bowlers and batsmen, so they are going to look after him. Whatever Kallis wants to do, he will do because South Africa will want him around for a long time yet.
Proud
I think England and England supporters will be very proud of what England did on this final day. It was virtually a no-win situation but every batsman - Jonny Bairstow, Matt Prior and Graeme Swann in particular - tried to keep them in the hunt.
In the modern game you should never give up because you get players like Swann at No 9 who can smack 40-odd very quickly - that means you are still in the game.
England will be proud of their work today, but not so proud of their work in the series.
When you lose by 50-or-so runs you look at the small stuff - things like Philander's partnerships with the tail, the dropped chances that went begging along the way. Some of the errors may be small but their ramifications are huge.
England's catching has been good over the years but in this series their misses have cost them something in the region of 500 runs; that makes them big, big drops and it's something they'll have to improve on. You can't really explain it other than to say it's pressure taking its toll.
But for things like that, England could well have tied the series 1-1 and still be holding the mace.
In contrast South Africa held their catches when it mattered. The Kallis catch to remove Jonathan Trott was brilliant, while Smith's to remove Prior towards the end was superb.
You're out there at Lord's at the end of five hard days with so much at stake. It goes hard and low to your left. You know you've already shelled one and if this one goes down then that could be the mace gone but he stood up to the pressure.
Test
Going to India later this year will be a stern test for England, not least because it's a bit of a grudge match after what happened to India here.
I think they'll prepare some dust bowls safe in the knowledge that England don't play particularly well on slow, low turners.
In addition, England might go there without one of their star players - Kevin Pietersen - so it will be tough.
England need to make a decision on Pietersen's future quickly in either direction; either make it clear that he won't play this winter, or come out and say that he is going to come back so that the side can move on because there is plenty of work to do.