Cricket Expert & Columnist
A Test of trust
England must rebuild trust, says Nasser Hussain, for the sake of Andrew Strauss and Andy Flower.
Last Updated: 15/08/12 12:11pm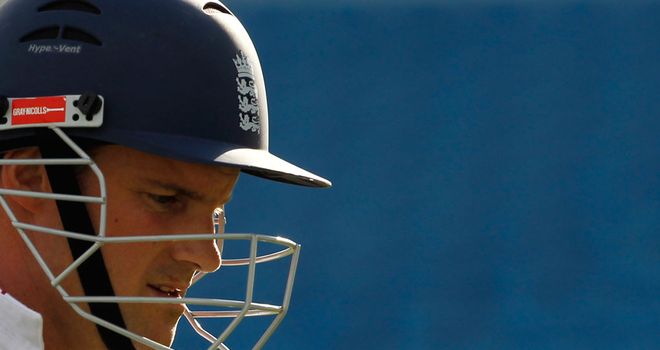 We'll find out in about five days' time just how disruptive the whole Kevin Pietersen saga has been to England's attempt to remain as the world's No 1 Test team.
What's clear right now is that England have lost one of their best players for this week's must-win Test at Lord's and that's a massive blow to their hopes of levelling the series.
People turning up for the first day will be thinking 'how did we get to this stage? England are going into one of the most important Tests for about three years without one of our best - and possibly our best player'.
In a funny sort of way, the eleven that play will probably be a little bit closer together. They'll bond over what's happened and develop a good sense of togetherness, even a little bit of 'siege mentality'.
This is not the 'bad old days of English cricket'. For now England are still No 1 in the rankings and of course they can win without Pietersen.
There are still plenty of good guys around that dressing room who will do their utmost to make sure that England win this Test match. As a player you take whatever motivation you can get and use it.
I have no doubt that England can win this Test match - but would I like Pietersen in this side to help win it? Of course I would.
Upset
The events of the last week must have taken a mental toll on Andy Flower and Andrew Strauss and they'll be very frustrated because you want to sort things like this out in-house.
Things were always going to snowball once Pietersen gave that press conference after the Headingley Test; he left doubts about his international future hanging out there and he mentioned things about the dressing room.
To be fair to Kevin, he hasn't been the only one to openly air his views. It's a two-way street and in the past team-mates have criticised him in their books; that's simply not conducive to developing fantastic team morale.
I also know that Kevin was a little bit upset with players reading the fake Twitter account in his name - which has since shut down - and sniggering about it while he was smashing South Africa all around Headingley. That's not great for team spirit either.
So England have to once again look at their policies on Tweeting and texting and clear up this whole sorry mess.
The bottom line is this: it is still fundamentally wrong for any player to send derogatory or 'provocative' texts about his captain and coach to the opposition. That's indisputable.
Ructions
Moving forward, this does not have to be a career-ending matter for Pietersen. I just wish they would all kiss and make up.
England will never have quite the same team spirit that they've had in the past because everyone will know there are certain people in that side who don't get on.
But that's nothing new in the world of cricket!
Michael Holding will tell you the players in that great West Indies side didn't all get on - there were ructions; the same was true of the Australian side that Shane Warne played in.
You don't have to like every single one of your team-mates. Not everyone liked me and I didn't like everyone, but once we got out on that field we played for each other.
It's time for England to try and rebuild trust; not friendships because it's pretty clear that some of that team don't like each other but moving forward they've got to have that mutual respect.
Timing
In that context the timing of Saturday's squad announcement for the World Twenty20 is far from ideal but the ECB can't do anything about it.
It comes at an unfortunate time for Pietersen but also other guys in the Test team, the likes of Alastair Cook, Matt Prior who will desperately want to be in that squad and will have one eye on it as a result.
Moreover, it means that a lot of people will be focusing on what the ECB and Kevin do between now and Saturday.
Unfortunately, everything ends up at Andy Flower's door; Andy's a human being and only has a certain amount of mental energy.
He's already spent three days doing a selection meeting that should have taken two hours and now he has to try to win a Test match for England while trying to work out whether or not Pietersen is going to be part of his Twenty20 squad.
Pietersen's inclusion - or exclusion - affects the whole balance of the squad. It's not just a matter of whether he should be there or not; if he is, who do they leave out? Who opens the innings?
Admire
For now his primary focus has to be on the Test - the 100th of Strauss' career.
My last Test was Strauss' first and I could see immediately that this guy had something about him.
He might not end up being the greatest batsmen England has ever produced but he's not far off and he's one of the greatest captains we've ever produced.
Strauss is a phenomenal leader of men. I remember that the moment Duncan Fletcher saw him in action he came up to me and told me, straight away, 'this player will captain the side eventually'.
He's a good guy - somebody who will always try to do the right things by the team and understands what team ethos is all about.
To do 50 Tests as captain and still go out there, strap on the pads, open the batting and average over 40 tells you everything you need to know about his attitude and dedication.
He ticks every single box, to be honest - and he needs only more catch to surpass Ian Botham and Colin Cowdrey and become England's leading catcher in the field.
What I admire most about him, though, is his dignity and the way he handles himself. As captain you are an ambassador for your country and most cricket fans are very proud to have Andrew Strauss as their England cricket captain.
Despite his record he's never tried to put himself forward above the team and I think that's what his team really admire in him.