Cricket Expert & Columnist
Best of enemies
Nass and Athers assess the key players in England's series with South Africa in part two of their preview.
Last Updated: 17/07/12 1:13pm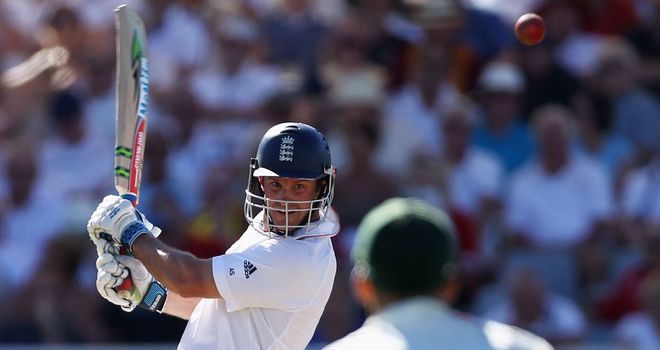 The start of South Africa's assault on England's World Number One Test status is just days away.
The Proteas will replace Andrew Strauss' side at the top of the ICC World Rankings if they win the upcoming three-Test series, which starts at the Oval on Thursday.
As ever you can follow all the action here on skysports.com via our interactive blog, live score centre, commentary, reports, video reaction and red button service.
Sky Sports viewers with Sky Go will be able to enjoy this series wherever they want on PC, laptop, iPhone, iPad and compatible Android phones, too.
In part two of their series preview (see part one here), former England captains Mike Atherton and Nasser Hussain give their views on some of the key players involved...
skysports.com: Graeme Smith has been South Africa's skipper for nine years. What are his strengths and how does Andrew Strauss stack up in comparison?
NASS: Smith is a fantastic leader of men - there's no question about it. He'll lead from the front come what may. He had a great record in England even before that unbeaten 154 at Edgbaston in 2008 which sealed South Africa's 2-1 win and he seems as hungry for runs and success as ever. He's seen off the last two England captains, so the challenge for Strauss is to avoid becoming the third and even turn the tables.
ATHERS: Smith's longevity is incredible. It's some achievement to cope with the pressure of the job for as long as he has because eventually that tends to take its toll. He tried to resign from the captaincy a few years back and was persuaded to stay, yet he must be coming towards the end of his shelf-life as a captain now; he's still a great player but if it goes badly for him this summer then there might not be too much left in the tank. Although Strauss is of an age you get the sense that he still feels he has a bit more to achieve as captain. Both men are extremely tough and competitive. Smith, perhaps, is more outwardly so and a bit more in-your-face, while Strauss is an extremely tough customer inwardly. They are both fine left-handers at the top of the order - Smith being that little bit more unorthodox than Strauss. In short there are more similarities than differences between them.
skysports.com: England's top five has been in situ for some time now, but Ravi Bopara is back at number six. Is he the right man for that spot?
NASS: Definitely, especially given the way that he's played recently. He was the man in possession before he got injured and he gives England an extra bowling option. I see no reason why Bopara shouldn't slot into the side comfortably. I don't think Jonny Bairstow did enough when he got his chance, even though it was not an extended run in the side, while Eoin Morgan should be a Test match cricketer again but he's got to go and score big runs for Middlesex first.
ATHERS: I suspect Bopara will get a run now as he looked increasingly confident during the one-day series against Australia. The way he batted at Old Trafford in particular was as fluent, as aggressive and as dominant as he has played in England. Morgan still has to do a little bit more to jump ahead of Bopara, although I still think he's a very good player. So, yes, it is Bopara's time and his turn.
skysports.com: As a batsman who would you least like to face - Dale Steyn or James Anderson?
ATHERS: They are different types of bowlers. Steyn is much quicker and tends to take the ball one way - that is away from the right-handers - whereas Anderson is more of an all-round skilled operator, who can move it both ways and has extremely good control. If the ball is swinging I don't think there is a harder bowler to face than Anderson but equally Steyn has got the edge on pace. There isn't one I'd rather face - they are both fine bowlers.
NASS: Back in 2003 I faced about 10 deliveries from Anderson in a Lancashire-Essex match and he got me out twice, so if I've got to lean one way I'd least like to face him. Anderson's ability to switch from outswing to inswing without much of a change in his action would do my head in. I'd be looking to leave one and he'd hit me on the foot. That's pretty much what happened in that Old Trafford match; he got me out first ball with a big booming inswinger which I didn't pick at all. He got a hat-trick that day (I was second out between Darren Robinson and Will Jefferson). With Steyn you do have to worry about the big booming outswinger and his pace but personally I'd be more concerned with coping with Anderson's inswinger.
skysports.com: Which attack is best equipped to take 20 wickets?
ATHERS: I don't think there is much to choose between the two but I do believe that England have got more depth if both sides put their first-choice attacks onto the park. You could also say that England have the edge in the spin department with Graeme Swann. If England get any injuries - and remember the three Tests are virtually back-to-back - then they have the likes of Graham Onions, Steven Finn and Tim Bresnan (whichever two don't play). With Chris Tremlett coming back as well there is plenty in the locker whereas I don't think South Africa have quite the same depth.
NASS: England are very ready. Their bowling attack has got plenty of overs in and they're absolutely primed for this series. If I was South Africa, I'd be concerned about how much match practice the likes of Steyn, Morkel and Tahir have had in the last few months. I'm a little bit worried about how ready they are. Bowlers need to get the right amount of workload under their belts - not too much and not too little in their bodies. We saw that with India last year. Broad and Anderson, in particular, are absolutely flying and ready for this series. When that first ball goes down there's no way they won't be ready.skysports.com: How disruptive is the retirement of Mark Boucher to South Africa's plans?
NASS: He's a feisty character and he was the heartbeat of their side because he did love a battle. He was the sort of guy you'd love to have on your side rather than the opposition. It is a blow and if I was them I'd give the gloves to AB de Villiers because I've got my doubts about the lad they've called up, Thami Tsolekile. We saw him when he came in for Bouch in 2004 at Port Elizabeth and he didn't impress. Boucher's absence doesn't affect the balance of the side too much if they do choose to go with De Villiers - he's a decent batting/wicket-keeping option - but Boucher was someone who knew and wanted the fight with England. Losing a senior player of his stature is certainly not what you want in the first week of your tour.
ATHERS: They'll undoubtedly miss him but giving the gloves to De Villiers may, in fact, enable them to get an extra bowler into the side. In that sense it may work out for them. But De Villiers is clearly not as good an operator behind the stumps as Boucher. From what I hear Boucher was an extremely positive influence in the dressing room; he was a confidant of Graeme Smith and someone who had a lot to offer tactically. He was an extremely tough, combative character. I'm told that Tsolekile is now a very skilful operator so it may be that Boucher isn't as irreplaceable as some might think. De Villiers will find it tough to keep wicket and bat as high as he does up the order. There are obvious analogies to be drawn with Alec Stewart, who had the hand-eye co-ordination to do the job but probably would have preferred to play as a specialist batsman; however, he was prepared to do what the side required of him. It's not easy, though, to go out and bat in the top four in a Test match if you've been keeping for the best part of a day and three-quarters.
skysports.com: Is Jacques Kallis currently the best all-rounder in Test cricket?
NASS: He's got to be one of the best of all time. He's up there with Sobers, Botham, Hadlee and Imran Khan. It's only because he's so clinical in everything that he tends not to get as noticed as much as he might. He's just a machine; he takes every run that comes his way and he bowls at 90mph (or possibly high 80s now!). I'm not sure he's that keen on bowling too much these days but that doesn't mean he's not a mighty fine all-rounder.
ATHERS: The thing about great players is that you just don't know when they start to go past their best. Kallis has been a wonderful cricketer - one of the best that there's been. Is he still as good as he was? That's the question Kallis has to answer against a top-quality England attack in English conditions where the ball might move around. There's no doubting the quality he's shown over the years or the fact that he's been a quality performer. This series will tell us a lot about where he's at.
skysports.com: Who was the toughest South African you played against in your career?
ATHERS: In terms of batting, I'd have to say Gary Kirsten - South Africa's current coach; he was a really tough operator. He wasn't the most talented player South Africa have produced but as an opener he certainly made the most of his gifts. Shaun Pollock has to be up there too because, certainly in his early days, he bowled fast from very close to the stumps and didn't give much away. He also managed to get tremendous bounce and could bowl all day long because he was very fit.
NASS: I'd probably go with Polly as well. I liked playing against him because it was always a challenge. He was very accurate and fast, plus he could move the ball both ways. If you got runs against the Pollock-Donald combination you knew you were playing well. Plus Polly was a very useful number eight who used to come in and smack it. All in all pretty handy!
skysports.com: Pollock has tipped South Africa to win the series 2-1. Who do you think will lift the Basil D'Oliveira Trophy?
ATHERS: Man-for-Man this should be an extremely well-matched series; we've got two excellent bowling attacks and a top six that's strong on either side. I think England have the edge because they've got home advantage, they'll be more battle-hardened and they've a greater depth of resources if injuries strike. I think England will win - and maybe by a couple of Tests.
NASS: With Gary Kirsten as their coach they are going to play hard, aggressive cricket. You just have to look at them as a sporting nation - they are normally there or thereabouts. So it won't be easy for England by any stretch of the imagination but, like Athers, I do expect them to win. If they can also maintain their strong one-day form, England have got a great chance of being World Number One in all forms of the game by the end of this summer.
Join us for the first day of the opening Test between England and South Africa here at skysports.com and on Sky Sports 1 HD from 10am on Thursday or follow the action wherever you are on your PC, laptop, iPhone, Ipad and compatible Android phones on Sky Go.