Cricket Expert & Columnist
Steven Finn could be a risky selection for confident England, says Mike Atherton
England are raring to go in Kolkata, says Mike Atherton, but is Steven Finn a risky selection?
Last Updated: 04/12/12 3:11pm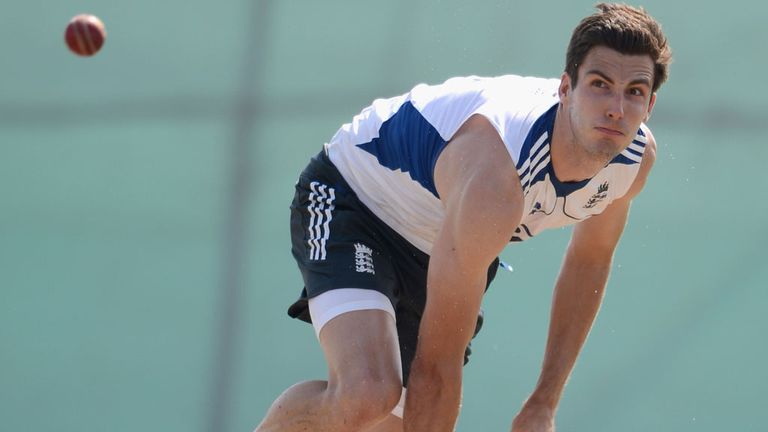 The feeling ahead of that match in Mumbai was that the home side had everything in their favour - they got the spinning pitch they requested and then won the toss - so to be walloped by 10 wickets with a day to spare was something of a rude awakening.
Before the series began I couldn't decide which way it was going to go; I could see both India and England winning easily and that's the way the first two games have turned out.
I'd be surprised, though, if Kolkata produced a decisive result because the pitch is going to be pretty flat and the light fades early - Bengal lost about 50 minutes at the end of each day's play in the last game that they played here.
There is always the option of turning on the floodlights but how good they are - and how bad the light becomes - remains to be seen.
If we do lose time at the end of each day on a pretty flat pitch, then it's going to be harder for either side to force a result than it was in Mumbai so if I was having a punt, I'd go for the draw.
Bullish
After such a convincing victory in Mumbai, England are pretty bullish. They think the force is with them and they appear much more confident as a unit than they were after the opening Test.
They also look stronger than India in a couple of key areas: their two spinners, Graeme Swann and Monty Panesar, look more potent than India's and on the whole their batsmen appear more comfortable against the turning ball.
Ian Bell will return after his paternity leave and should be a little bit more switched on, while it looks as though Steven Finn will come in and displace Stuart Broad - although that's only conjecture at this stage
If England do go with Finn it's a risky selection given that he'll operate as one of only two seamers despite having bowled only four first-class overs all tour. Even though the spinners are likely to do the majority of the work, there has to be a concern that Finn's thigh injury could resurface during the Test.
Personally, I don't think there is much to choose between Finn and Broad but when someone has been out of the team, as Finn has been, the danger is always that their reputation increases.
Finn is a bit quicker but hasn't bowled much, while Broad has looked fairly innocuous so far (partly due to illness and injury) but has had a fairly good year with the ball overall.
Bursts
So it's not a clear-cut decision - I think the selectors will go with Finn in the hope that his extra pace might just get them an extra wicket or two on a pitch they think will be pretty low and slow; perhaps Alastair Cook will use him as a bit of battering ram and just tell him to run in and bowl quick and short.
You never expect the seamers to take a hatful of wickets in India, but you do need them to pick up the odd one or two here to help you along. The selectors have to decide who is most likely to do that. Maybe using Finn in short, sharp bursts rather than Broad, who hasn't looked like taking wickets, may be the way to go.
Broad isn't bowling at his best - that much is clear and the bowling coach David Saker has been fairly outspoken on that point, suggesting he needs to pull his socks up a bit. But Broad is also that sort of player who is apt to pull out a good performance when he needs to.
I don't have a problem with players being dropped but you don't want to do it willy-nilly; you want to be careful about it. But being dropped can be good for a player if he goes away, re-evaluates and comes back a bit more focused and determined to do well.
If Broad does miss out, I've no doubt that he'll be back for next year's tour of New Zealand and be in good shape for next summer's Ashes.
Faith
On the subject of selection, I wouldn't have had Samit Patel in the team at the start of the series but given that he was picked I don't think I'd drop him now.
To give him his due he looked alright in Mumbai, although it's clear that he's not a Test-class spinner (he's only really good enough for half-a-dozen overs here and there) so that aspect of his game shouldn't really come into the selection equation.
The feeling before the first game was that he was in the top six on merit for the way that he plays spin, but he got stuck in front of the stumps when Umesh Yadav got the ball to reverse swing, highlighting how important it is to stay a bit leg side of the ball on the sub-continent.
Patel contributed 26 in Mumbai before falling to Pragyan Ojha but I fully expect England to stick with him for now given the faith they've shown in him.
Downturn
Likewise, India will stand by Sachin Tendulkar - indeed there's an argument from some quarters that they need his experience now more than ever.
Naturally his downturn in form - coupled to the high-profile Test retirement of Ricky Ponting - has sparked a lot of chat about Tendulkar's future and you have to feel for him because the amount of space devoted to him in the newspapers and on air is ridiculous.
Stories emanate from all over the place about what he'll do next and the following day somebody will knock that story back and come up with something entirely different.
Tendulkar can't do much more than he's doing: basically he just keeps his head down, goes home in between games and doesn't emerge, other than to train hard before each match.
I'm sure he'll go on if he can but even someone of his stature has to justify his place eventually because there are some good players coming through, not least Ravindra Jadeja who has just become the only Indian player to score three first-class triple hundreds.
The debate around the timing of any retirement decision is often a sentimental one and needs to take into account the players coming through as much as the status and quality of the player under debate.
It's very difficult to know how much of an impact the coach Duncan Fletcher can have on a side that contains so many senior players - players who are unlikely to change the way they go about things.
His time is presumably better spent bringing on younger players like Cheteshwar Pujara, not to mention those waiting in the wings for the time when the likes of Tendulkar decide that enough is enough.
Watch day one of the third Test between India and England live on Sky Sports 1 HD from 3am on Wednesday.